10 most useful sales integrations for HubSpot users
Salespersons are always on the lookout for emerging technologies that help make their lives easier. Today, as a sales professional, you cannot afford to rely on a single tool to achieve results. However, there is one exception to this - HubSpot.
A versatile tool, HubSpot is well recommended among salespersons as highly effective and an ideal inbound marketing and sales platform. It helps companies to attract exemplary visitors, generate leads, and convert leads. HubSpot allows high functionality that helps combine sales and marketing activities and brings them under a single roof for easier control and management.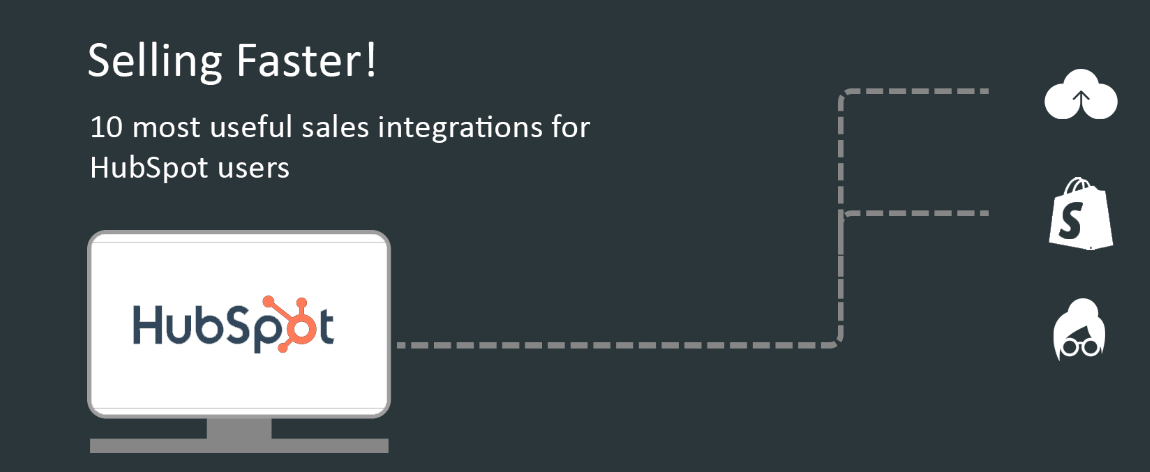 It is not surprising that most sales professionals in mid-sized firms look up to HubSpot. Take a look at HubSpot's impressive Q2 results standing at $310.8 million, a 53% increase from the previous year's figures. HubSpot's tools need to be leveraged by salespersons efficiently to achieve optimum results. HubSpot works in close collaboration with other SaaS products to achieve maximum efficiency.
We have identified 4 key categories of features in which further optimization can lead to better processes.
Document Management - Documents including all types of files, PDFs, PPTs, .docx, speadsheets, exes and more... form a critical part of any business to share information. Due to their variety, volume & internal as well as external sharing, specialized tools can provide great organizational & tracking capabilities
Lead Generation & Prospect Management - A sale starts at a generated lead, goes through an extensive process of prospect management and ends in a customer. Specialized tools that help in lead generation and prospect management can add a lot of value to the business.
Customer Engagement - Customers must always be kept in the loop. HubSpot's customer success formula of attract, engage & delight never ends. This can help reduce churn. Many specialized tools can be used to constantly engage & re-engage customers.
Emailing - There are over 300 billion emails sent everyday. Emailing is one of the most efficient tool in the sales reps toolkit. Few specialized integrations stand out here as well.
Let's take a deeper look at these feature categories and 10 HubSpot integrations that are beneficial for the sales rep -
Document Management Capabilities
Manage storage, files, more intelligent document retrieval & better security.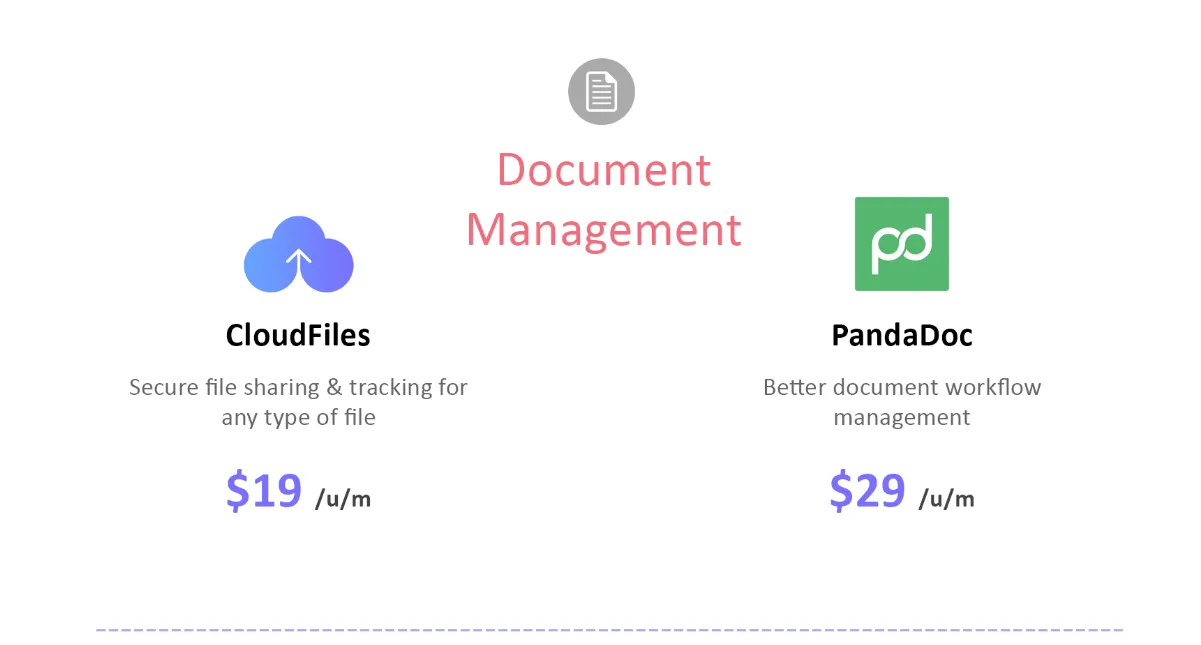 Features: A highly secure file sharing and analytics application, CloudFiles works with HubSpot to help users create their content libraries from local and cloud sources, share and control file links offline and online, gauge buyer insight, and automate various processes to make sales functions easier.
Use Cases & Pricing: CloudFiles can help with better lead qualification & personalized follow-ups, thus helping both sales & marketers sell better. Reading time & number of views of docs are tracked by the app. Moreover, page-by-page analytics provides an opportunity to know exactly what your prospects are interested in. CloudFiles can also be customized by larger enterprises with custom branding needs. CloudFiles is one of the newest, coolest & most affordable integrations with plans that start with a free trial.
Advantages: CloudFiles is one of the most highly recommended tools for generating insight and using analytics on proposals, contracts, marketing collateral etc... to create and convert leads.
Features: PandaDoc is a SaaS tool integrated with HubSpot to create, track and execute business documentation. The tool also allows users to collect electronic signatures securely. HubSpot-PandaDoc integration helps monitor information, and users can easily prepare professional quotes, contracts, and proposals.
Use Cases & Pricing: The tool provides editable templates that users can instantly create new documents. Users can then use the data on HubSpot to auto-complete all their sales-related queries and documents. Free plans are available on PandaDoc with limited options; the pricing ranges from $19-49/month depending on individual/ business usage.
Prospect Management & Lead Generation Capabilities
Reach targeted users, increase conversions, manage leads, increase sales velocity.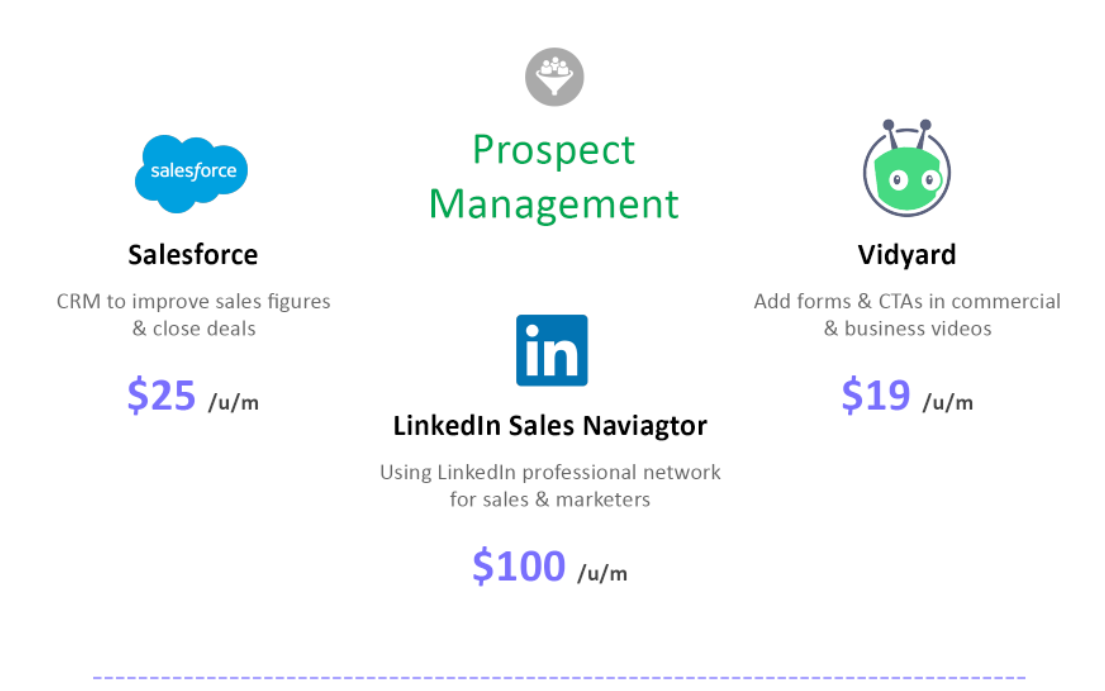 Features: SalesForce is primarily a CRM software that helps users improve sales figures and close sales deals. Integrations for emails, forms, and web-related activity. SalesForce is an excellent tool to keep salespeople actively engaged concerning prospects and follow-ups.
Use Cases & Pricing: Starting at $25/month, SalesForce plans vary on usage. Plans for professional use are priced at $75/month & enterprise and unlimited plans can go up to $300.
Features: Integrated with HubSpot, Vidyard can add forms and CTAs into business and commercial videos. The tool allows sales teams to generate and track insights to improve video engagement.
Use Cases & Pricing: Vidyard integrations start at $300/month.
Features: One of the most powerful sales tools, LinkedIn Sales Navigator, helps users undertake targeted B2B sales prospecting. The tool helps create a highly personalized outreach and allows sales teams to develop strong client relationships.
Use Cases & Pricing: By integrating with HubSpot, sales teams can easily view fresh leads, send InMails and use other functional tools like Icebreakers, Related Leads, and Get Introduced - all, which are essential for the smooth functioning of a great sales team. Individuals can opt for a 30-day free trial.
Customer Engagement
Know customers, scale enterprises, provide omnichannel engagement, personalize sales content.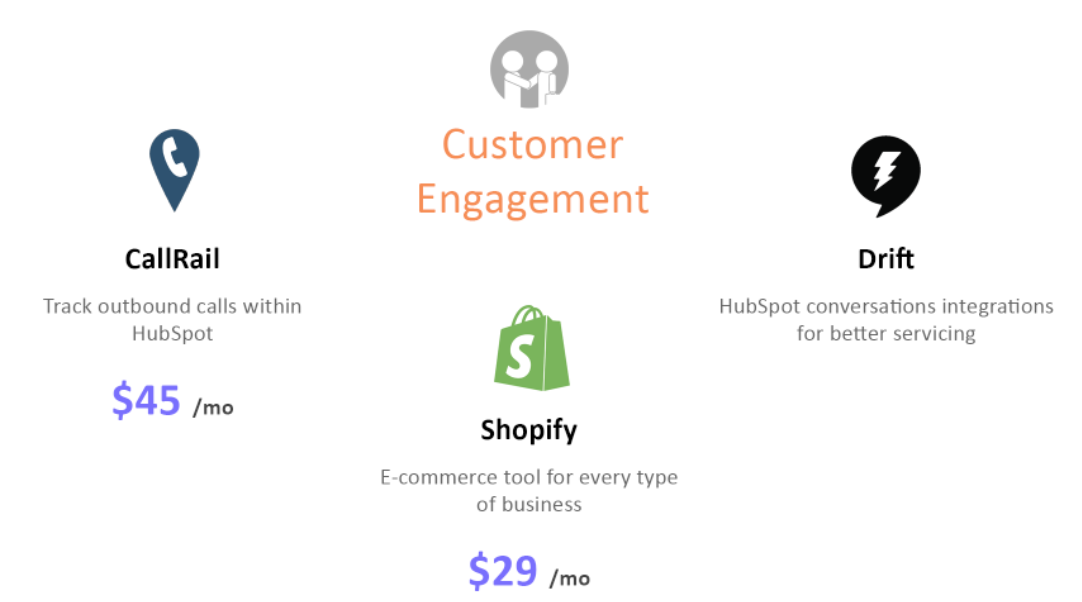 Features: Drift allows sales teams to integrate HubSpot's Conversations, a tool through which client servicing and customer support can be undertaken robustly. Drift and HubSpot enable users to converse easily, view contact timelines, and guide prospects to relevant salespeople.
Use Cases & Pricing: Drift is an excellent tool for shortening the sales cycle, with premium, advanced, and enterprise plans. Interested users can get in touch to know more about their pricing.
Features: CallRail helps rally sales efforts, and its integration with HubSpot lets users track prospects' online activity from the start of their journey within the sales funnel. This is an excellent tool for making outbound calls, monitoring incoming calls, and triggering automated calls.
Use Cases & Pricing: CallRail, combined with HubSpot, gives users the ability to club offline and online activities as HubSpot provides all relevant records to the users. From tracking calls to creating a lead center, conversing intelligently, and monitoring forms, plans range between $30-$50.
Features: Shopify is a famously used commercial tool for e-commerce needs. It is highly recommended to be integrated with HubSpot. It gives sales teams the power to track all purchases made, segment customers, and automate workflows. It is easy to sync Shopify customer data with HubSpot and access valuable insights like the amount spent on each item and the purchase date.
Use Cases & Pricing: Responsive and known for its reliability, Shopify-HubSpot integrations can be accessed at a plan of $29/month. Users can start with a free trial to test the app's sales capabilities.
Emailing
Scale sales, increase marketing ROI.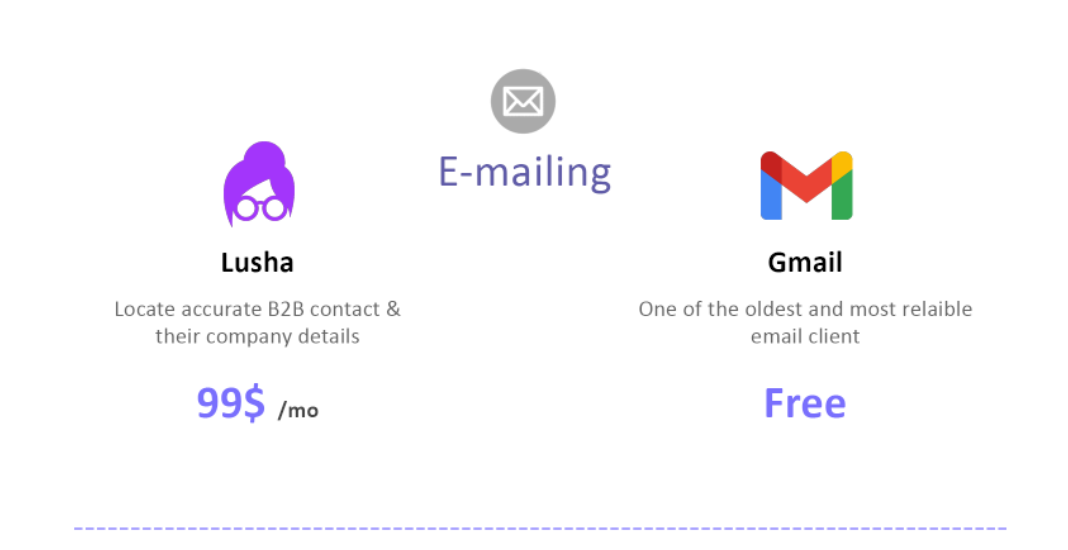 Features: Lusha gives users the power to search for any email, contact number, or address online highly accurately. By integrating with HubSpot, Lusha saves a prospect's details and creates an internal record on HubSpot.
Use Cases & Pricing: The integration allows for proper business customer segmentation. Users can start a free trial with Lusha to know more.
Features: HubSpot offers a sales extension on Chrome. By installing this extension, users can directly access sales tools from within their inboxes. The highlight of this extension includes easily tracking emails, CRM, and other tools that help enhance sales productivity.
Use Cases & Pricing: Users can generate leads, connect with them, and manage contacts easily with this extension. You can also install this extension for free.
In today's world of rapid technological advancement, it is necessary to understand and plug tech inefficiencies in business processes. While CRMs have traditionally provided a great ecosystem to build sales & marketing processes, the need for hyper-specialized, integration-first software is becoming evident only now.
Use the right apps to make the most out of your CRM.