File Collateral Validation using CloudFiles Analytics in HubSpot
Introduction
ROBO Global is an index, advisory, and research company wholly focused on helping investors capture the unique opportunities of fast-growing robotics, artificial intelligence, and healthcare technology companies around the world.
For their content distribution process, ROBO Global began utilizing HubSpot Documents and HubSpot Files. However, the company faced two major challenges. HubSpot files which was used by marketing did not offer any analytics. At the same time, since sales was using HubSpot documents, there was no single view available for the overall analytics on the collateral pieces.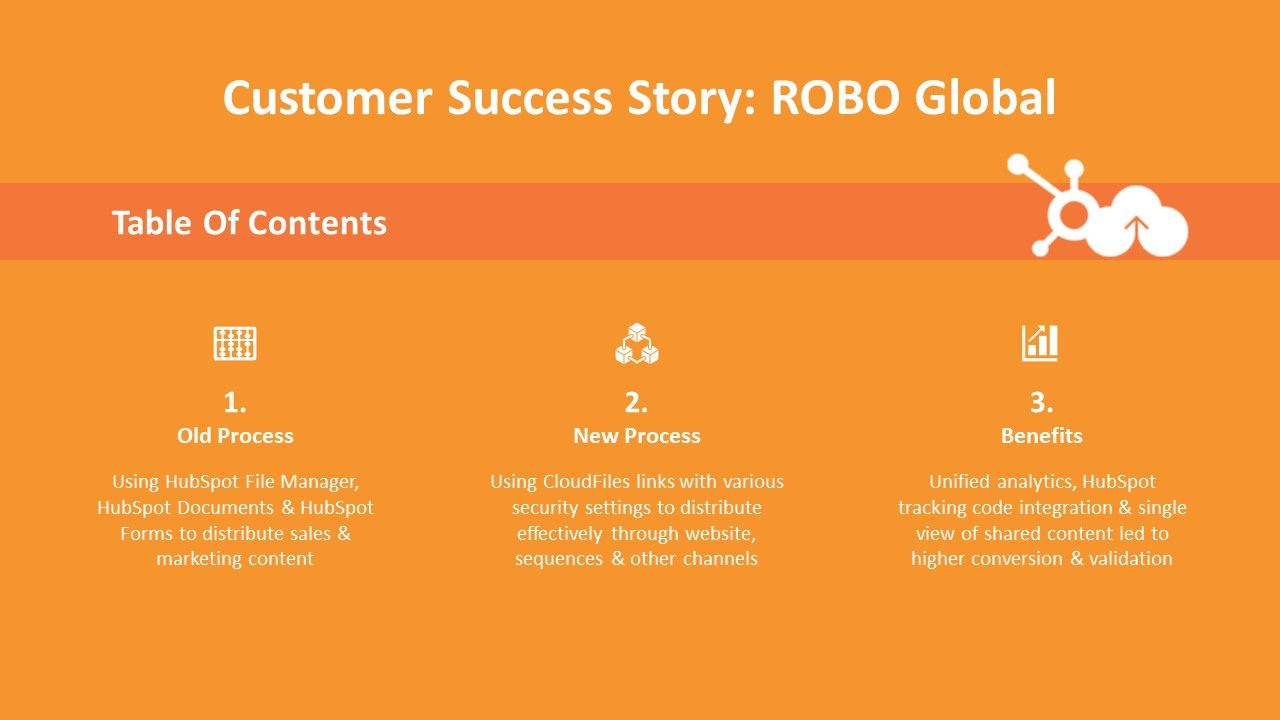 Process Before CloudFiles
ROBO Global was leveraging HubSpot Documents & HubSpot File Manager to streamline their sales and marketing efforts. After receiving form submissions on their website, the marketing team utilized the HubSpot files to share PDFs with clients, however, the process lacked analytics. Moreover, the three-step process of going to the HubSpot form, filling it out and then checking email for the collateral was not efficient for the clients.
The sales team utilized HubSpot Documents which did offer some analytics. However having to use multiple tools created a distributed view of the shared collateral, leading to analysis challenges later on. The lack of a centralized solution for files resulted in difficulties in tracking and accessing crucial information.
To reach a wider audience, ROBO Global used various channels such as ads and partner networks to distribute their HubSpot white papers and research materials. This added more complexity to their already challenging content distribution process, highlighting the need for a comprehensive solution.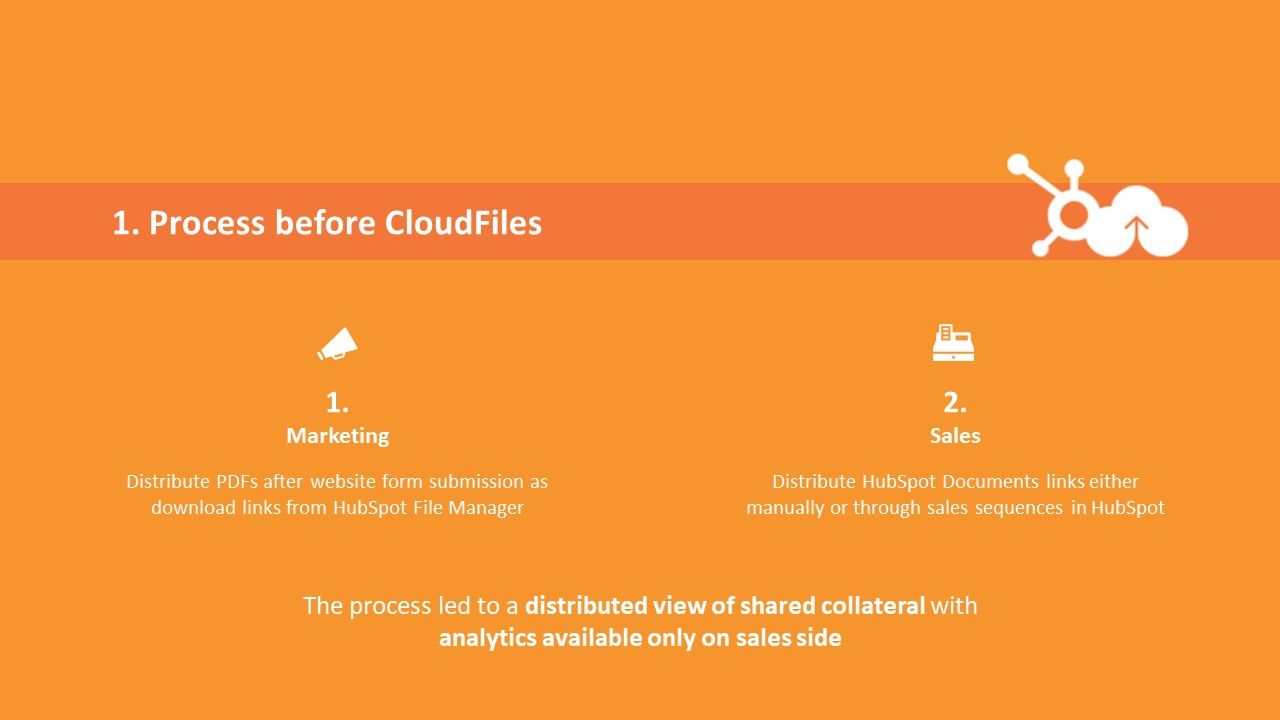 Process with CloudFiles
By creating CloudFiles links of their collateral pieces, ROBO Global has improved the tracking and performance of their content. The HubSpot tracking code is integrated into these links to gather valuable insights into the effectiveness of their content distribution.
With the ability to target their content more precisely, ROBO Global has optimized their lead generation & qualification process. They use smart-gated links with the HubSpot cookie to track engagement on website content. They also trigger sales email sequences that include the recipient's email as a parameter at the end of the collateral link for gathering ungated, personalized analytics. Additionally, they use non-downloadable links for sharing through other channels such as ads and partnerships.
Centralizing all analytics through the use of CloudFiles, ROBO Global now has a comprehensive understanding of the performance of their sales & research documents. The ability to make data-driven decisions about their content strategy, powered by the tracking capabilities of CloudFiles that is pushed to the HubSpot records, has greatly enhanced the efficiency of their sales & marketing efforts.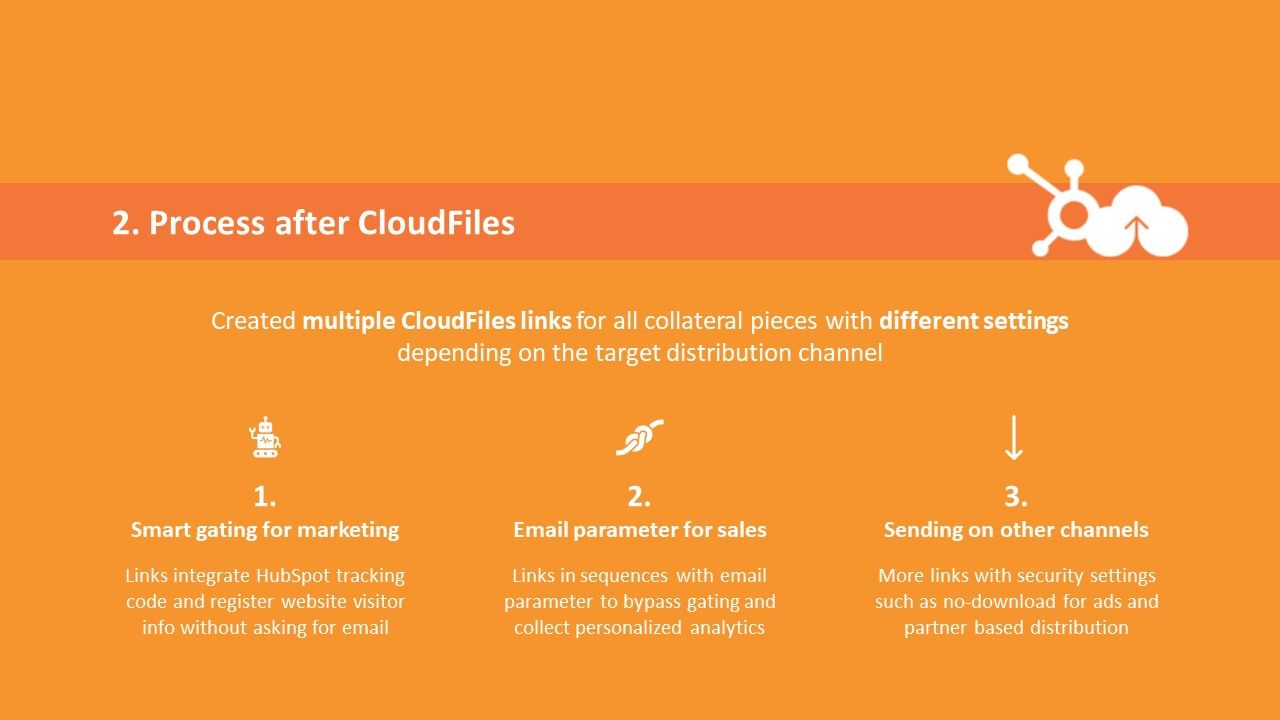 Benefits
The implementation of CloudFiles has revolutionized ROBO Global's content distribution process, providing numerous benefits such as increased visibility into analytics and consolidation of their shared library. With CloudFiles, the marketing team now has access to valuable insights integrated with HubSpot tracking code, enabling them to validate their content strategy and make data-driven decisions. The consolidation of the sales and marketing team's shared content library in a centralized location has streamlined the content distribution process, resulting in improved collaboration between teams.
The integration of the HubSpot cookie has also played a crucial role in boosting ROBO Global's content distribution efforts. The integration of HubSpot tracking code has resulted in higher conversions for the company as HubSpot prompts now appear on their documents as well as their website. This makes it easy for prospects to register for webinars or navigate to another collateral piece if they find the one they are reading interesting.