How many files are there in the world?
The introduction of the internet has brought a revolution in the IT world. The evidence displays that the impact of the internet is felt in almost everything we do. It connects individuals and promotes new features that build a cumulative relationship between the internet and its users. If we look at the data on the internet, it showcases a shocking number of at least 15 trillion files - that is hard to believe but true!
In the horde of various emerging technologies, "Cloud" is one such creation that has tossed the market and gained immense popularity in the least time possible to the extent that it has now captured a larger industry area.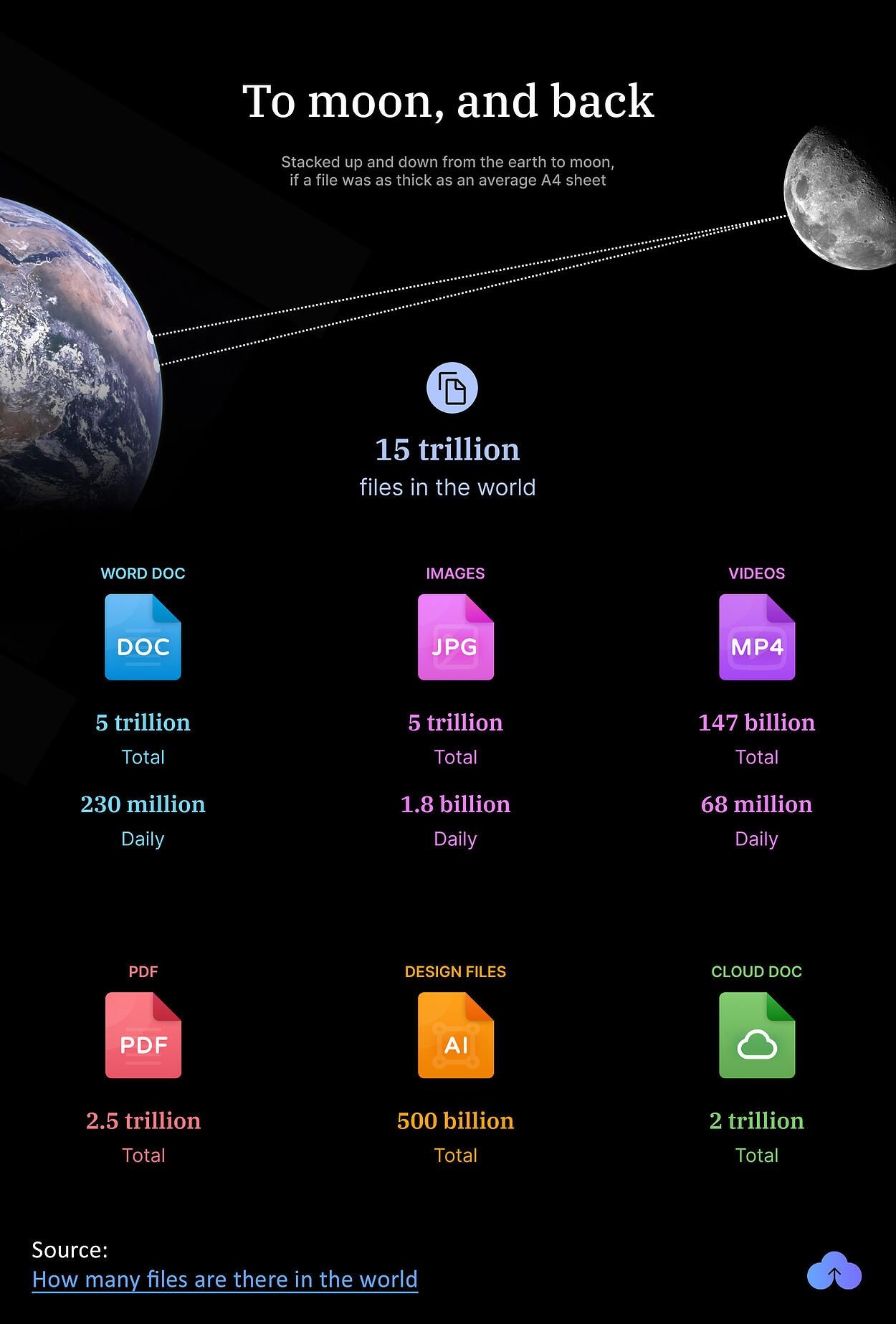 To some extent, we all are familiar with this term as most tech companies use cloud technology to store hordes of digital files and customer data. This popular technology is limited to large-scale industries, whereas individuals regularly working on computers can consider the cloud.
In this article, we enlist certain types of files and attempt to calculate exactly how many of these exist in the world today. This in no way is an exhaustive list, but it is good enough to cover a variety of business use-cases.
Different types of files of the world
Documents
Microsoft Word Document (DOC)
Cloud Docs
Portable Document Format (PDF)
Media
Let us understand the different types of digital files in detail. Without any further ado, let's get started!
1 - Microsoft Word Document (DOC)
First released in 1983, the Microsoft word document is a word processing document introduced by Microsoft. It contains tablets, graphics, images, formatted text, charts, and page formatting. It is used for personal use, education, and business environments as well.
According to the data released in 2016, more than 80K million Microsoft Word documents worldwide are created every year. Whereas this number is rising by 10%, reaching 88K million in 2017, over 20-25 years, it gives total Microsoft docs at around 2-5 trillion.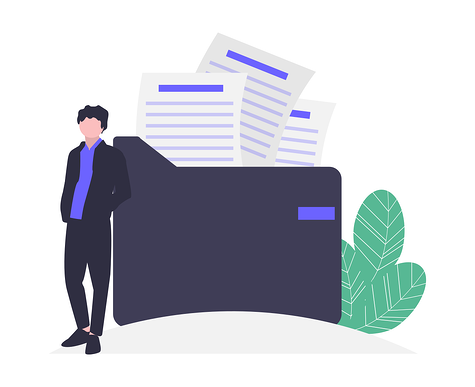 2 - Cloud Docs
Google is expected to have millions and billions of users in most cases. But something that is even more exciting is that Google Drive now hosts over two trillion files, says Prabhakar Raghavan, the Vice President responsible for G Suite in Google Cloud. These files include documents, images, and videos.
Though with most Google services, the users reach billions; however, Google Drive isn't one of those as the last active users total was around 800 million confirmed back in January 2016.
3 - Portable Document Format (PDF)
PDF is a unique format designed to review any kind of information from any system anywhere and anytime. According to a study by Phil Ydens, there are almost 2.5 trillion PDF documents in the world. These documents can be reviewed either by downloading the document from the website or receiving it from a friend, family, or co-worker.
This number is rising every day as most businesses, the private sector, government officials, and individual users embrace PDF. However, the number could have been a lot higher due to its versatility only if there was more awareness.
4 - Images
Images are a way to capture memories, and over the years, the madness around pictures is only multiplying. From clicking your friends' photo to capturing images beneath the Eiffel Tower, it's almost impossible to figure out how many images are clicked every year.
In 2014, the annual internet trends report states that more than 657 billion photos are clicked every year. Another way to think about it is that more than 1.8 billion images are uploaded daily on social media platforms. Smartphones and the internet became increasingly popular around 2009, giving about 4-5 trillion photos worldwide.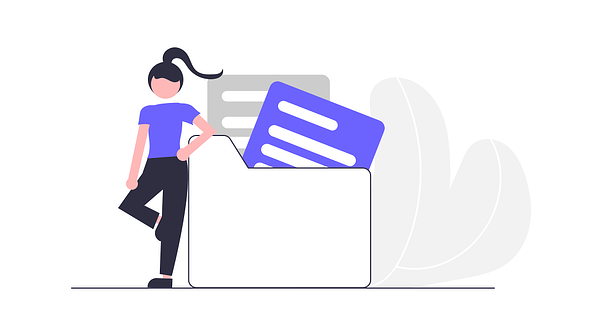 5 - Videos
Until a few years ago, social media sites were solely meant to connect with friends and family, but not anymore. Videos have captured the entire market, and the total number of videos worldwide is quite a big deal. There are 147B videos, with around 25B new videos being uploaded each year on multiple platforms, including Youtube, Instagram, Facebook, and more.
6 - Design
With the advancement in technology, the graphic design service has splurged the entire market, which leads to consumer and industrial growth. With the rise in technology, the industry is expected to grow to create a cohesive brand image.
According to the reports, half a million people are employed as graphic designers. With the latest rise in the industry, its number started to grow in the last 10-15 years, leaving other sources behind. If we look at the total file numbers, each graphic designer creates about 10-20 documents per month which is around 100-200 each year; compounded over 10 years, the total graphic designs in the world would be somewhere around 500 billion.
Final Thoughts
Working with images and text is a lot more complicated than it may seem to be, or you think. The sole objective of today's guide was to establish a solid understanding of different types of files, what type of content is published, and what type of files markets use. Though it is to be noted that there are a considerable number of file formats we haven't considered while drafting this blog, as they are more for internal use than external use.
In the ever-evolving world where technology has a hold on everything possible, digital files are everywhere. You can access it from anywhere and anytime to ease out the complex activities.
CloudFiles allow users to upload any type of file, which means any kind of digital file format, including the PDF, JPG, etc., can be unloaded, secured, shared & tracked easily.