How to Improve Your Sales Pitches Using CloudFiles
The crux of a business, irrespective of its modus operandi, lies in figuring out the intentions and demands of its customers. In an age where digitization rules the world, depending on traditional manual means to increase its reach, won't suffice.
Using modern, innovative, and technologically advanced tools like CRM (Customer Relationship Management) software is the key for assessing, handling and tracking customer engagement, which is crucial for the survival of your business.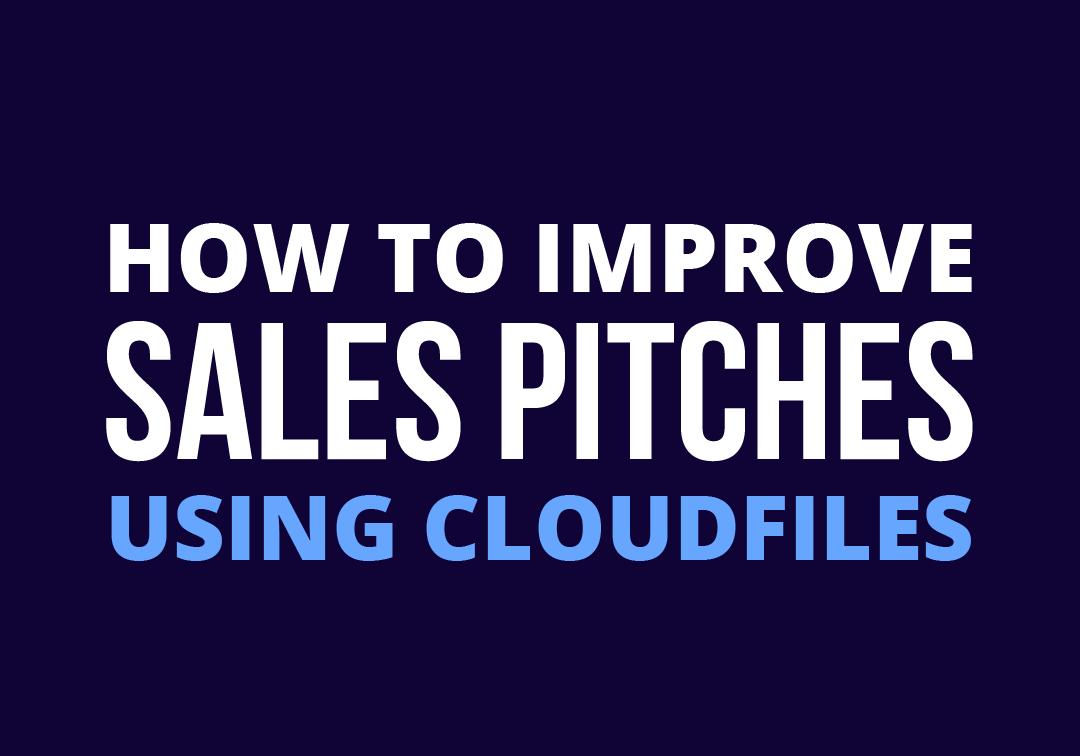 B2B v/s B2C
Although both B2B (Business-to-Business) and B2C (Business-to-Consumer) modules need them, the necessity for CRM software is undoubtedly more in B2B sectors. This is because, in B2B, the buying decisions are made taken into consideration more strategic and rational factors than B2C.
Here, the buyers will make more purchases if you as a seller can prove that your product or service's value exceeds their cost of acquisition. Purchases are only made when a set of criteria is met. So, having a thorough understanding of how to engage with the customers on a granular level is mandatory here.
In contrast, in B2C sales, since you are directly selling to your consumers, you are more in touch with personal connections and desires and more aware of their needs. In B2B, you don't have that luxury.
Thus, to maintain top-notch communication skills with your buyers in B2B, you need to garner some help from internal tools like that of CRM.
Outbound or Inbound – What Works Better for a B2B Model?
From both a B2B sales and marketing perspective, you need more leads, clients, and profit. Essentially, you are looking for vehicles to increase your outreach. To achieve that, you can go one of two ways – inbound or outbound.
B2B inbound lead generation is a technique where the leads come to you through various inbound channels such as social media marketing, SEO, content marketing, etc. If they are impressed and continue engaging with your brand, there's the potential of them turning into customers.
On the other end of the spectrum, outbound B2B lead generation requires sales representatives to initiate and maintain constant engagement with prospective clients. As you can understand, this is a more proactive mentality and is thus the most efficient and quickest direction to boost revenues.
For a B2B business to stay in the market, it needs immediate results by crafting strategic navigation which eventually leads to qualified leads. In other words, it warrants highly-targeted outreach.
Probably, the USP of the outbound strategy lies in the fact that it forces you to contact potential customers who might be interested in what you are selling, but aren't yet aware of it.
Let the Stats Do the Talking!
The best marketing and sales reps are those who can generate revenue with minimal pitches. Top performers are less likely to pitch their offerings and services. Instead, they keep their leads engaged through interactive conversations.
Rather than constantly promoting their products or services, they engage with them as advisors, which brings more positive outcomes. In turn, it helps in turning leads into customers.
The buyer's decision-making process is constantly evolving and as a salesperson, you need to adapt to that. For instance, 77% of the buyers now prefer closing deals through video conferences than on a phone call.
In the same line of thought, a staggering 76% of the salespeople cited technology as a critical element in ensuring closing deals. All these just go on to prove how researching on a minute level is mandatory for businesses to excel, which brings us to our next topic of discussion.
The Role of CRM in Your Business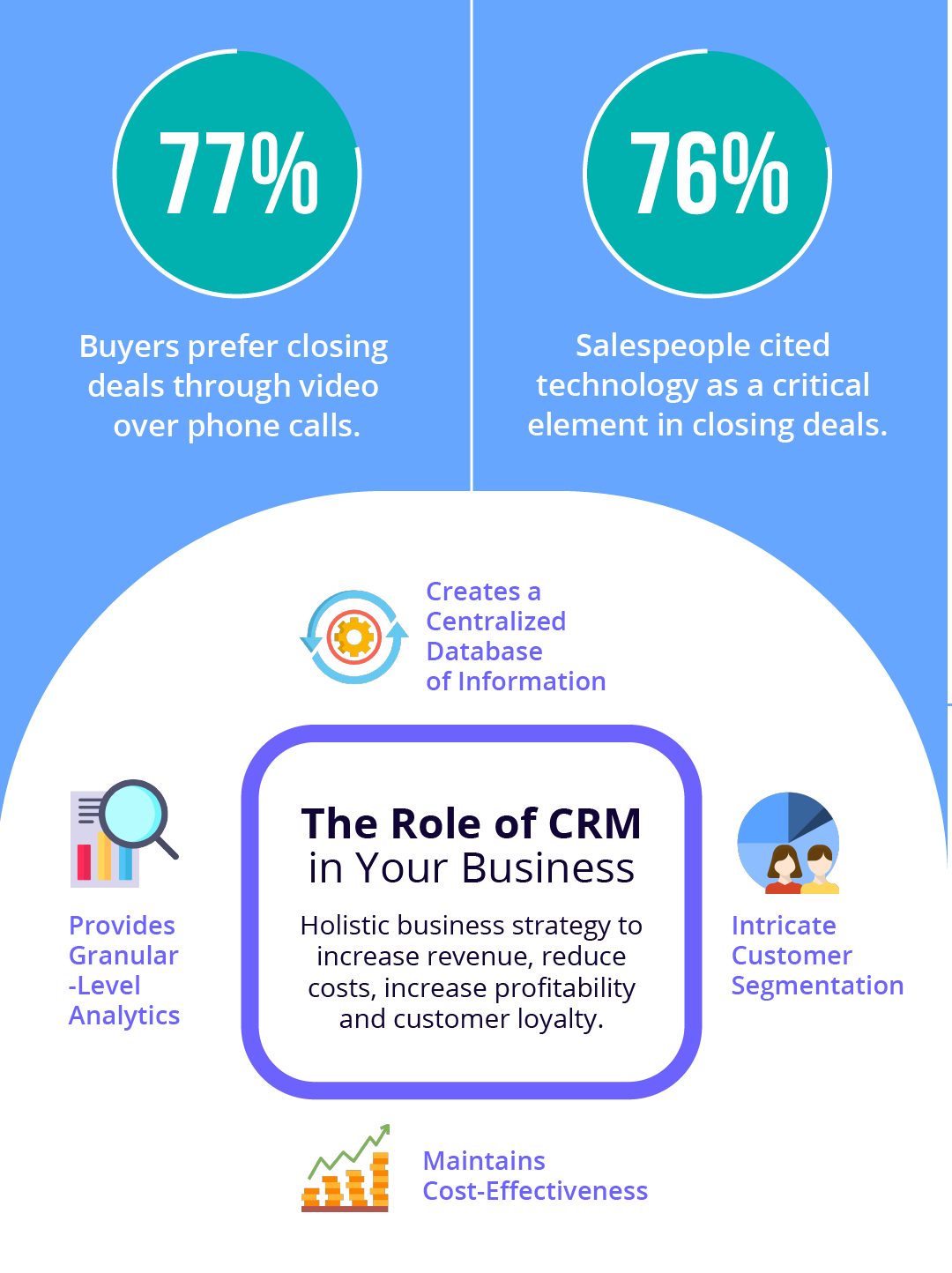 CRM is the ultimate holistic business strategy that is designed to bring in revenues, decrease costs, increase profitability, and maintain customer loyalty. You only realize how much your business needed CRM once you incorporate it into your workforce.
If you are still on the fence as to whether investing in a CRM software is worth it or not, well maybe the following points will help you come to a conclusion.
Provides Granular Level Analytics
CRM helps in providing you with microscopic details about your customers. Having a granular level of knowledge regarding their preferences helps you in determining which plan of action has to be taken to retain them and gain new customers.
Creates a Centralized Database of Information
Dealing with a huge chunk of customer history, preferences, and data can get overwhelming. Well, not when all of our necessary information can be accessed from a singular hub, which CRM helps in building.
Intricate Customer Segmentation
Your customers have varied tastes and come from different demographics, which might custom their requirements. CRM helps in segmenting your customers so that you are better equipped in concentrating on providing the best results for each sub-group.
Maintains Cost-Effectiveness
With CRM handling numerous sections of the data analytics sector, you would have to invest way less in employing staff. You would have fewer resources to deplete and fewer staff to manage. The cost of enabling a CRM software is incredibly lower than paying staff continuously. All the money you save here will add up to your profit.
These are the four major pillars around which the other functions are associated. So, with CRM taking care of them, you can rest assured that this is worth it. Now, when it comes to which CRM is worth your money and attention, you can't go wrong with CloudFiles, and here's why.
CloudFiles and its Multi-Faceted Business Actions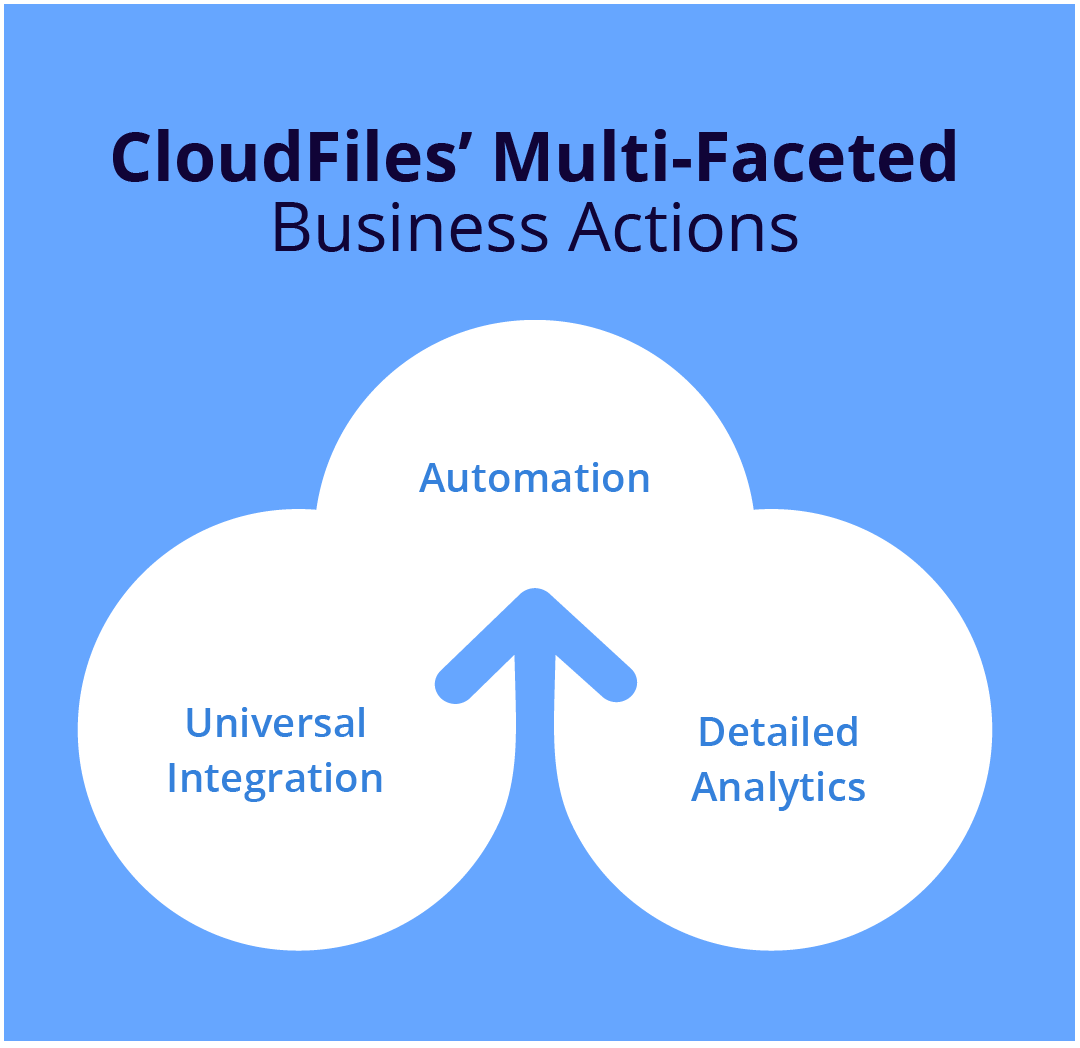 Imagine having a tool by your side that will require nominal investment but will procure the work of hundreds of staff with meticulous precision quickly. That's pretty much CloudFiles for you.
While making a product pitch, this file-sharing app can assist you through its multi-faceted plan of action.
Detailed Analytics
The most important aspect of making a pitch is having awareness about your client. CloudFiles takes care of it by providing detailed analytics that would eventually help you in fine-tuning your pitch and honing your product to better suit their needs.
CloudFiles converts all necessary files into PDF and helps you keep track of how many times they have been opened, viewed, downloaded, and how much time has been spent on them. At the end of the day, you are presented with all these information in an organized form that you can have access to with a single click.
Universal Integration
A common misconception that entrepreneurs have is that they believe if they start using CRM software, they need to completely change their entire work platform of data storage and communication.
At least with CloudFiles, you don't need to shift from your existing platform. You can integrate CloudFiles with the platform you are already working with (Such as HubSpot, Google Suite, etc.).
Stimulating Automation
Automation is crucial for a CRM software since it helps in providing a unified communication platform, streamlining the workforce, and boosting productivity. In both sales and marketing, having automated workflows helps in freeing up time, allowing you to focus on more strategic work.
CloudFiles manages external and internal interactions. In other words, you can use it to automate interactions on different types of media. You can trigger workflows based on your client's actions.
All of these contribute towards building a sales or marketing pitch that is scientifically effective and yields long-term results with maximum clarity. Not to mention, the high level of security and central hub of data that CloudFiles comes with, makes it a no-brainer choice.
Key Focus Areas While Polishing Your Product Pitch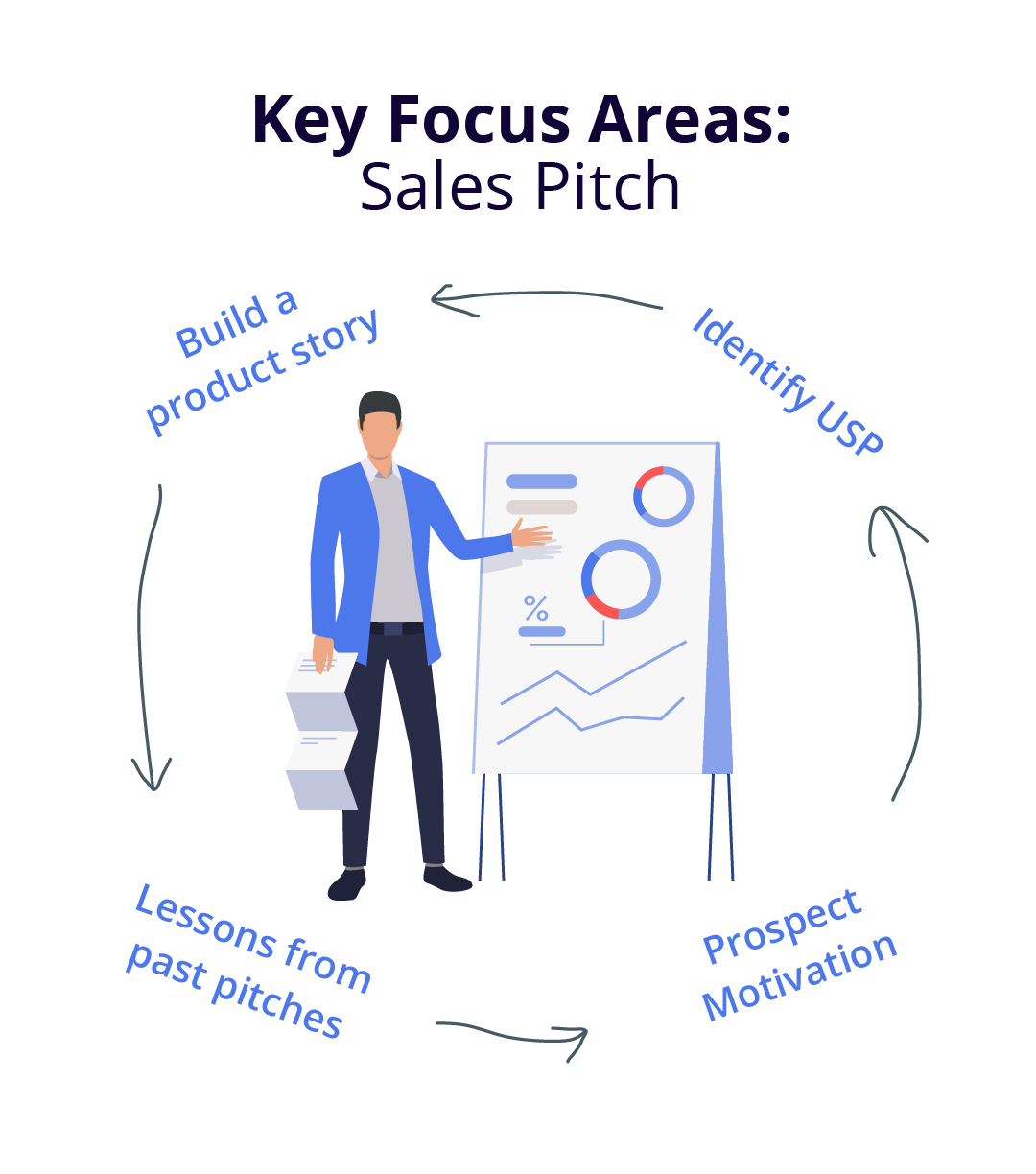 Practicing flexibility while trying to lay out the pitch for your product will go a long way in serving your brand. Here are some pivotal aspects you can incorporate in your blueprint for the same.
Build a story around your product and make sure it is created keeping in mind your client's or customer's point of view. Why do they need it? What can they do with it? How can they use it? Why is it better than its contemporaries?
Consider what governs the decision-making process of your leads. CloudFiles helps in delivering a summarized analysis for this. What would motivate your client to invest in your product?
Think beyond just providing a solution. Paint a bigger picture. Nurture the vision of the people you are pitching your product to. Help them dream big.
Go back and learn where you screwed up in your previous pitches. Why didn't it work? If it did work, which aspect of it was the most successful?
Finally, find your USP. You don't have to always push boundaries to get noticed. Sometimes, less is more. You need to figure out what that unique thing is.
Final Thoughts
You need to think scientifically. You need to think economically. You need to think logically. If you want your business to flourish and still exist at least ten years down the line, you need to incorporate dynamic CRM software such as CloudFiles into your workforce.
CRM software is slowly but steadily being recognized as the lifelines for assessing where the mindset of customers stands. This invariably helps in putting you a couple of steps ahead of your contemporaries.
To not make most of the opportunities provided by these productive tools will be a shame. And that is not where you want your business to venture into.