What, Why And How Of Files Enablement
The language that dominates the world of business today is digitization. Irrespective of which line of business you foray into, your managerial skills will be dictated by how well you can keep up with the digitization that is dominating the workforce globally. Learning and adapting are the key to staying afloat in business.
A major aspect of any business is how you manage your files, which forms the basis of files enablement. If you are new to the concept of files enablement, don't stress! We've got you covered. Think of it as the syntax for the business language that you need to learn to speak the language that will help your message get across to those who you intend to deliver it to.
So, let's try and understand what it is at its core and how it can benefit your business while also figuring out the ways you can incorporate it into your business.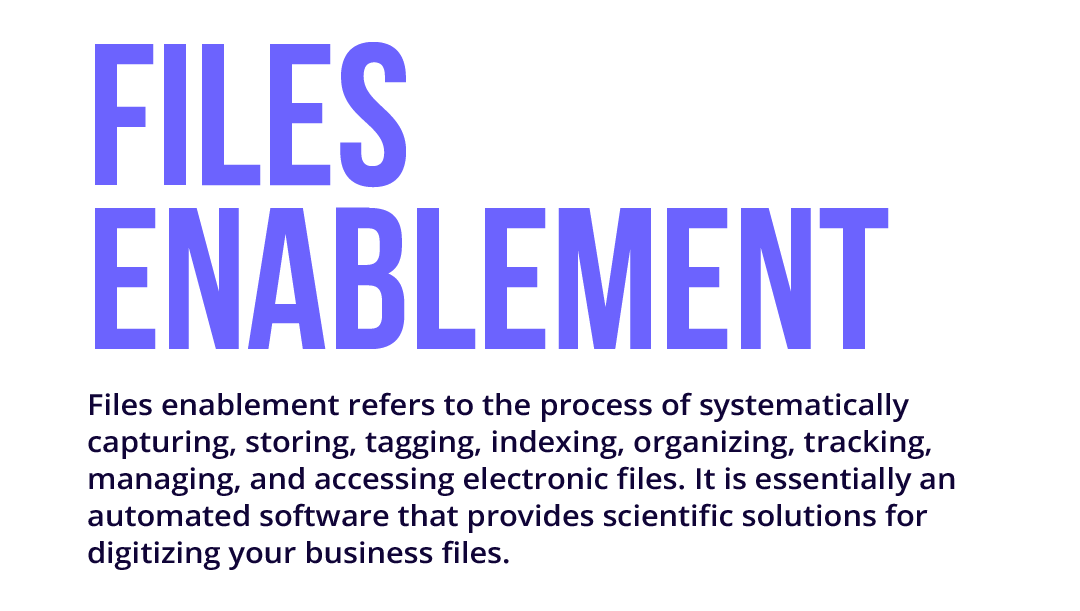 What is Files Enablement?
Files enablement refers to the process of systematically capturing, storing, tagging, indexing, organizing, tracking, managing, and accessing electronic files. It is essentially an automated software that provides scientific solutions for digitizing your business files.
Whether it is the digital images of tangible content or any word processing files, this comes to your aid to ensure all your files have security, centralized storage, access control, streamlined search and retrieval, and most importantly, access control.
Also known as Document Management System (DMS), files enablement helps in creating electronic filing cabinets that you can use as a base foundation for managing all your paper as well as digital files. All your hard files can be uploaded to a centralized storage unit with the help of a scanner. The built-in search engine that comes along with files enablement helps you quickly navigate your way around any document that you need.
In addition, you would be able to provide the much-needed security to all those confidential files with sensitive business information that you can't afford to slip into the wrong hands. With a customized permission setting, you would always be in control of who can access our files.
Files enablement shouldn't be confused with sales enablement. While both of them are aimed at boosting your business in one way or the other, the differences lie in their form and approach.
Sales enablement, at its core, is infused with the concept of providing salespeople with the right training and skills they need to close the deals. Files enablement, on the other hand, is the standalone process that is symbolized by a system that will manage your files. Here, the entire job will be taken care of by software which is in stark contrast with sales enablement where the training would be provided by an ongoing manual process.
Why is Files Enablement Important?
Files enablement is more than just cloud storage. It provides you with the essential tools you need to not only save time and money but also ensure meticulous results to minimize mistakes. If you are still on the edge as to whether your business needs it or not, take a look at all the following promising benefits it provides your business with.
Better Collaboration
Files enablement calls for easier sharing of documents among concerned personnel. While collaborating on a project, you would have to share your files with a vast network of people. By practicing files enablement, you ensure an efficient workflow since you can monitor and permit access to all your files, leading to better productivity.

Reduces Storage Space
With each passing day, the practice of physical storage of files is becoming redundant. Add to the fact that the costs of commercial properties are increasing, which makes storing paper documents less economical. Files enablement helps in freeing up physical office space since you don't have to rely on file cabinets, storage bins, and boxes to store information.

Top-notch Security
A key aspect of document management is providing security to sensitive data. Files enablement is synonymous with high-level security since you are at the forefront of who is getting access to how much amount of information. In addition, it also helps in leaving a trail of the history of everyone who has had access to your document.

Convenient Retrieval
Time is money and the easier the process to retrieve crucial data, the better the productivity of your business is. With the new-edge technology that files enablement employs in its functioning, it makes retrieving data quick and scientific, saving much valuable time and keeping the process hassle-free.

Enhanced Disaster Recovery
You may fear your server getting destroyed which would tear down all the files you have stored online. But, files enablement takes care of even that concern since it is one of the most prevalent disaster recovery strategies practiced by entrepreneurs globally. As such, your business will continue without any nuisance even when your company's operations have been disrupted.

How is Files Enablement Practiced?
The essence of files enablement can be summarized into three broad zones, as mentioned through the following practices. All of these can be incorporated by installing a database management software.
Functioning as a Central Repository System for Data Rooms
Files enablement is employed as a central repository for all company documents. Although previously it required an intensive migration mechanism to shift all the documents in the system, nowadays, technological advancements have allowed for direct connection to existing repositories.
Capturing Files from any Source
A files enablement software captures varied documents from diverse sources including scanned paper files, external apps of Customer Relationship Management (CRM) and Enterprise Resource Planning (ERP), and emails, among others. Once they are uploaded, you can personalize them to classify, categorize, and index the different types of documents as per your requirements.
Enabling Easier Files Search and Retrieval
As a user, you can tag your files so that they can be searched through different parameters. This ensures an easy search and retrieval of files. The metadata associated with each file yields accurate results, making workflow effective.
Who should use Files Enablement?
As we discussed above, the usability of a files enablement mechanism transcends the boundaries that group different businesses into various industrial categories. At the end of the day, every form of business depends on the tracking of information. So, where there is information, there are documents, and where there are documents, you need a document management system.
So, if we have to list out, then here are some of the many lines of businesses that could use files enablement to boost their productivity.
Sales
Marketing
Start-ups
Legal
Human Resources
Mergers and Acquisitions
Manufacturing
Logistics
Insurance
Healthcare
Its popularity can be assessed by the fact that the global DMS market was valued at $4.89 billion in 2019 and it is expected to reach $10.17 billion by 2025.
How CloudFiles aids in Files Enablement?
For implementing files enablement in your business, you need a file storage app. CloudFiles is one of the most sought-after files enablement software existing in the contemporary market due to its diverse features and easier mechanism.
First and foremost, it is an integration-first app meaning it doesn't require you to change from your current platform to its own platform. For instance, if you are someone who is already using Google Suite or HubSpot, then you can directly integrate CloudFiles into these.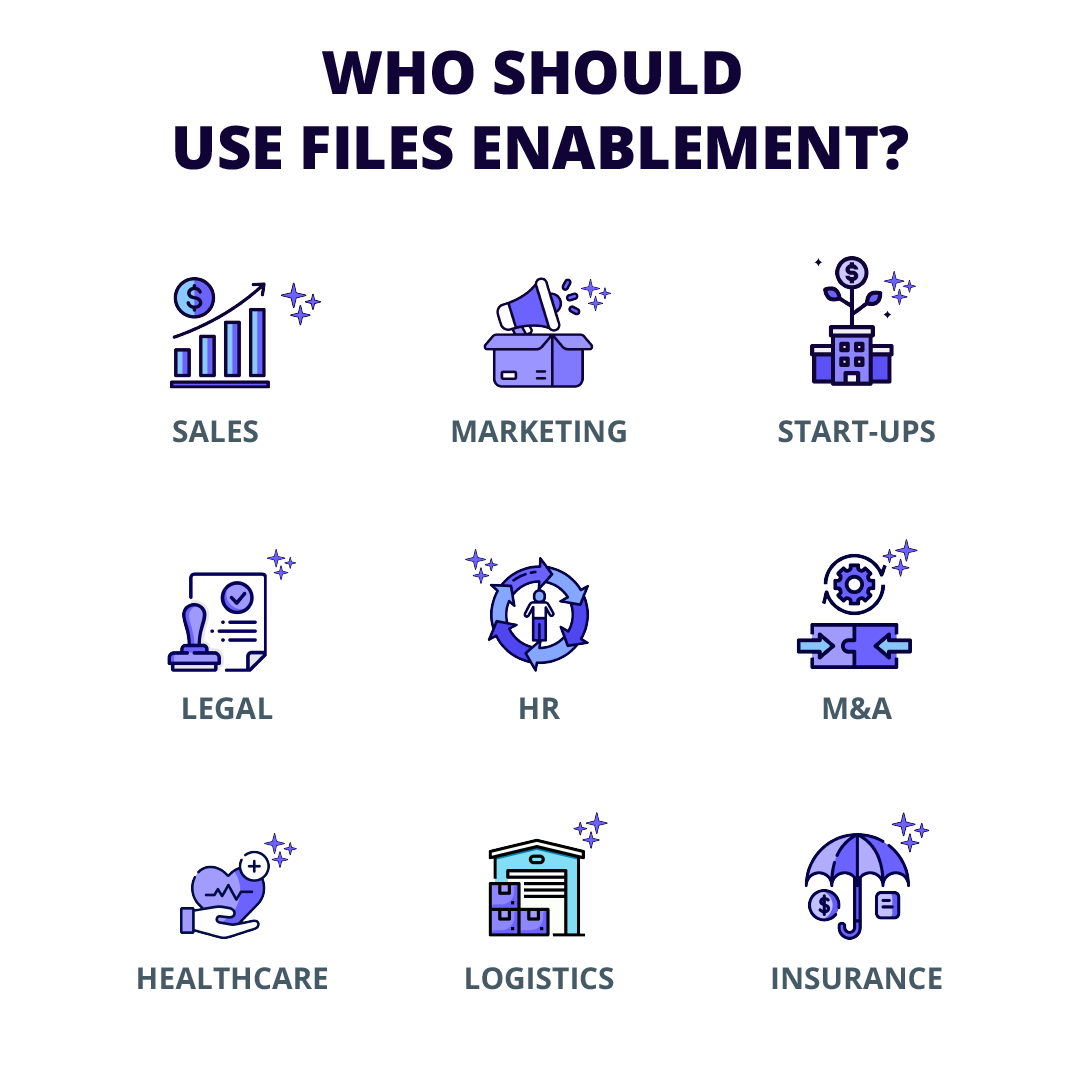 With a high-level security system to ensure protective authorization over files, CloudFiles also ensures zero downtime of services, saving valuable time and money for your business.
In addition, it also provides you with scientific analytics, which aids in tracking everything related to your documents. How many times a particular file has been opened, downloaded, viewed, by whom, and for how long, everything will be summarized with one click.
Furthermore, it also creates automated workflows which can be a highly effective tool for sales and marketing. This means that you can customize a response that would be sent to your clients whenever they perform an action related to your document, such as viewing or downloading a particular file.
Final Thoughts
Gone are the days when you could rely on paper storage of information. No matter how small your business is, if you think you could do without proper files enablement, you would be faced with a rude awakening, my friend!
Sooner than later, you will get overwhelmed with the amount of information you have to store. Not to forget, you won't be able to provide your files with the level of security they need to stay safe from all the risks that endanger them.
Files enablement is the most effective practice for storing, accessing, and securing all your documents. It makes adapting to the digitization process smoother and you don't have to constantly worry about having the required file by your side when you travel since you can have access to it from any device at any place.
Make files enablement an integral aspect of your business and see for yourself how you can reap the benefits of this worthy investment.