The Potential of Software Integration as a Service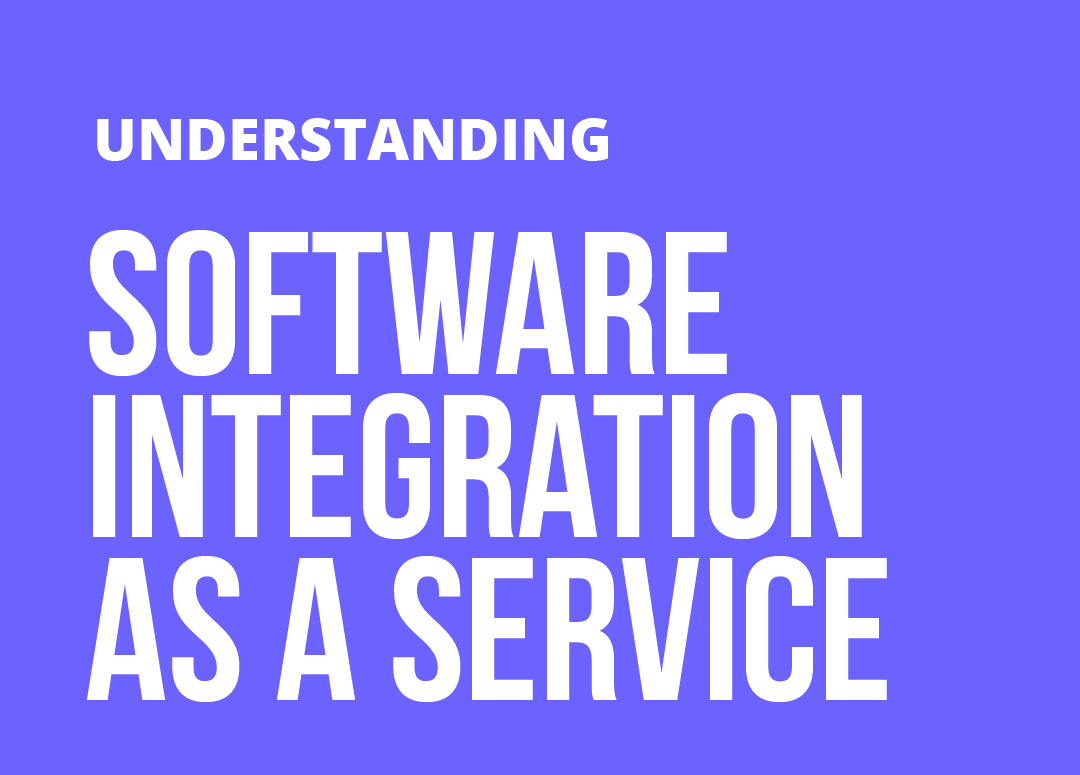 At this age, we all know that running a business requires more than knowledge, skills, and leadership. Whether for increasing the digital footprint or creating brand loyalty, whether for nurturing customer relationships or managing internal and external communication, there is always a heavy reliance on software integration.
Entrepreneurs are always on the lookout for ways to optimize the efficiency of their management and workflow processes. No matter how crafty you think you can get, even the best of us can't depend on just manual management of an organization.
For a layman getting into the technicalities of software integration and implementing it in your business can, at first, seem overwhelming. But, trust us, within no time, you will ease into it, and sooner than later, you will find it to be an important ally to your business.
So, with that being said, let's get to know about it a bit more closely.
What is a Software Integration?
Software integration refers to the systematic process of bringing together different types of software sub-systems so that they can function as a cohesive unit.
In any given line of business, the entrepreneurs must incorporate multiple software systems. Be it for enhancing sales, managing customer relationships, boosting productivity, or improving internal communication within the organization, you need a diverse set of software.
As you can imagine, things can clutter up when you are handling a wide range of data sources, from where these software systems extract their information from. Here comes the need to synchronize these data sources, for which software integration is pivotal, if not mandatory.
Under this, numerous software sub-systems are integrated through techniques like enterprise application integration, manual programming, computer networking, and business process management. Moreover, it will also help you get an understanding of the full scope of your business.
Why do you Need Software Integration?
Let's look into the situations where software integration will come in handy for you.
When a company is transitioning from a legacy system to a cloud-based data storage system.
When a company that is using multiple database systems wants its software systems to have uniform metrics.
For linking chains of different systems of files or databases.
To replicate the business processes by connecting different standalone systems for getting unified results.
For setting up a data hub where information is transferred with the help of an ETL process.
To gain scientific insights on an upcoming project without having to hire additional integrators, software developers, or engineers.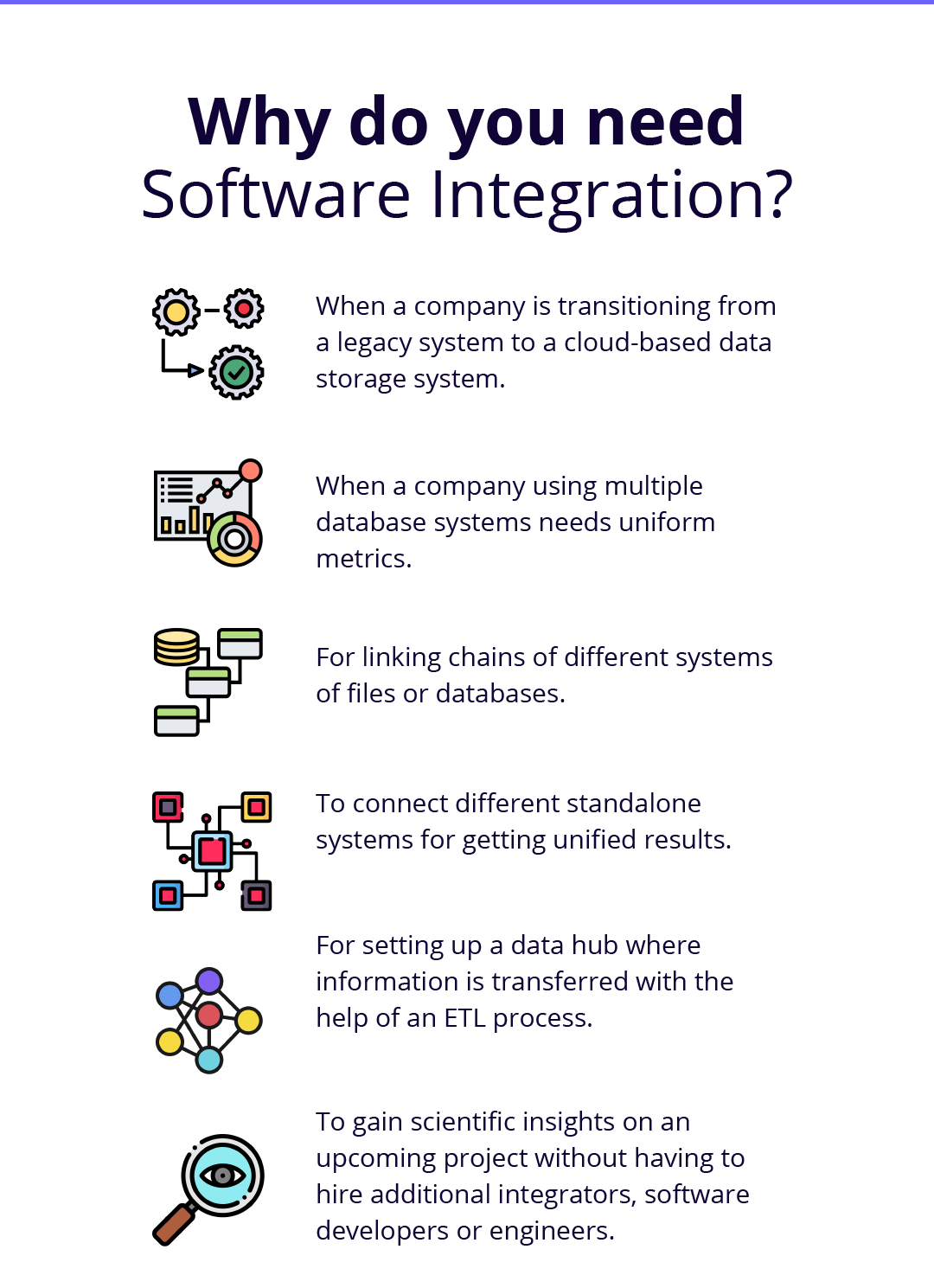 Understanding IaaS
IaaS stands for "Infrastructure as a Service" and refers to a cloud-based computing service that helps in computing, storing, and providing a broad network of resources on command. Running on a pay-as-you-go methodology, it is among the three major variants of cloud services, the other being SaaS and PaaS, that we will cover later in this blog.
Cloud provider provides IaaS subscribers with their demands through various virtual machines that are accessible online. Some of the noteworthy services that IaaS providers can help your organization with are:
Monitoring
Storage backup and recovery
Security
Load balancing
Billing
Log access
Clustering
IaaS understands the importance of intelligent automation in the smooth running of a workflow process and that is why it allows its users to implement customized automation for their concerned projects.
According to Gartner, worldwide revenue from IaaS is expected to be around $74.1 billion in 2022. Across all market segments, it is estimated to have one of the highest growth rates. So, it is no surprise as to why entrepreneurs around the globe are so gung-ho about incorporating IaaS in their software systems.
5 Reasons Why Companies Should Choose IaaS over Creating Their Own Services
You may want to create your own range of services, but opting for IaaS is always a more practical, wise, and reliable option if you dig a little deep into finding its advantages. Here are some of them.
Highly Economical
One of the reasons why IaaS has been widely accepted is because of its economical feature that ends up saving your bank balance. It has low infrastructure cost, you don't have to pay additional money for any hardware or networking equipment, and there is no need to pay for any monthly or annual fees for features that you don't end up using.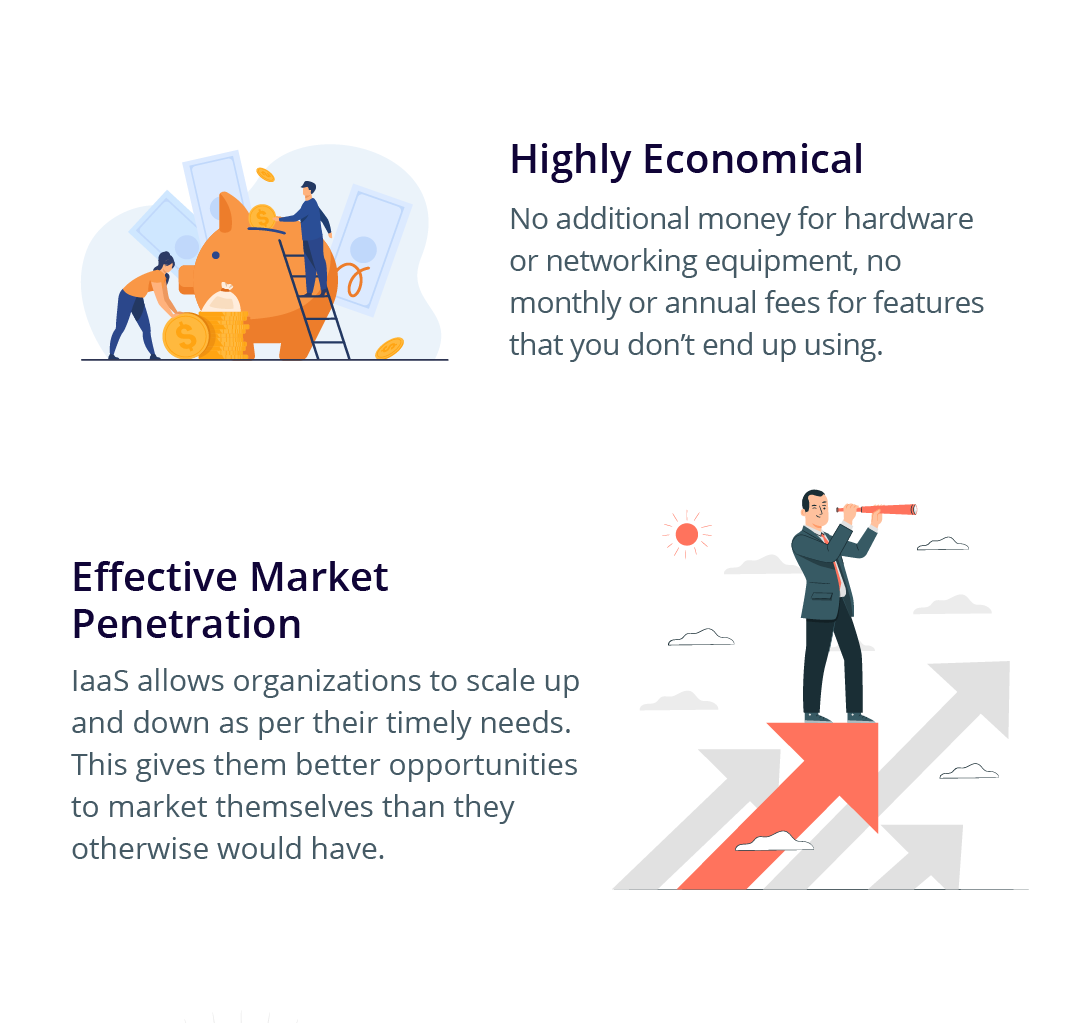 Effective Market Penetration
IaaS allows organizations to scale up and down as per their timely needs. This gives companies better opportunities to market themselves to prospective clients quicker than they would have otherwise.
Sturdiness
The infrastructure of IaaS is not deterred by any failure of the hardware or internet. This gives companies more assurance that their work will be carried out without any disruption from factors beyond their control.
Secured Backup Plan
Losing confidential or statistical data for your company can be the difference between its survival and downfall. If you maintain your records through in-house systems, there's no sense of security that they'll be protected. With IaaS, on the other hand, companies can rest assured that they can always recover their digital data without breaking any sweat.
DR & BC Support-friendly
When a company has branches spread out in various locations, they have to get different DR (Disaster Recovery) and BC (Business Continuity) plans for each location. However, IaaS solves this issue by offering combined service plans for both for all your locations, thereby, boosting your managerial power.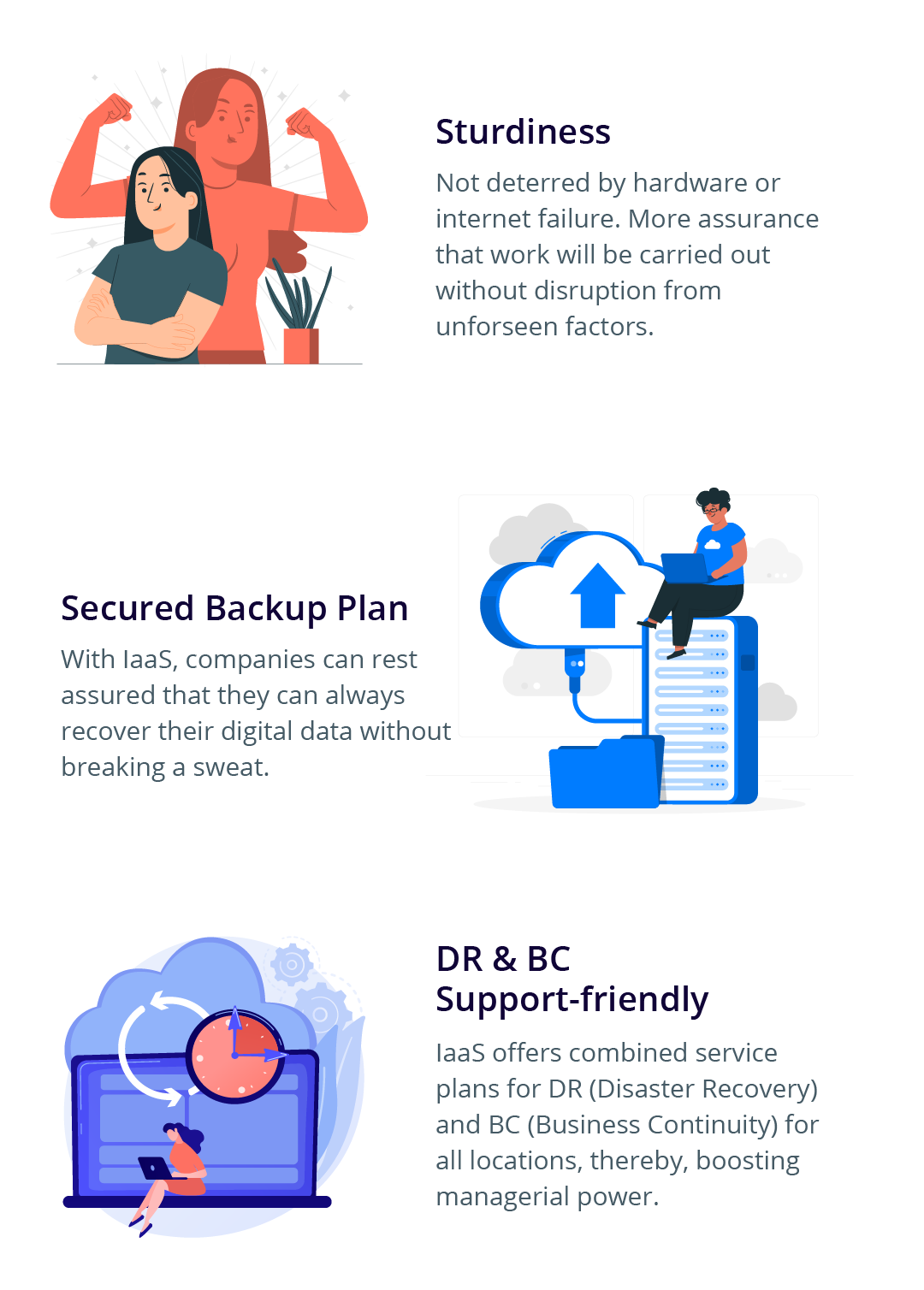 IaaS v/s PaaS v/s SaaS
As we said earlier, IaaS is one of three major variants of cloud-based computing services. Let us now try and understand how it differs from its two other contemporaries.
IaaS offers, as we discussed, computing, storage, networking, and virtualization services based on the pay-as-you-go approach.
PaaS (Platform as a Service) provides software and hardware development tools-related services that are available online. SaaS (Software as a Service), on the other hand, gives you a complete vendor management software solution through a third party.
In case of IaaS, you can avoid paying for expensive on-site resources that you might not be using. It is mostly used by system managers and it allows you to build a platform for development, service, and application test. Besides, there's minimal risk of vendor interlock when you work with IaaS.
PaaS is usually adopted by developers and is used to build and deploy applications and services for clients. It provides a great degree of flexibility and control but there is a considerable risk of vendor interlock here.
Finally, SaaS is known for providing the highest degree of flexibility and control and is used by business users for completing high-end business tasks. However, it does come with the highest risk of vendor interlock.
So, IaaS, might not be the fanciest option among those three but is definitely the most risk-aversive and economical one. In addition, it is extremely user-friendly and has a simpler inter-portability. It more than gets the job done. Sometimes, less is more and all you need is the smartest utilization of what is available to you.
Final Thoughts
The modern business world demands software systems to do more than what past systems were able to. This calls for a coherent and unified system. If you want to streamline the different connection workflow processes between the numerous software sub-systems you use, data integration is a must.
IaaS is the most sought-after cloud-based computing service available because of its affordability, risk-aversive nature, and high-efficiency performance. Investing in it is a wise decision that would multiply the fruits of profit, not only in terms of revenue but also in terms of managerial skills and customer relationships.