5 Cool Tricks used by Customer Service Teams
There are absolutely no two thoughts about the fact that customer service is one of the most demanding jobs in the world. Pleasing a customer completely can sometimes feel like trying to make a camel pass through the eye of a needle.
It takes quite the skill to polish the art of communication skills and brush up on technical knowledge about the concerned product or service to provide a wholesome experience for your customer. But, the aspect you need to learn first is that there is no such thing as perfect customer service.
What you can aim to achieve is to rectify past mistakes and adopt efficient ideas to ensure your customer service efforts bear fruitful results. Because as much as it is important to work hard, it is also crucial to work smart so that your hard work counts at the end of the day.
This is what we intend to crack down on as we present some amazing tricks that you can employ as part of your customer service to get a better shot at pleasing your customers.
What are Customer Service Teams?
Before unveiling the tricks, it might come in handy to understand what customer service teams are. At their core, customer service teams are the support that an organization provides to its customers before, during, and after purchasing its products and/or services. The goal is to bring in new customers while also retaining the existing customers to ensure brand loyalty.
You might find another similar term 'customer support' that is often used in tangent with customer service. Well, customer support is a part of customer service that is solely dedicated to resolving issues faced by customers with the items they bought.
The Role of a Customer Service Team
Customer service is a multi-faceted job that entails numerous roles, primary among them being the following.
Resolving issues faced by the customers related to their products and services.
Processing orders and transactions.
Establishing proactive customer outreach.
Gathering customer feedback for product or service development.
Ensuring brand loyalty.
Responding to customer reviews.
Addressing customer grievances.
Developing brand image.
Documenting knowledge into utilitarian content.
Mastering helpdesk software.
Smart Tricks Adopted by Customer Service Teams
Now that you have an idea of what customer service teams have to deal with on a regular basis, let's dive right into some tricks that might come in handy while dealing with customers. If you decide to forge into the fields of customer service, these tricks might be the difference between a happy and infuriated customer.
So, let's begin!
React ASAP
When customers approach you with a problem in hand, they have no time to waste. They are usually frustrated or furious. So, minimize the small talk and get right into business and make them feel heard and noticed.
Customers value you showing up early. Maybe their problem isn't the number one priority for you right now, but it is the number one problem for them right now.
For instance, instead of waiting to find the resolution, you should immediately respond to them. Even if you don't have the solution at hand now, just hearing them out goes a long way.
Another application of this trick is to ensure your KPIs are measurable and defined. So, rather than having "We will call you soon", go for "Answer calls in 40 seconds". Not only share this with your trained set of customer support personnel but also mention it on our website so that customers know what to expect.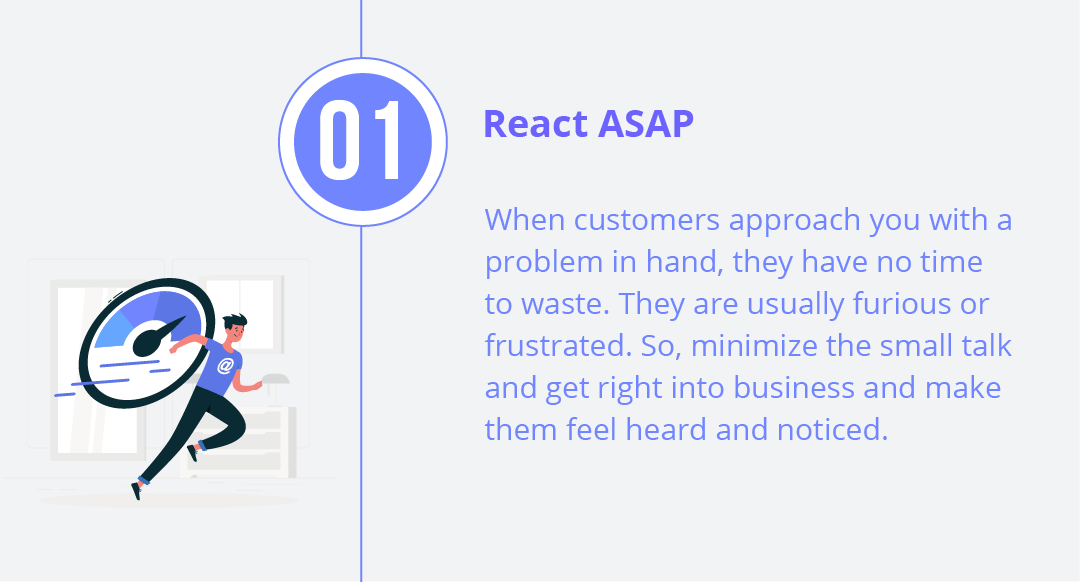 Indulge and Empathize with Your Customers
More often than none, customer service representatives are trained by running through a mundane script with almost no application of emotion. They are asked to repeat the same thing over and over again irrespective of who they are talking to.
This is a problem. Each customer is different. Some are hot-tempered, some are extremely inquisitive, some are less patient than others, some are highly intelligent, some are chatty, and so on. While we understand that it is not always possible for providing distinct and personalized service, you must practice empathy while dealing with your customers.
A simple yet great example can be ensuring to note down the birthday and wedding anniversaries of your customers and wishing them on those days while also providing some incentives for them on those specific days. You can send them handwritten thank-you or appreciation notes or give them a shout-out on your social media channel, surprise them with a personalized video or even meet them in person.
In addition, let your customers be privy to upcoming discounts and sales that are in the pipeline to keep their excitement warm. Not to forget, a good way to make up for a mistake would be to offer discounts to the customers. And, try and have a follow-up check-up after you have provided them with the solution.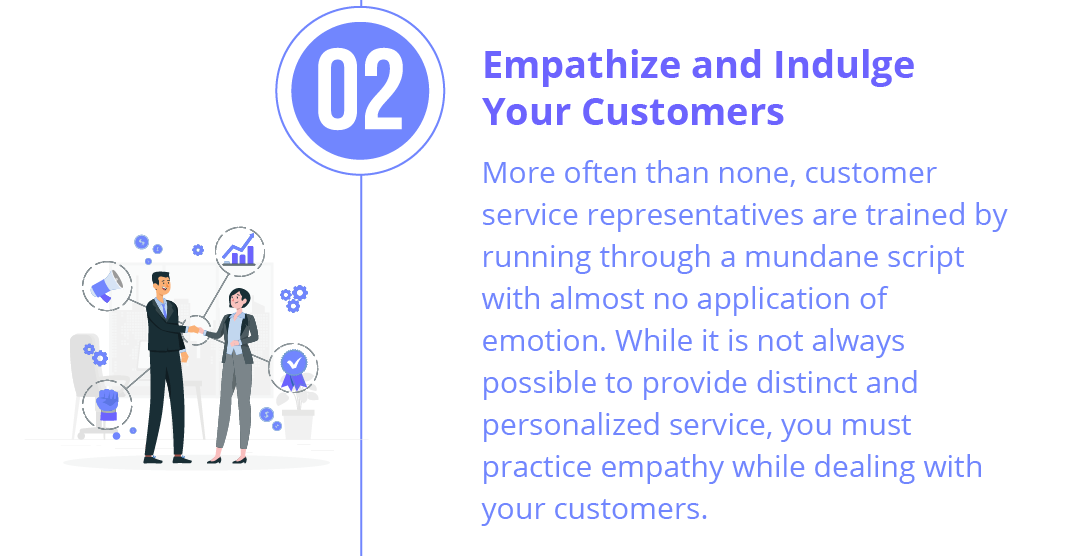 Collect, Maintain and Share Customer Insights
No matter how proactively you conduct endless brainstorming sessions with your team regarding how to handle customers, you won't be able to get into the crux of your customer's minds if you don't collect their feedback.
How much have you been able to tap into the minds of your customers? What are the strengths that you need to highlight and what are the weaknesses that you need to work upon? Why are your numbers dipping? The answer to all these and more can be found through customer feedback.
Not only will you be able to improve your skills and touchpoints but your customers will feel valued that you are trying your best to provide top-notch customer service.
A clear example is a simple yet effective survey at the end of a service call, text message, or e-mail. You can also incorporate an engagement tracking tool like CloudFiles to get this job done. It will be your go-to solution for collecting and analyzing customer feedback and their insights will help you grow further.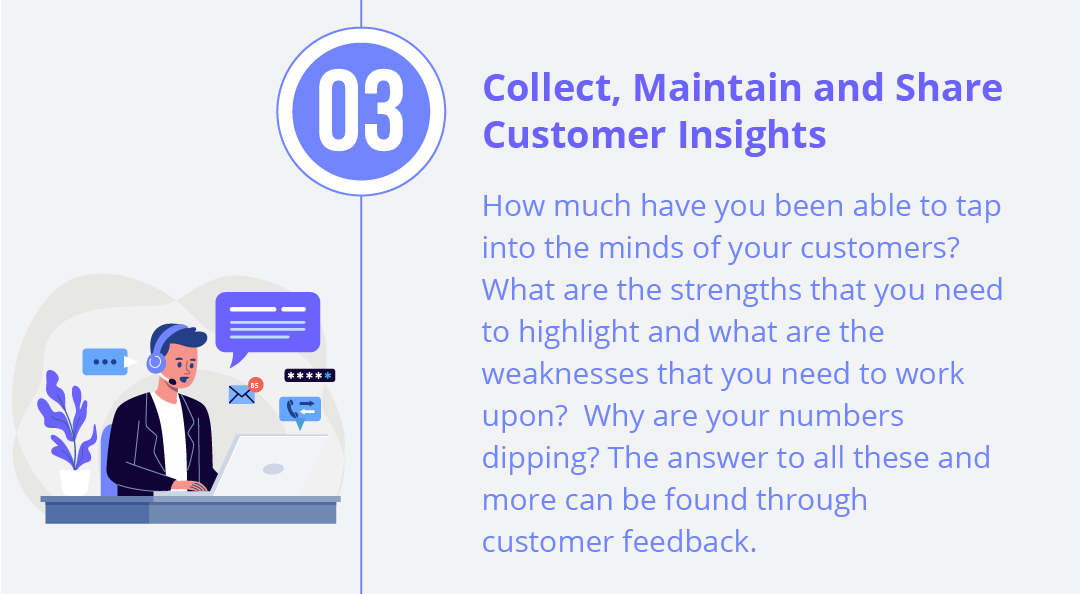 Humanize Every Customer Experience
You won't be able to garner favors from your customers if you speak to them in a robotic language and mundane tone. Humanizing every interaction with your customers will yield profitable results for you.
For instance, if a customer has approached you whether in person or through a call that they can't find a particular product that they need in your store or website, then you have two choices in front of you. You can directly tell them, "We don't have that product now" or you can say, "It's unavailable now but what is the best way to contact you once it arrives?"
Do you see the difference between those two? So, instead of being straight-up dismissive with the first sentence, you can take a more informative and concerned attitude with the second sentence which also will help calm the customer down and will help them be more patient with you.
Using positive and affirmative language is crucial in bonding with your customers where they would not feel that they are just a money-making machine for you.
So, if a customer wants you to get a job done that you won't be able to execute the same day, instead of saying, "We can't do it today, unfortunately", try saying, "We'll get this done first thing in the morning tomorrow or next week."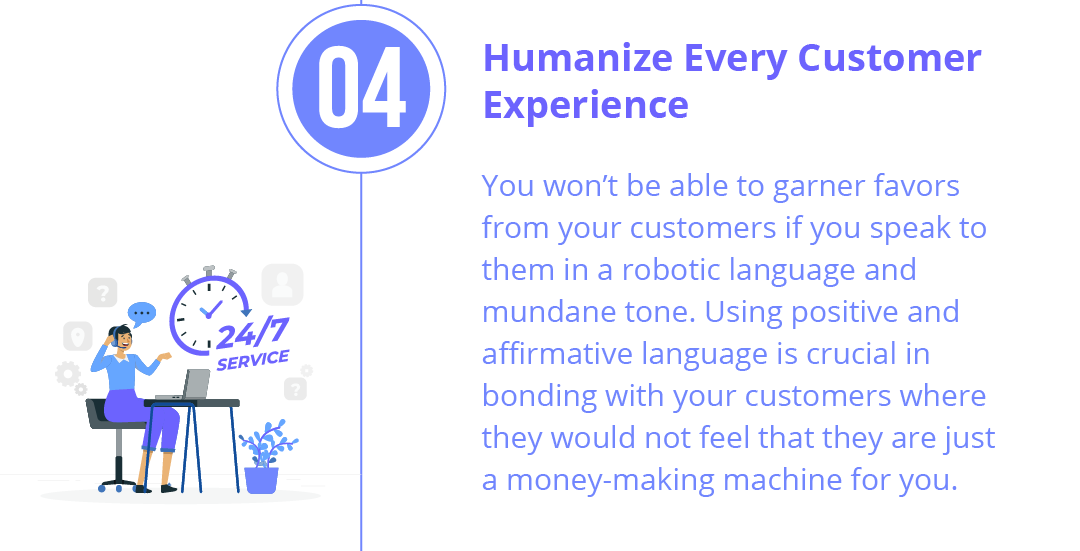 Cross-departmental Grievance Redressal
Irrespective of what position your business is in, at the end of the day, your customers can make or break you. So, ensuing grievance redressal processes are paramount for sustaining your existing customers.
Communicate with all the departments of your company and try and make them work like a well-oiled machine so that they can be unified while providing resolutions to your customers. An effective way to ensure this is by introducing peer-to-peer feedback.
An extremely underused strategy, it allows teams to work well with each other, especially in instances where they have to collaborate to address a particular grievance of a customer. It helps promote a work culture where you, along with your peers from different departments can communicate transparently to arrive at a solution.
Additionally, to help fasten the grievance redressal process, you can put out a dedicated grievance redressal form on your website where customers will put out the issues that they are facing. From there, you can sort out the issues department-wise, priority-wise, and time-wise, to be well-equipped to address them.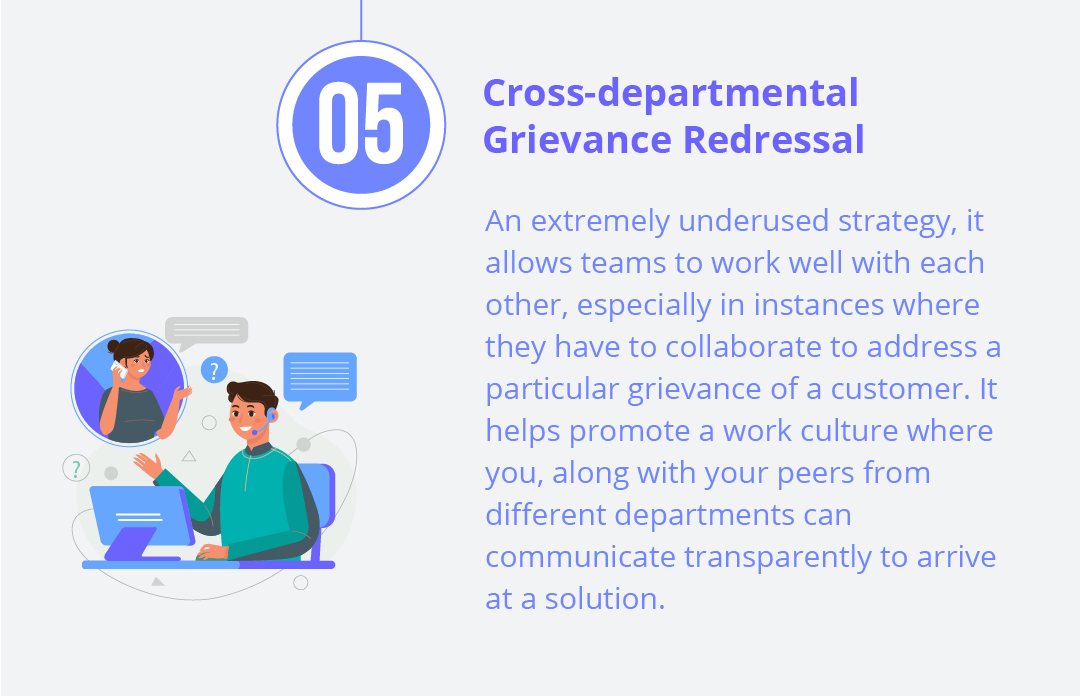 Final Thoughts
Incorporating these tips in your everyday handling of customers will skyrocket the experiences for your customers, thereby ensuring their long-term retention, which ultimately, brings better profit for your company.
Customer service is a pivotal aspect of any brand, especially in the heightened social media world that we live in today, where customers can rant and report against you, giving you a bad rep, and at worse, even cancel you. So, make the most of these smart tips and get your customers on your side by serving and addressing them better.