The Basics Of Growth Hacking By CloudFiles
Introduction
Growth hacking isn't just a buzzword. It is a legitimate strategy that can help you achieve your business goals. But what is it? If you are not sure, you are not alone. Many people confuse growth hacking with marketing or advertising. And while those are essential parts of any business, they are not the same thing as growth hacking—and they aren't intended to be used in the same way.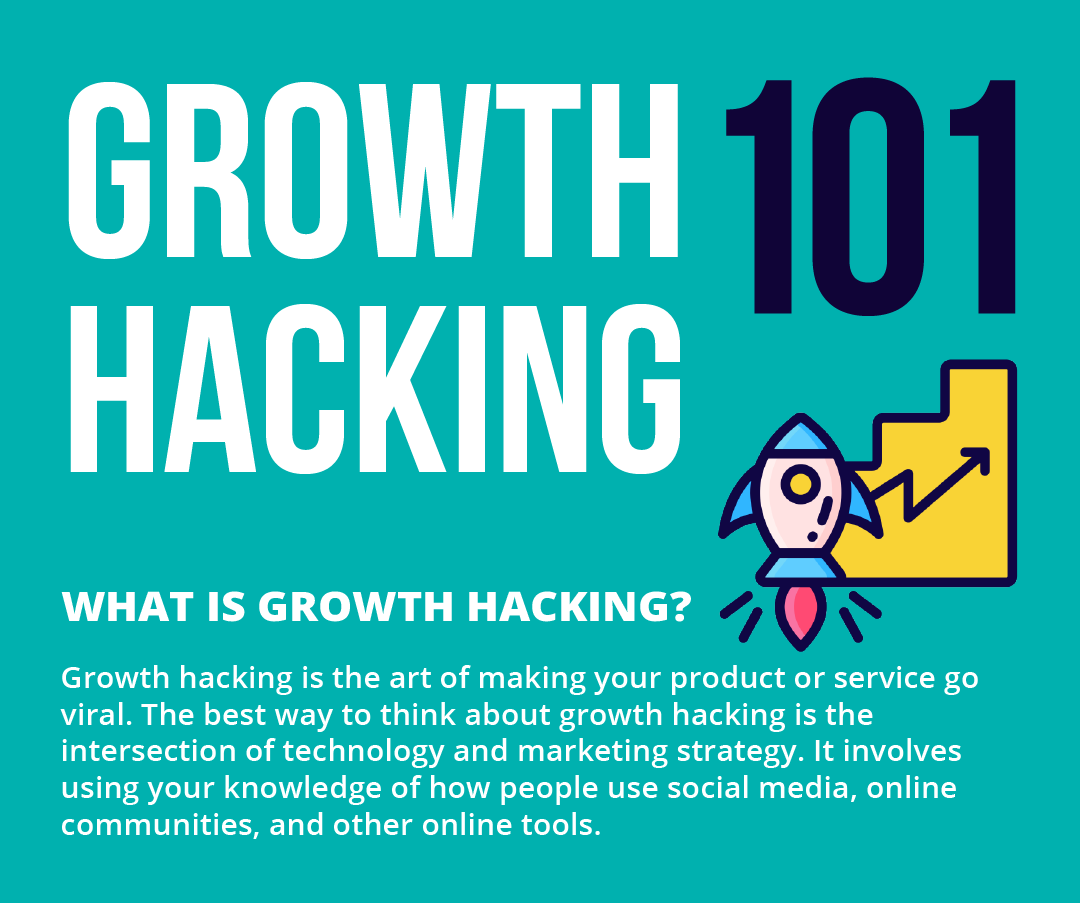 Growth hacking isn't something you do once and then walk away from. It is an ongoing process of discovery and improvement that should back every decision you make as a growth hacker.
What is growth hacking?
Growth hacking is the art of making your product or service go viral, and it's a crucial part of any successful business plan. The best way to think about growth hacking is the intersection between technology and marketing strategy. It involves using your knowledge of how people use social media, online communities, and other online tools to make them want to buy from you.
Growth hacking doesn't just apply to startups and small businesses, though—even large companies use it as part of their marketing strategy. It's all about finding out what people want and then giving it to them in a way that makes them want even more! The goal is to create an experience for your customers that keeps them coming back again and again.
History of growth hacking
The term "growth hacker" was initially coined by a well-known angel investor and entrepreneur, Sean Ellis. With his unique and innovative growth solutions, Sean Ellis helped numerous startups and business organizations grow. The term was first featured in one of his blogs, where he defined a growth hacker as a "person whose true north is growth. Everything they do is scrutinized by its potential impact on scalable growth."
Following Sean Ellis' coining of the term, various leading personalities in the marketing and growth strategy field quickly adapted the term, exemplified it, used it extensively in their blog posts, and contributed to refining the concept.
Sean started an organization of growth hackers with the same name called "Growth Hackers" in 2013. Within a couple of years, Growth Hackers has grown tremendously and held its Second Annual Growth Hackers Conference. Social media tech giants like Twitter, LinkedIn, and YouTube came together to share their pool of 'growth' knowledge.
Hence, Growth Hacking is neither a new term nor a new concept. Although the concept and technique have very well been a presence for quite some time now, it is gaining social traction because of increasing awareness due to digital penetration and learners' curiosity.
Growth Hacking Basics
Good product
When it comes to growing your business, there are many things you can do. You can market more intensely, do more in-person events, or focus on growth hacking. But if you don't have a good product or service, none of that matters.
If your product or service isn't worthwhile, people won't buy it, no matter how much marketing you do or how many events you host. The best way to grow your business is to make your product or service better—and then market your way into the hearts and minds of potential customers until they are so excited about the value they are getting that they go out and tell other people about it.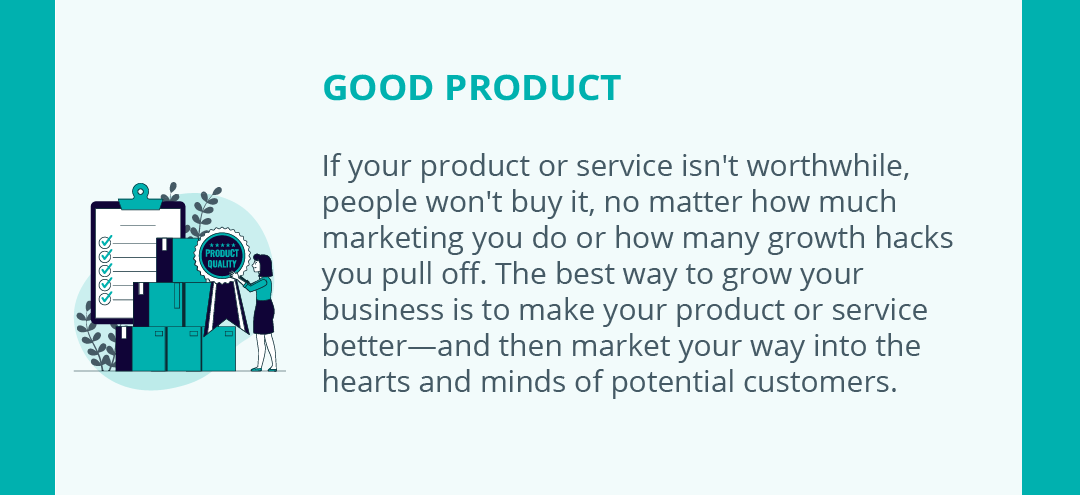 Focused targeting
Focused and accurate targeting of prospects and customers is significant for growth hacking. When you know your ideal customer, you can better target them with content that will appeal to them. This also means that you can use the right marketing channels for this audience and avoid spending money on channels that don't work for them. Knowing who your target audience is, helps you develop better strategies for reaching them through marketing channels that they actually use.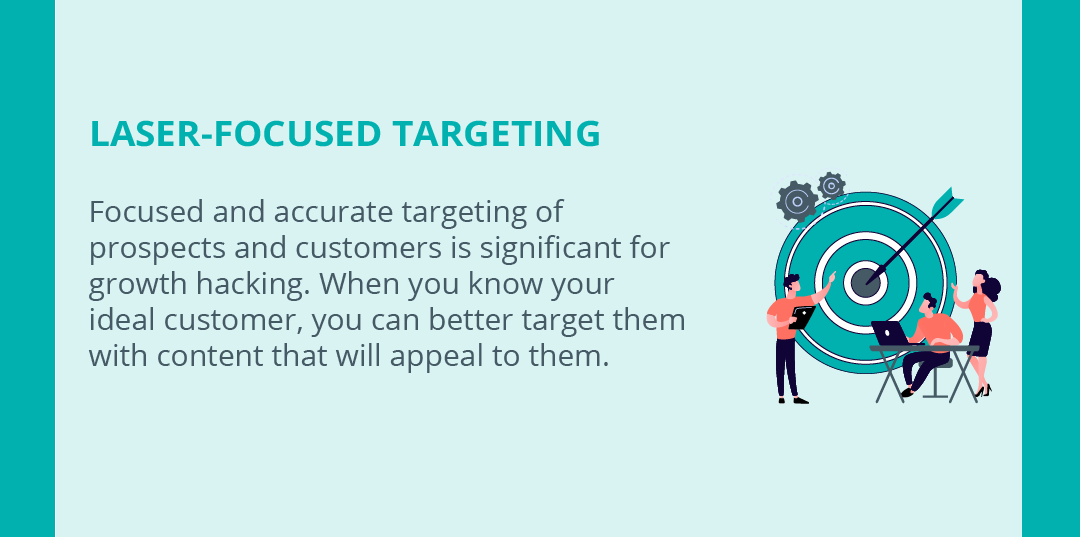 Acquisition
Many people think of growth hacking as a set of tactics and tools, but it is actually much more. Growth hacking is a strategic approach that helps you generate more prospects and increase your revenue. It is not just about getting lots of traffic—it is about strategically using data to find the people who will be interested in what you are offering and reaching out to them in the right way.
Most businesses know how important it is to have a solid customer acquisition strategy, but many don't know what that means in practice. A good customer acquisition strategy requires more than just knowing where your next customer comes from—it requires that you understand the value of each source of new business and how they can benefit your bottom line.
Data-driven customer acquisition is all about understanding what your customers want and giving it to them, using all the information available about their behaviors and preferences to inform how you engage with them. And when you use data-driven customer acquisition techniques, you are not just getting more customers—you are building relationships with the ones you already have.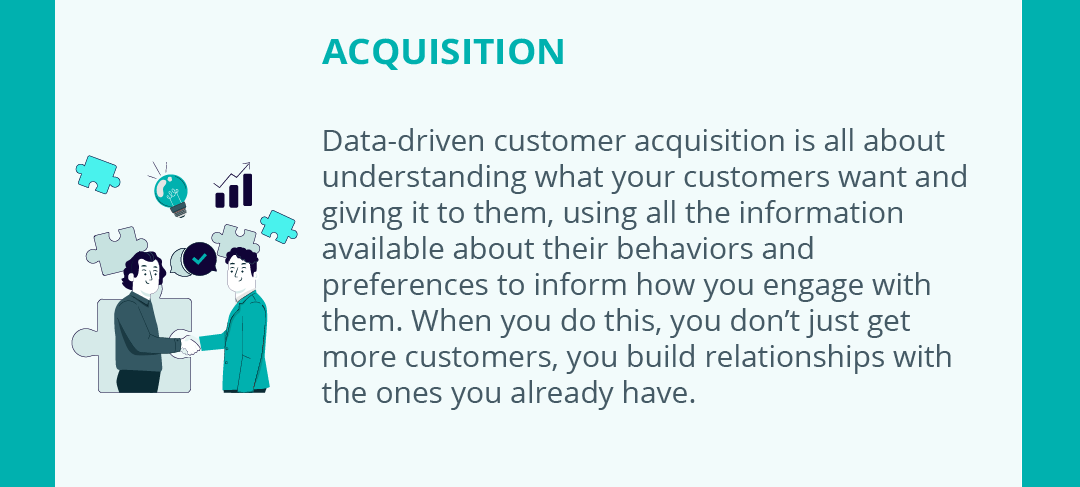 Retention
Almost 82% of companies confess that retention is cheaper than customer acquisition. When you are acquiring customers, you are spending money on marketing and advertising to convince people to invest in your product. But once they are already your customers, all you have to do is keep them happy and make sure they feel like they are getting a good deal. It is a lot easier to do that than convince someone who isn't even your customer yet that they should be!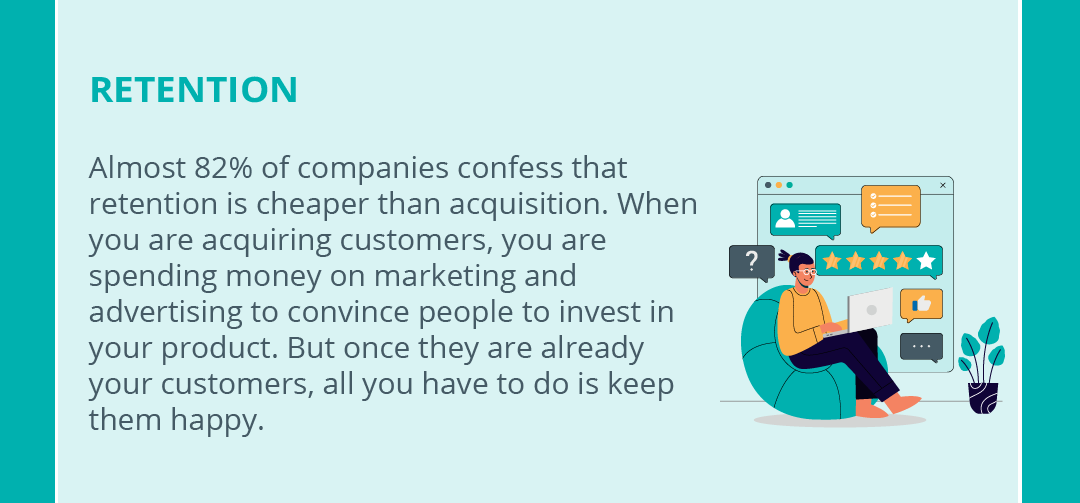 Referrals
In a business, referrals are the most effective way of marketing your product. And it is because you are getting recommendations from people who trust you and know that you will give them a great product. They also know that you will treat them right when they make the recommendation, so they will be happy to do so. For example, over 84% of people trust referrals and go with recommendations to buy something.
There are many methods of getting referrals, but they all have one thing in common - building relationships with customers and delivering value through their interactions with your company.
You can also inspire your customers to refer and recommend without directly asking. Prompt customer support and superior customer experience is one way to do it. For example, brands like Zappos are exemplified as customer-centric and customer-first brands, making it easier for them to build a community of customers who are always in high spirits to refer the brand and their product or service to their near ones.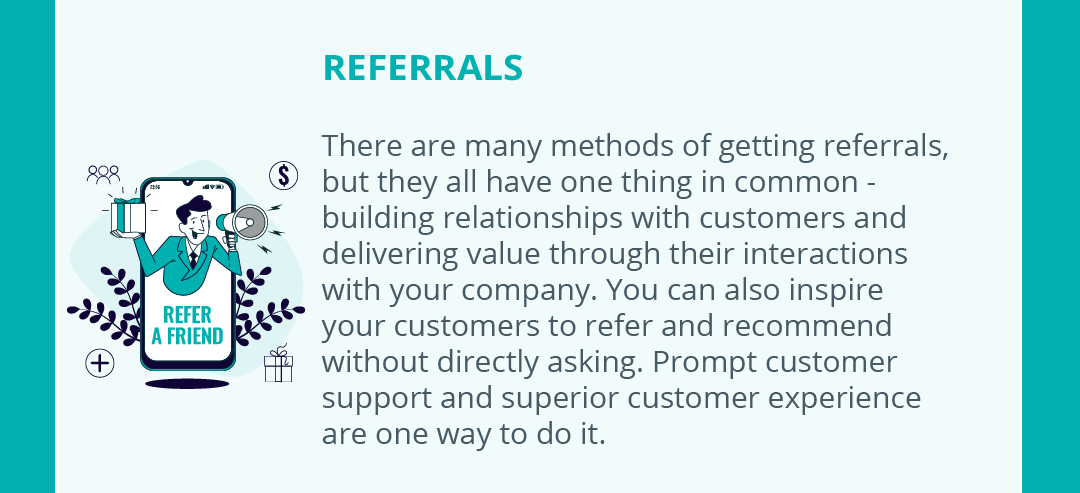 Innovate and improve
Innovation is different from other business tactics because, when done well, it is not a one-time thing; but rather an ongoing process. When you are constantly improving and updating your product, it will be able to reach more people and perform better than if you were just to set it aside and wait for something new to come along.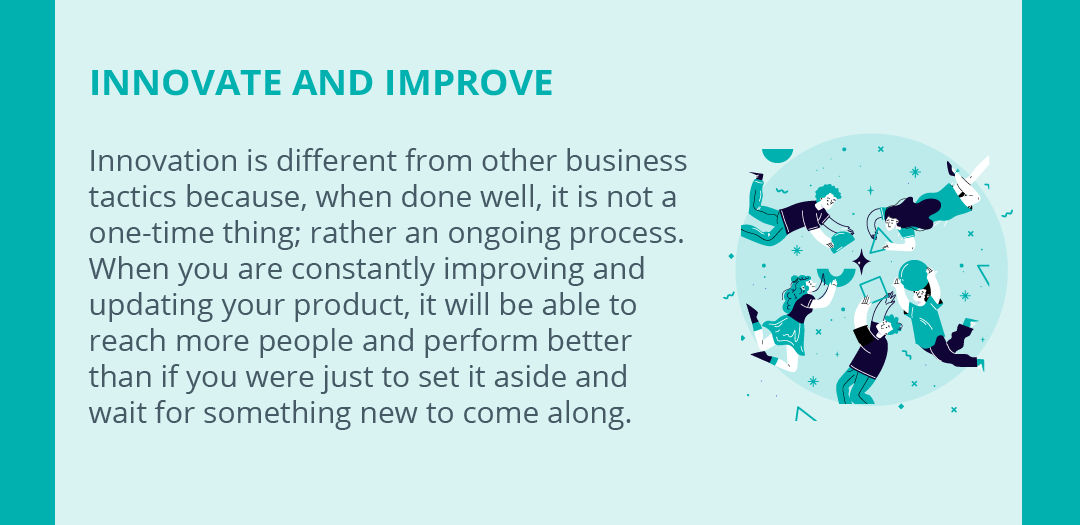 Importance of data metrics and analysis
Data metrics and analytics are the fuel that powers your business. You can make smarter decisions, optimize operations, and boost growth with the right tools and information.
But what exactly are data metrics and analytics?
Data metrics are essentially the numbers behind your business. They are indicators that help you measure things like sales, traffic, or engagement to see how well your company is doing at any given time. Analytics tells you what's going on behind those numbers—why did that sales spike happen? Where did these customers come from? How can we leverage this information to improve our processes?
If you don't know what is working and what isn't, then how can you expect to make any progress? You need data metrics and analytics to see where your sales are coming from, who is buying from you, and whether they are happy with their purchase—and then use that information to decide how best to move forward.
Conclusion
Growth hacking is a strategy that helps businesses achieve business excellence by encouraging growth through data and technology.
Why is this so important? Because growth hacking allows businesses to understand their customers better—their needs, wants, and desires—and then use that information to engage with those customers in ways that will help them achieve success.
Startups, small businesses, and large organizations can use growth hacking because it focuses on engaging with customers rather than just pushing products on them (which seems counterintuitive). The goal is to create a long-term relationship between your brand and your customer base by ensuring they have what they need every step along their journey with your company.
Although it sounds twisted and complicated, what makes growth hacking easier is authentic and insightful data.
Are you looking for a new way to get authentic and insightful data about your prospects and customers?
CloudFiles is the solution you need. CloudFiles help you obtain authentic and insightful data about your prospect or customer behavioral data with your marketing campaigns with its powerful file and email engagement metrics, which can be used to further personalize and improvise your marketing campaigns for better results.