Changing the Landscape: Integration-first SaaS Apps
B2B marketplaces for software have witnessed a massive boom in the last few years. There are stores in more and more categories. Hubspot is in the marketing category, followed by Salesforce for sales, Intuit and Xero for finance, Zendesk for customer support, Zuora for payment, Slack for internal communication, intercom for customer communication. The SaaS landscape is undoubtedly covering the whole spectrum.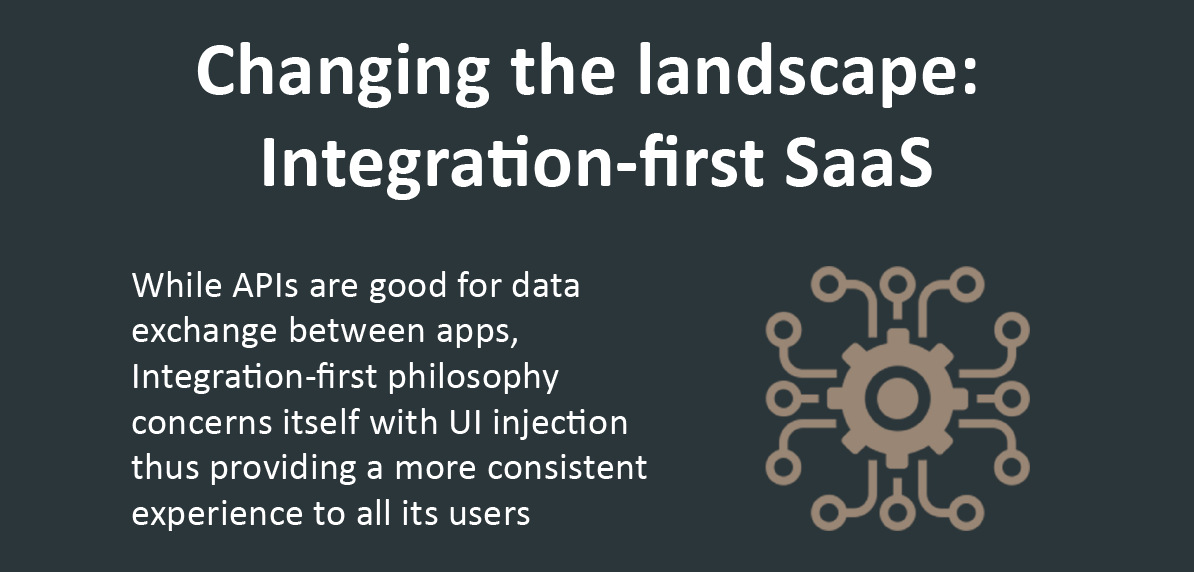 However, a study by Ascend2 suggests that integrating different systems is the prime obstacle to success with marketing technology for as much as 52% of marketers. Moreover, the effectiveness of this integration strategy remains a big concern. This is where Integration-first comes into the picture. Where integrations API only allow data exchange between applications, Integration-first allows UI injection in the other app. Let's understand more about Integration-first.
Digital Evolution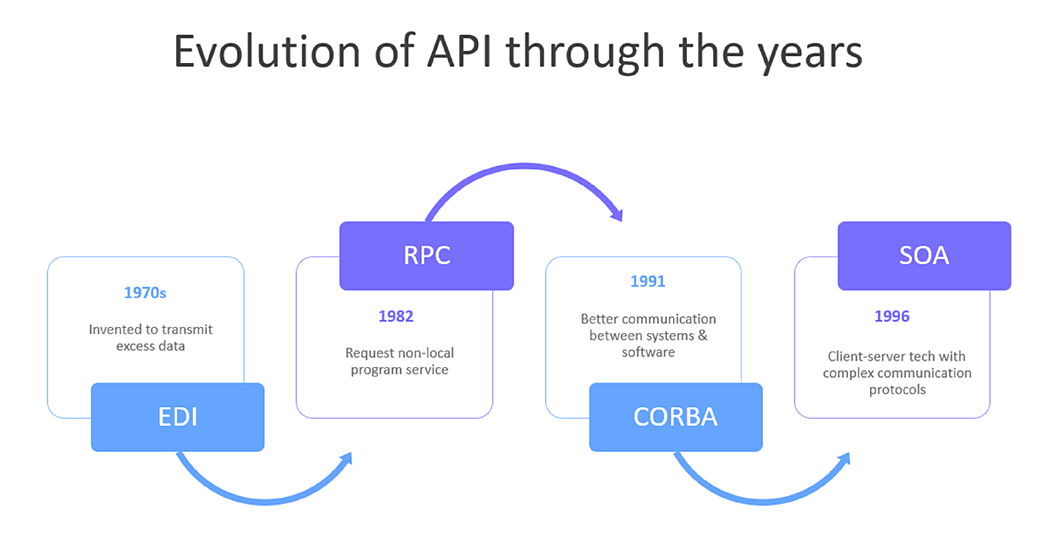 While business computing has been around since the 1980s (IBM was dominant), the rise of graphical user interfaces and componentization of computers led to personal computing and the rise of Microsoft and Apple. In the 1990s, the internet allowed connecting several computers, leading to the eCommerce revolution. With more people moving online, businesses moved to the cloud model with Salesforce in 2000 coming up with a cloud-only CRM solution. This led to the growth of SaaS. With the emergence of better integrability between apps and wide usage of APIs today, app marketplaces have become popular. Business apps are now moving towards software componentization, just like computers moved towards hardware componentization in the 1980s.
Growing App Marketplaces
The use of cloud-based services has grown immensely over the last two decades, and it has indeed started to become more mainstream. The COVID-19 pandemic acted as a catalyst in accelerating the migration towards cloud software and the adoption of online B2B marketplaces. In fact, the public cloud service market registered an insane growth of 45%, crossing the $1 trillion market cap mark in February 2020 itself. Furthermore,  94% of enterprises are already using cloud services, and on average, 30% of all IT budgets are allocated to cloud computing.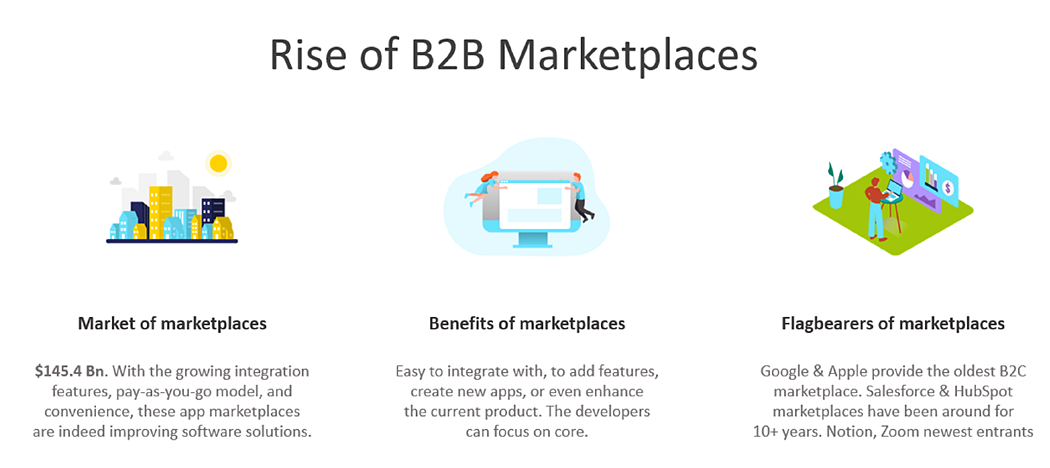 IBE TSD Ltd, a London-based payments research and consulting firm, predicts the B2B and B2C marketplaces to grow web sales worldwide to approximately $7.1 trillion combined. IBE also suggests that in 2024, peer-to-peer marketplaces, including the likes of eBay and Airbnb, are expected to reach a combined sales figure of $240 billion.
AWS Marketplace, Google Cloud Marketplace, and the Azure Marketplace remained the top digital stores where software companies could list their products. According to Statista, Google Cloud Marketplace offered a total of 4,600 products and services approximately till mid-2021. 1,253 of these offerings were of the virtual machine category. As per a survey conducted by Tackle in 2021, over 60% of buyers said they bought software from one of the marketplaces, thus registering an increase of almost 39%, compared to 2020.
What is Integration-First SaaS : Data vs UI Integrations
Integration-first means establishing deep integrations by injecting UI to the app you are integrating with (e.g., Google Apps script, Slack, HubSpot). Data integration refers to the process of collecting data from different sources and coiling it into a single data repository. When integrating using only APIs, you can only exchange data with the integrated app. API integrations are shallow since they only allow data exchange between the apps. Deep integrations allow UI injection in another app. It allows for the insertion of the functional elements of the integrated app, or even the entire application itself, into the UI/UX of the platform. This allows the application's users to interact and utilize the integrated app's functions without consistently switching between systems and interfaces.

Have a look at CloudFIles, a secure file-sharing and analytics software that uses the Integration-first model. It does much more than simple data exchange with HubSpot.
CloudFiles has a deeply integrated HubSpot app, so there will be a CloudFiles widget in your HubSpot account. This gives you the privilege to upload files, create links, track analytics, and perform automation without ever leaving the HubSpot app. The founders of Cloud Files have talked about this in detail here.
Integration-first apps do not try to bring users to their platform. Instead, they bring all the features to the users at their place itself. For example, Grammarly has integrations with all major apps which we use to write documents. Writers aren't required to visit Grammarly regularly.
Giants like Google, Github, and Dropbox have also recently launched Integration-first between their applications and third-party applications.
Google has launched a task automation API for Google Docs, and 'Compose Actions' to streamline the Gmail workflow. Github has launched its workflow automation tool, 'Actions'. Furthermore, Dropbox has also announced 'Extensions' that enables users to complete third-party app-powered tasks without forcing them to log in separately.
Why is Integration-First SaaS important?
Integration between different applications is no longer a new concept. However, the extent to which these software integrations are effective and make things easier for users matters greatly. It's equivalent to saying that you can easily combine different ingredients but how tasty the meal comes out to be, is what matters the most.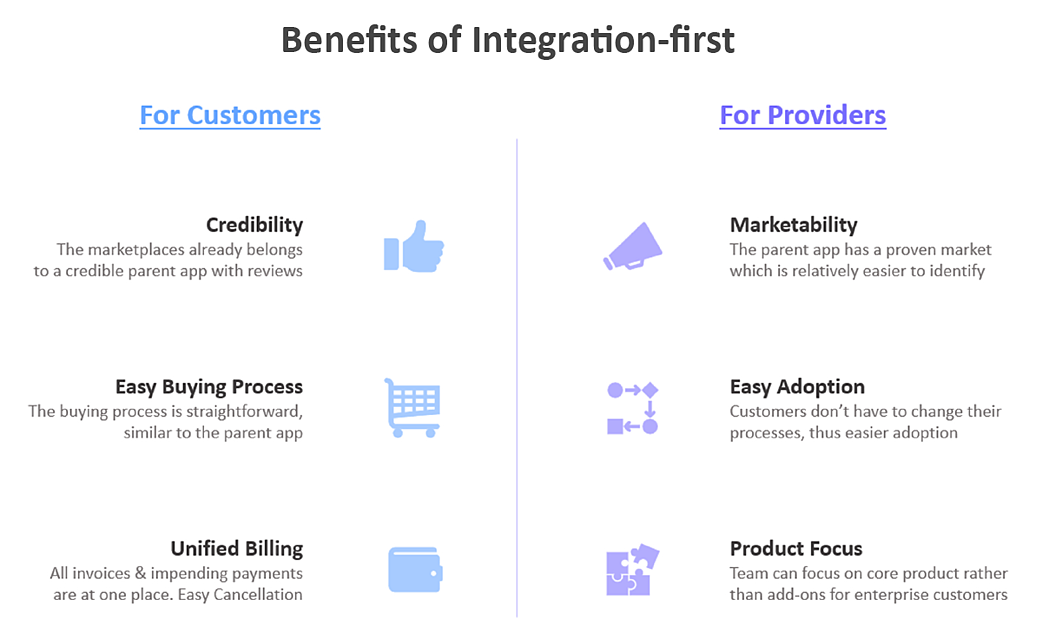 Let's have a look at some of the advantages to understand why integration is important:
One Window: Deep integration allows users to complete most of their tasks in one window itself. This reduces friction for all the end-users. Friction slows down and complexes lightweight processes. Overall, software that creates friction for its users is highly troublesome to use. With Integration-first, friction is no one's cause for unproductivity.
Increased Functionality: Deep integration makes work a lot more efficient by seamlessly combining the capabilities of different applications.
Easy Adoption: With Integration-first, users don't need to change their workflow. It brings all the features and functionality of the integrated third-party application to the place of the user itself. Thus, it eliminates the exhausting task of adopting the new software for the user.
Easy GTM: Can piggyback on the brand value where you integrate your app. Go-to-market becomes simpler.
Core focus: Developers can focus better on the core product since it is smaller and has a limited scope (e.g., file-sharing problems or grammar problems). This solves the "yet another app" problem since it is not "yet another app". It becomes easier to get the user to use it.
Final Thoughts
With the rising number of B2B marketplaces offering integrated software, Integration-first is greatly enhancing the effectiveness of the integration strategy. Integration-first improves the customer experience immensely by establishing deep integrations through UI-injection, as users no longer need to leave their application and go to the integrated software's platform. This accounts for multiple benefits, including easy adoption and increased functionality. Softwares like Cloud Files and Grammarly are successfully leveraging this technology.