The History & Rise Of Online B2B Marketplaces
One look at the B2B marketplaces, and we know that several SaaS players have occupied the space. It has become a defining moment for startups operating in this space, with newer products lining up to show their abilities.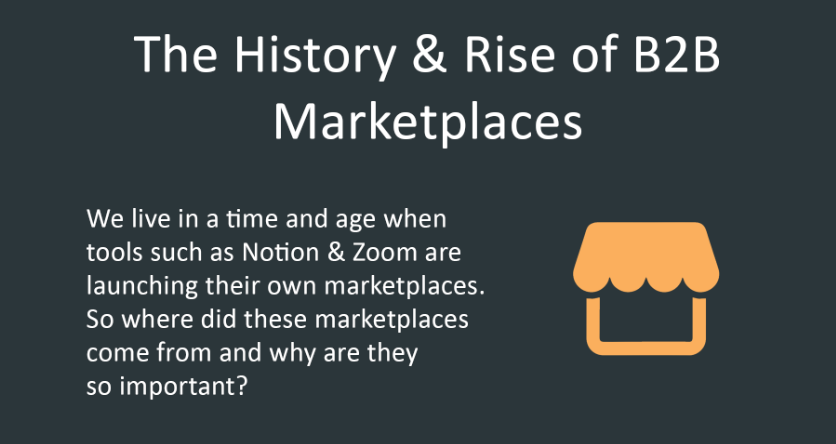 Around this time, the world of API B2B integration has also evolved. With every new product, the ability to integrate other products seems to be growing at large. Salesforce is one such big name that launched its API and allowed integration with other products.
Amazon business and others followed suit. Smooth integration between products, numerous products on marketplaces, and the ease of availability of APIs have created an extraordinarily supportive and streamlined system. This has made adding new features, enabling experiences and also improving the product easy.
The Early Stages of Software Integrations
There have been several stages that the software services went through before the modern APIs came into existence.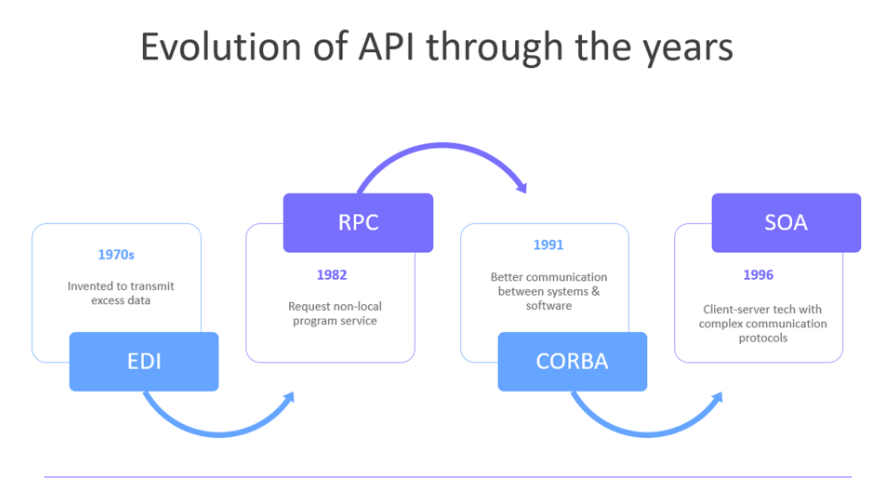 Electronic Data Exchange
It all started with EDI (Electronic Data Interchange), which came into existence during the Berlin Airlift and was invented due to the need to transmit excess data. The integration using EDI happened much later, in the early 1970s
The EDI integration needed specific technical aspects at the early stages that included data transmission, message flow, and document format. It was independent of communication technologies.
Remote Procedure Calls
RPC is the protocol that you use to request services from programs that are not located locally. It was the second major step taken by software developers into the world of integration and API. In 1982, the first RPC was incorporated into the UNIX machine, which laid the stepping stone towards API integration.
CORBA
In the early 1990s, a lot of companies and individuals started working towards creating modern API integration. So there was heightened activity, and many people were taking a keen interest at this point.
Common Object Request Broker Architecture came into existence at this point, which was popularly known as CORBA. It was first released in 1991 in the C programming language.
This step allowed developers to improve communication between different systems and software solutions. This was API in its nascent form and was independent of operating systems and programming languages.
Enterprise Service Buses and Service-Oriented Architecture
This was the milestone technology that led to the creation of the modern-day API.
The Service-Oriented Architecture is what we today know as the client-server technology. It laid the foundation for this modern technology.
The ESB and SOA offered seamlessness in creating applications and provided the much-needed communication protocols for better integration and deployment.
The Growth of B2B App Marketplaces
We live in a time and age where Notion, ClickUp, and other tools are all available on marketplaces. Yes, businesses are attracting other businesses using the marketplace for B2B. This is also the time when B2B marketplaces act as an opportunity for growth.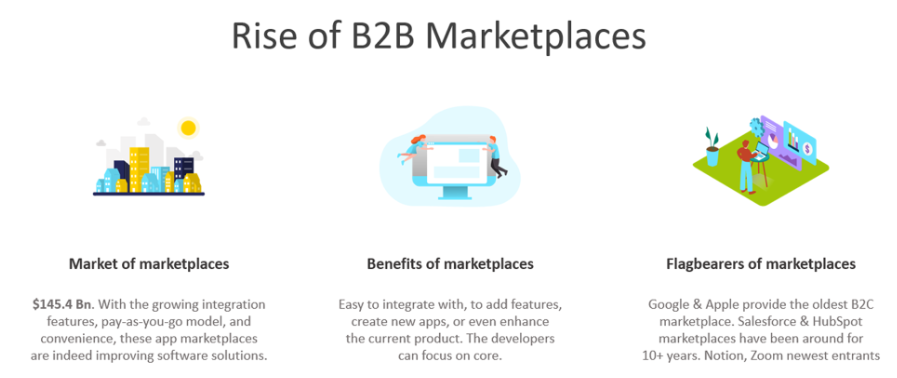 It is also when we are part of the marketplace, where products like Notion have their marketplace. They have templates that you can use.
Akin to its B2C marketplace like Google play store, the B2B marketplaces are also quite efficient and effective.
Let's take the example of Hubspot, which offers growth, marketing, and sales B2B integration tools to businesses. When you enter their marketplace, you will find various tools that you can integrate with Hubspot.
The APIs are easy to integrate to add features, create new apps, or even enhance the current product. The developers can easily code them into the existing product.
Whether you want to integrate Notion, Hubspot, or Salesforce, the codes and APIs are readily available, and their marketplaces are ready to support you for greater efficiency.
As of 2021, the B2B app marketplace is estimated to be $145.4Bn. With the growing integration features, pay-as-you-go model, and convenience, these app marketplaces are indeed improving software solutions. Moreover, rise of integration-first apps such as CloudFiles which so easily integrates with HubSpot and other major tools will further boost this growth.
Why are Apps Relying on Marketplaces?
Selling your B2B marketplace online apps directly into the market can be quite a challenge. The reason being, despite the splendid design and brilliant interface, there is a complex buying process involved that needs to be considered. The SaaS purchase funnel is not as simple and efficient as the regular B2B purchases.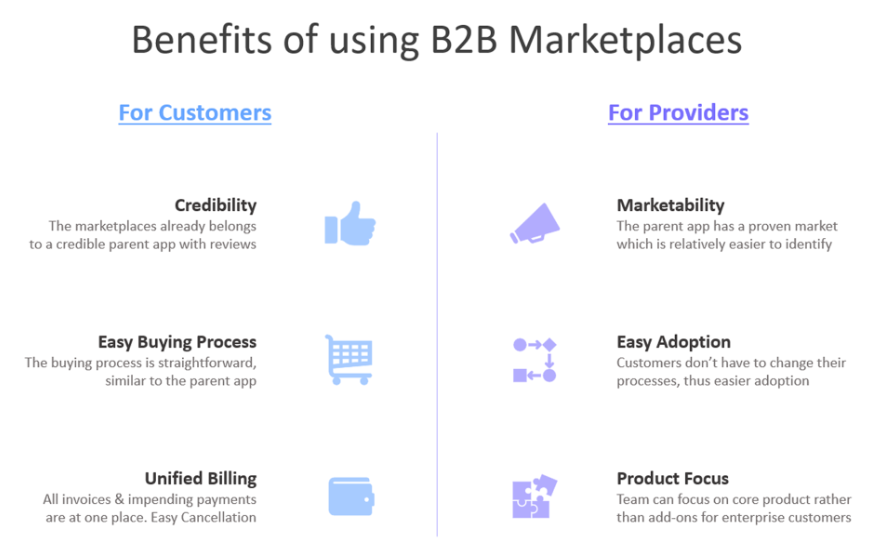 The other major challenge that SaaS entrepreneurs go through is integration. Your product should be easy to integrate with the multiple apps and solutions available in the marketplace.
That's one of the primary reasons why you should opt for app marketplaces.
The marketplace for B2B is credible, and a lot of B2B buyers trust them already. As a result, selling your product through these marketplaces is easy and efficient.
The buying process, unlike a regular SaaS purchase funnel, is familiar and straightforward. As a result, the buyers won't face any issues while committing to the purchase.
The marketplace is the single connection for all app invoices. As a result, the customer can purchase all the apps from a single place and don't have to pay on different platforms.
The cancellation process is simple and efficient. As a result, the customers know how they will be billed.
The marketplaces are flourishing because of the higher average order value and the simple ways they connect with the customers.
The Future of B2B App Marketplaces
There is a growing intent towards using APIs to boost the abilities of your SaaS product. Businesses will need to embrace these newer trends to stay relevant to their audiences.

Integration First Apps
By providing extensible features without changing user's workflow, there is a significant value addition for the customers. The ease of adaptability of apps make integration-first apps a highly lucrative philosophy. Further, such apps inject UI into other apps, thus providing a highly steamlined experience which does not require the user to come to another website. This eliminates the problem of being "yet another app".
Crowdsourcing
Until very recently, APIs were designed in a way that they would work with the internal data. With the advent of AI and ML, the APIs will incorporate, study and adopt external data. The new trend on the block includes crowdsourcing APIs, which will provide massive data to your software solution and help your business be more relevant. It will also help you receive analytics that can improve your answers.
Unified Experience
Inter-technology B2B integration tools is another aspect of the API marketplace that will improve the experiences in the future. It will help create a unified experience across all your digital transformation initiatives. With IoT, AI, and ML at the core of all your software solutions, you will notice a better way to integrate your software with your hardware to bridge the gap between humans and machines for intelligent solutions.
Conclusion
With newer B2B marketplaces coming up and the increasing number of B2B applications, it has become a goldmine of opportunity for businesses and the end consumers.
Several marketplaces support products and improve their visibility. Adding a product to the marketplace will increase credibility, get additional support in terms of sales, and enhance credibility. It will eventually increase the customer base.
With newer trends and an increasing number of APIs, we can expect exciting developments that will improve integrations and B2B purchases in the long run.