CloudFiles – A Secure File Sharing & Tracking App
CloudFiles supercharges your files with enterprise-grade security, detailed pdf analytics, powerful content automations & deep-integrability with popular CRMs such as HubSpot & Salesforce
In this article, we will talk about CloudFiles, a secure file sharing & tracking app.
CloudFiles supercharges your files with enterprise-grade security, detailed pdf analytics, powerful content automations & deep-integrability with popular CRMs such as HubSpot & Salesforce.
At CloudFiles, we are trying to ease the workload of sales teams by studying & streamlining their document tracking and sharing processes. CloudFiles can benefit sales & marketing teams by aligning their document management and distribution process. A marketer can manage their created content and create links for it. This file links library can be shared with the team (sales or otherwise) who can then attach trackable file links to their communications and gauge buyer interest. This is, but one use-case of CloudFiles. You can extend, manipulate and customize the app as per your file tracking & sharing needs.
Here are some of the key features of CloudFiles –
Managing Content Through Library
With CloudFiles you can seamlessly import your existing files from a variety of sources and in a variety of formats. In this section we discuss how to import these files. In later sections, we will discuss how to secure & automate these files through trackable PDF links.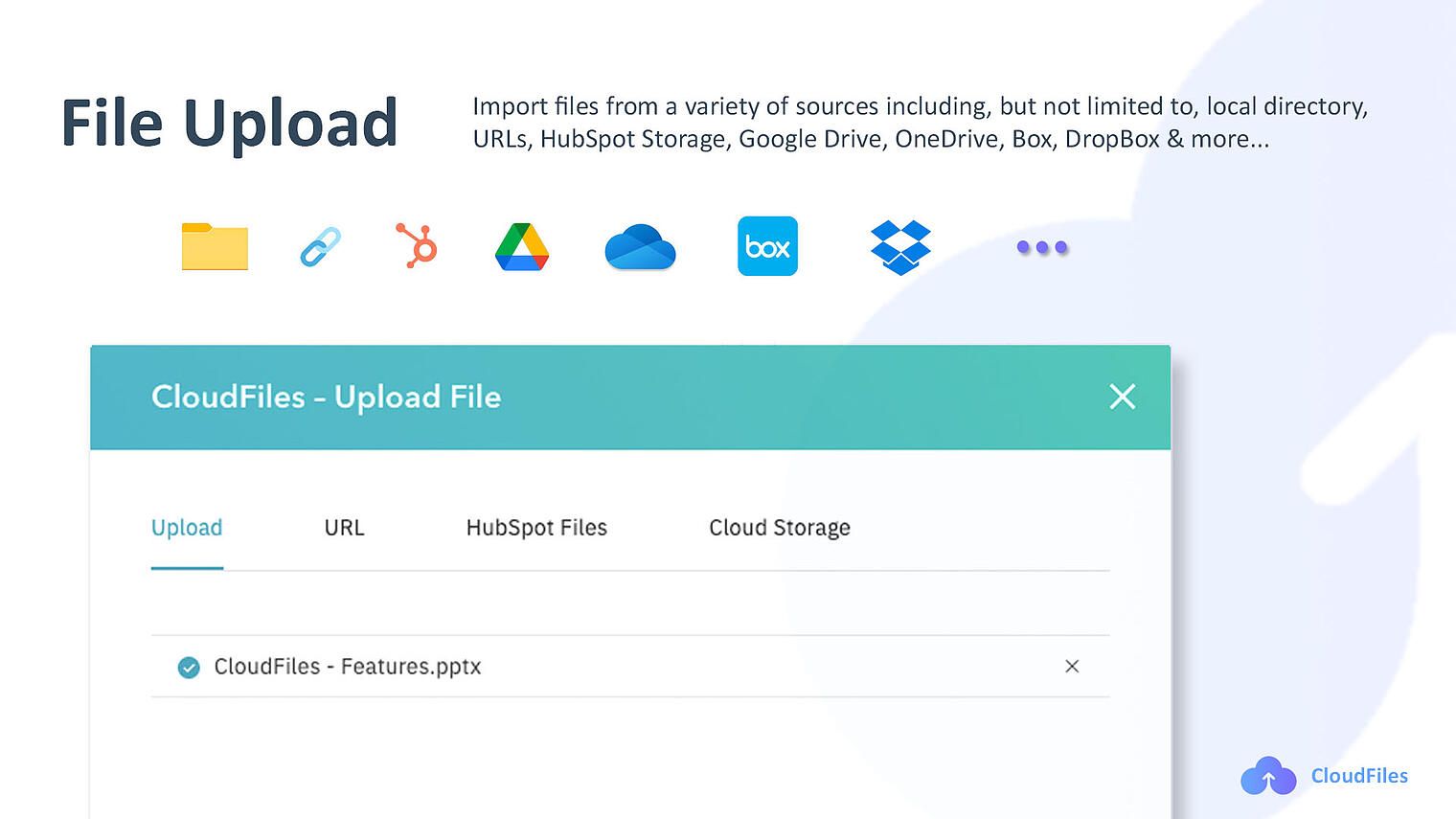 CloudFiles accepts imports from a number of sources. You can upload files from your local storage. You can also import from cloud storages including Google Drive, OneDrive, Box & Dropbox. CloudFiles even accepts the native Google formats such as google docs, sheets, slides etc…
CloudFiles accepts a number of file formats including doc, docx, epub, eml, htm, html, md, msg, odp, ods, odt, pps, ppsx, ppt, pptx, rtf, tif, tiff, xls, xlsm, xlsx. We are constantly adding new formats. We plan to add images, videos and much more in the future.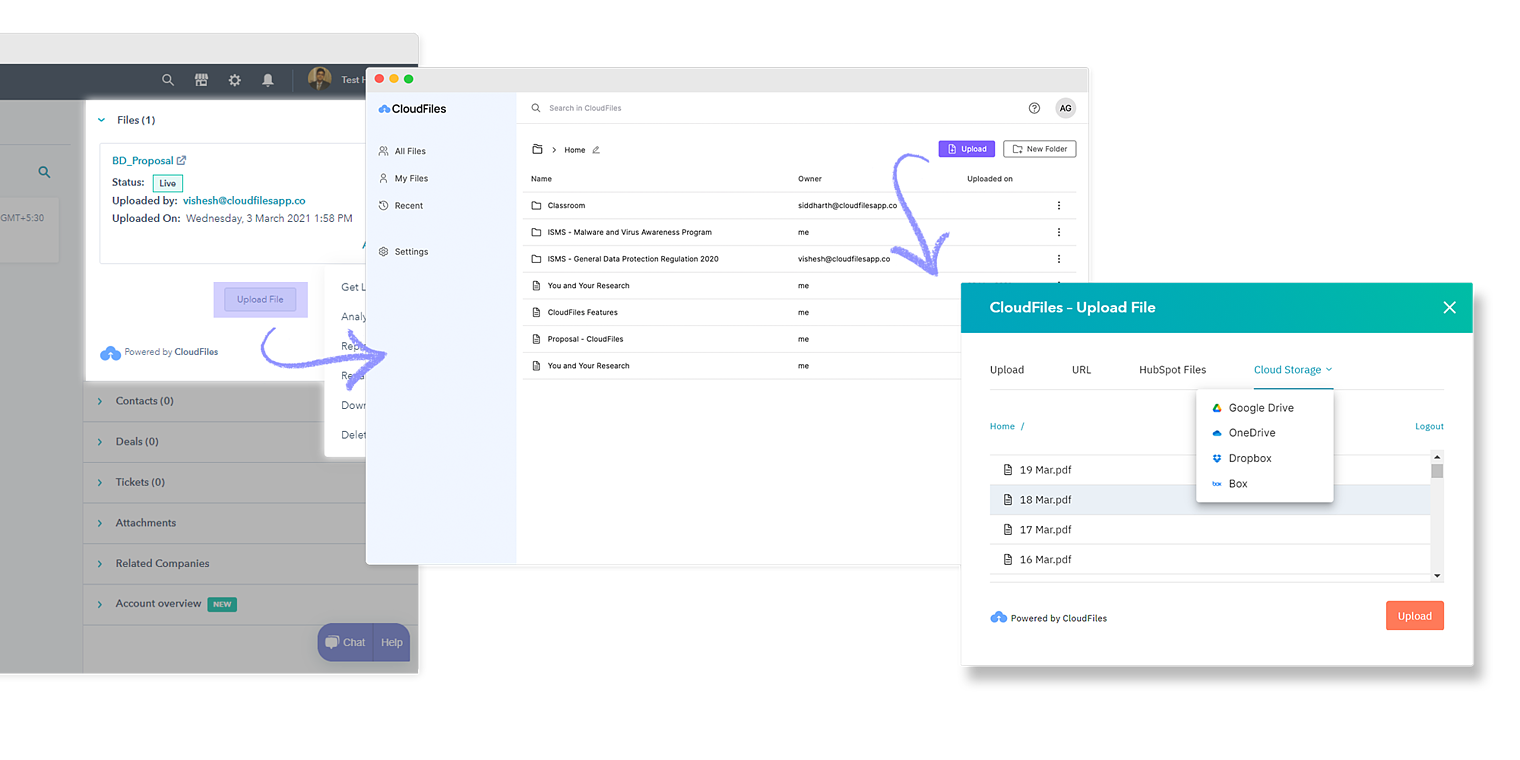 Apart from cloud import, CloudFiles can also enable webpage tracking. You can simply input a URL and give it a name. CloudFiles treats the page as a single-page file and provides time & view tracking on the webpage. This innovation enables you to truly consolidate your digital content into one place and get detailed analytics on your content library.
With so many types of files and storages supported, CloudFiles makes it easy to consolidate all your content into one, single, trackable library.
Generating Links For Documents
Each of the files you upload can have multiple powerful links attached to it. These links enables you to own and control the file even after you have sent it to someone. You can use these in emails, on websites, in existing content or on social media. You can even personalize these links for your clients to collect relevant info when the link is accessed.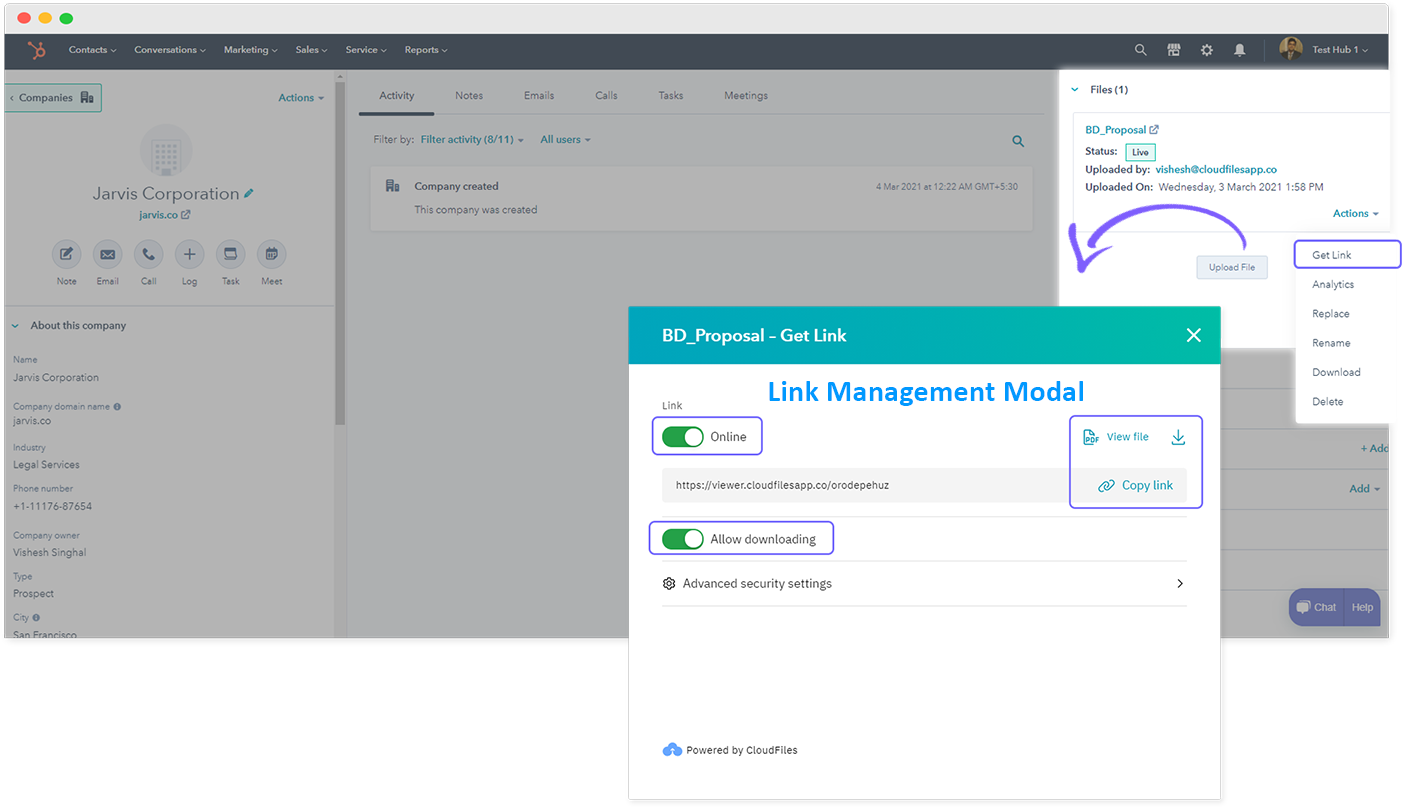 In the sections below, we cover the 3 key use-cases which make using links much more beneficial than using files and attachments.
Secure File Sharing
Security is of utmost importance when sharing confidential information. This can include contracts & proposals, patented content or agreements in sensitive industries such as legal services, financial services, pharmaceuticals etc… CloudFiles enables you to put up an identity wall and perform various kinds of identity verifications when accessing the document. The 2 main types of security settings are soft ID validation and hard ID validation.
You clients can view the file by accessing this link anytime. The file is displayed in PDF format (downloadable in original format) in CloudFiles' proprietary viewer.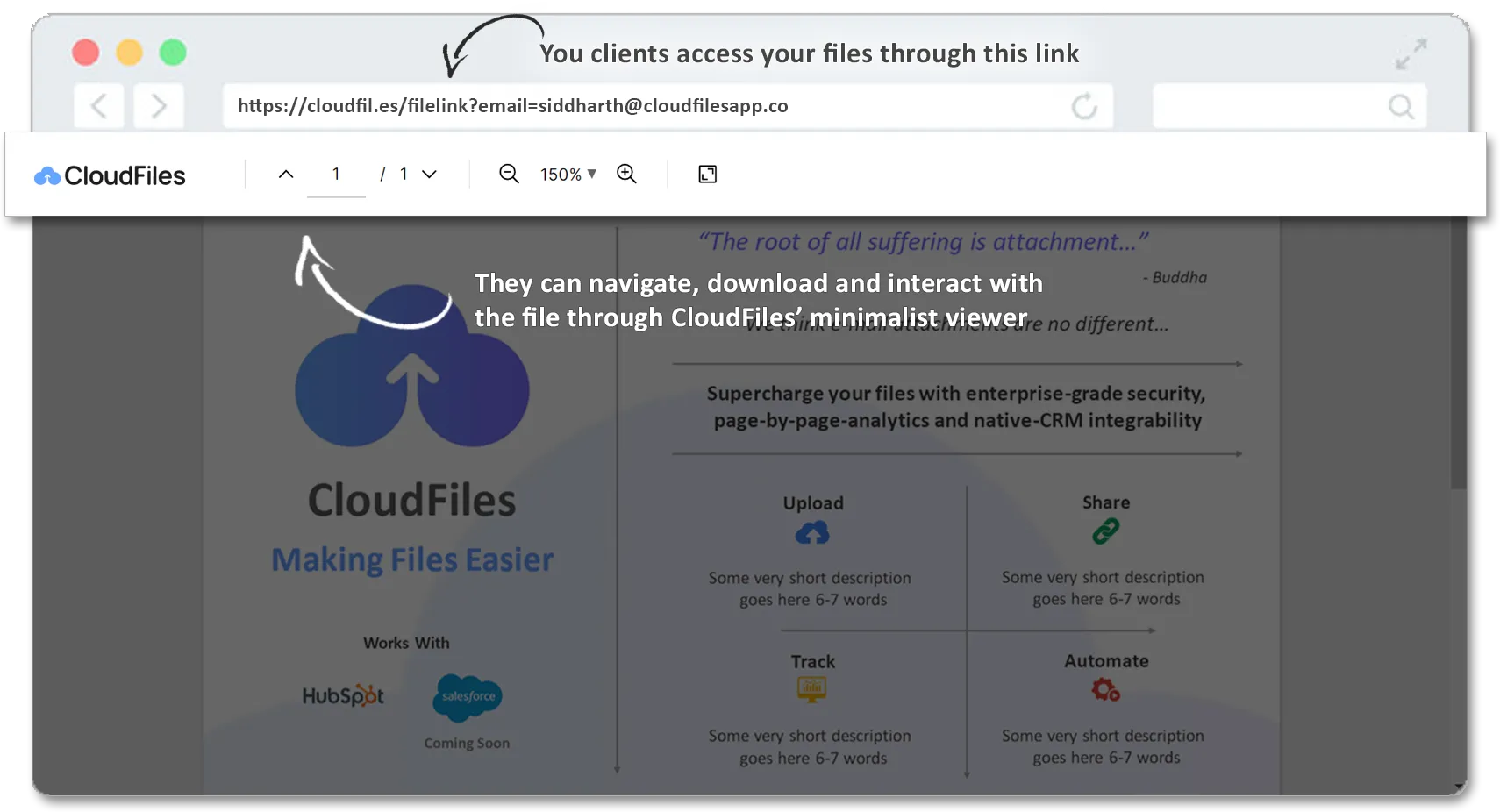 Soft ID Validation
Sometimes, you may want the client to enter their email before accessing the file. Sometimes you may want them to enter a specific email or emails from a specific domain to access this file. CloudFiles soft ID validation enables you to do exactly this. While accessing your document, the viewer will have to enter their email ID.
Hard ID Validation
Entered emails may be incorrect. If you want a stronger security setting on your file, you can instaead enable hard ID validation. This feature requires the user to either login through one of the available options or verify their email through a one-time code. You can again restrict access to certain emails or certain domains. When accessing the document, the client is now required to verify their email.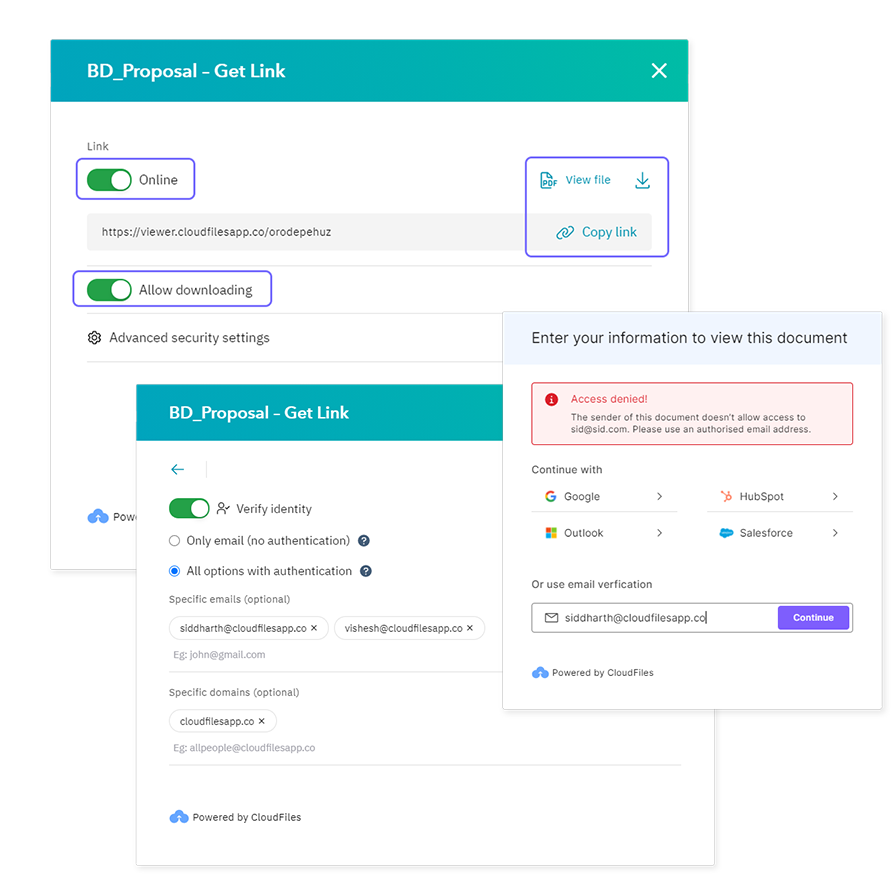 Adding file security through ID validation has other use-cases as well. You can password protect PDFs, send a secure email attachment or even capture leads as covered later in this article.
Detailed Document Tracking (File Analytics)
CloudFiles tracks a number of metrics while your client is viewing the file. At the same time, you can slice and dice this information using the hierarchical file analytics report generated by the app. This makes gauging buyer interest easier and closing deal faster.
Cloudfiles tracks file opens consisting of unique as well as total views. The app can also track document downloads, total time spent on file and time spent on each page of the file. All of this information is consolidated and shown in the CloudFiles analytics modal below. You can further drill down and get per-user engagement and per-session enagagement of every user. This is demonstrated in the screenshot below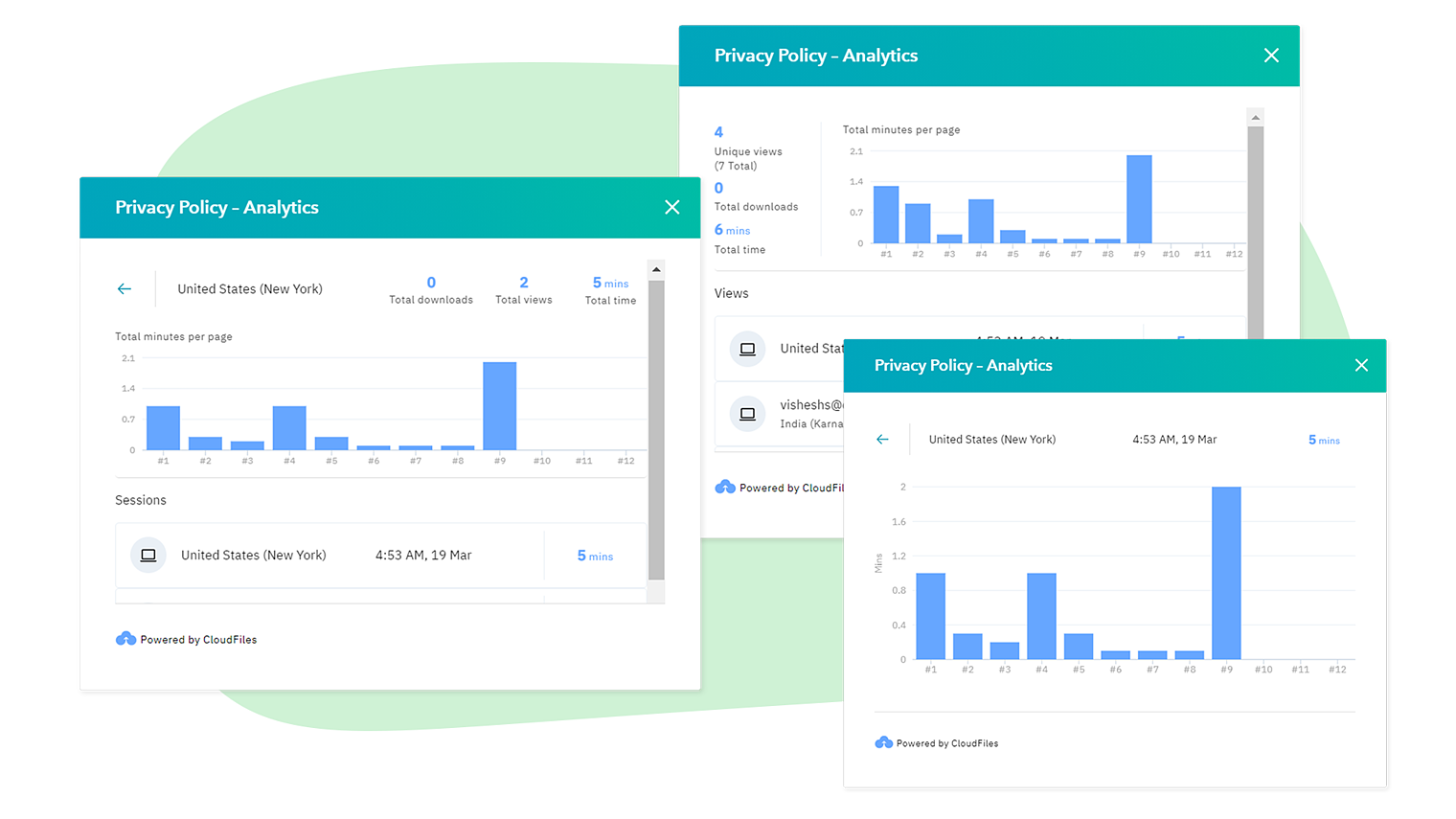 CloudFiles' analytics let you focus on what's important and weed out the rest. Moreover, these analytics can be connected to CRM workflows and really supercharge your automations as discussed below.
Automate Content – Aligning Sales & Marketing
Often, simple tracking PDF documents is not enough. Some sort of action may need to be taken after a file has been viewed. A marketing executive may need to generate a lead on file open. A sales executive may want to send an email with a follow-up document after the client viewed the current one for more than two minutes. An administrator may want to expire the link after file download.

CloudFiles enables all this and more through its powerful File event. Here are some of the interesting use-cases that this feature makes possible –
Capture Leads on File View
CloudFiles makes capturing leads on file view easy. The File Event can be configured to trigger only on first unique view of a file. If the document has soft or hard gating enabled, the entered email can be used to create a lead in your CRM by integrating this File Event in your existing workflows. As an example, through CloudFiles you can automatically create a new lead in HubSpot when your file is viewed.
Personalized & Trackable File Links
Often you may already know the person you are sharing this content with. E.g. when conducting mass email camapigns, information about the prospects is available in advance. In such cases, you may want to share non-gated content these prospects. However, at the same, you may want to have personalized analytics when a specific prospect in your campaign of thousand views the file. You can attach personalized, encoded information into CloudFiles URLs which is tracked when the link is accessed. Thus, through CloudFiles, you can create personalized document analytics for your mass email campaigns.
Capture Leads Without Content Gating
You can use the personalized & trackable document links created above to capture leads without gating your files. This feature can be used with mass email campaigns to create personalized analytics without requiring your prospects to enter an email or any other information. As an example, through CloudFiles you can create leads in HubSpot by sharing personalized & trackable document links in marketing & sales emails.
Content Alignment Between Sales & Marketing Teams
These are only a few of the use-cases, mostly focused on marketing teams. CloudFiles can be applied to other teams as well. E.g. you can create a workflow to notify a sales executive when marketing content is accessed by a prospect. Multiple accesses by same client can further be used to score leads and create follow-up campaigns. Thus, CloudFiles truly enables content alignement for marketing & sales teams.
The CloudFiles' File Event opens up document tracking to a whole world of integrations including CloudFiles' HubSpot and Zapier Integrations.
Conclusion
CloudFiles is the next generation, secure file sharing, tracking & automating solution. It is a solution focused towards B2B content management needs after the content has been created and curated.
Companies mix content curation with content sharing. The business documents that are shared with clients are already at their final version since internal curation is largely complete. Securely sharing these documents and tracking engagement is as big a part of the business process as the content creation itself.
We would love to hear from you and understand the file and document related problems you face in your daily life. We are actively developing this app and are on a mission to make affordable, insightful & actionable file analytics available to everyone. Say hello and let us know about you.