CloudFiles: An alternative to HubSpot Documents
A few years back, HubSpot had launched the Documents tool for document tracking. This was a standalone feature inside the HubSpot Sales Hub that promised better sales document management by creating pdf links for the uploaded files and enabling tracking and security settings on those links.
Over the years, this tool, while serving its purpose, has largely remained static. Through our interviews with HubSpot Solution Partners and research of the HubSpot community, we have learned how challenging it can be to work with this tool. While an innovation at first, the tool is now unable to keep up with the demands of the modern sales executive.
In this article, we analyze the different features offered by the HubSpot Documents tool, identify the market gaps that must be fulfilled, and finally explore CloudFiles, a secure file sharing & tracking app that actually fills those gaps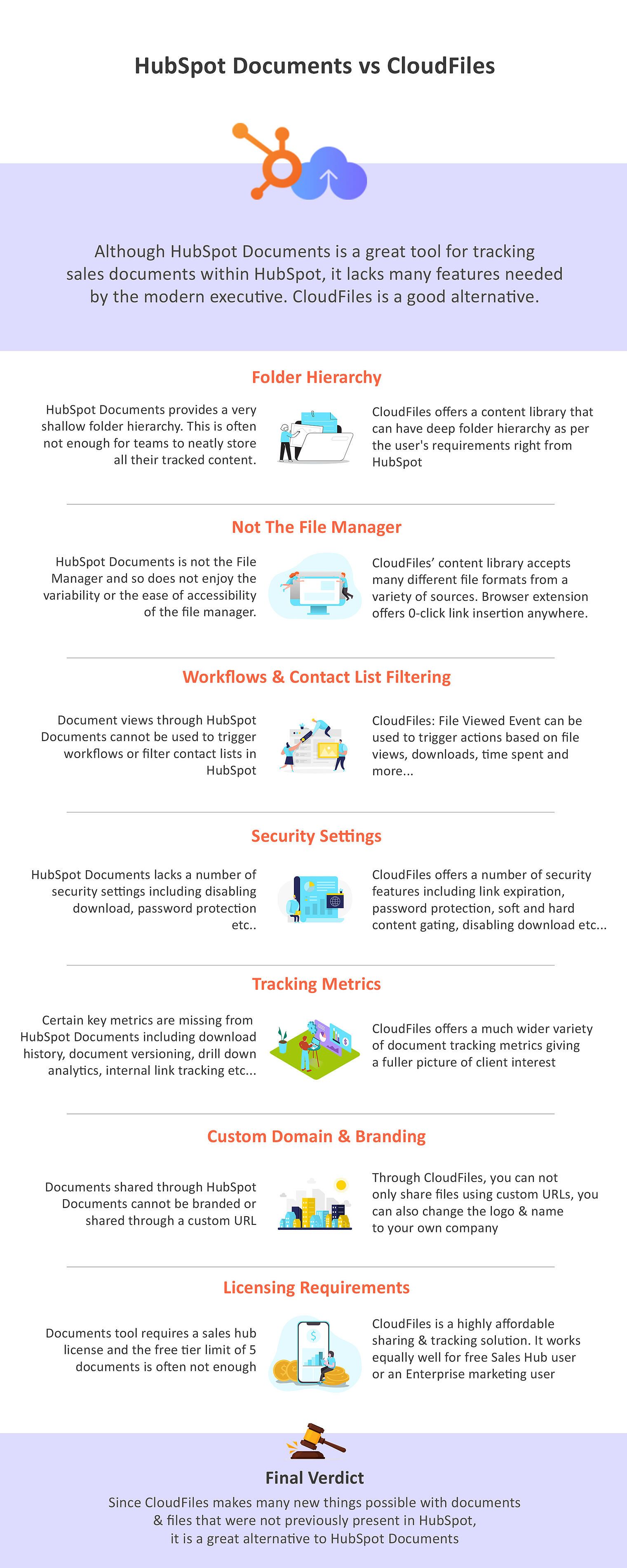 About HubSpot Documents
HubSpot Documents is HubSpot's native sales document tracking tool. It enables HubSpot users to upload files and convert them to pdf links which can be shared with clients to gauge buyer interest. The tool lacks many features that modern sales & marketing teams need. We talk about some of these below.
About CloudFiles
CloudFiles is a secure file sharing & tracking app that provides a HubSpot integration available on the HubSpot marketplace. Through this integration, teams using HubSpot can easily share & track their documents without leaving their HubSpot accounts. CloudFiles works inside as well as outside the record context, thus giving a holistic view of shared content and its performance for both the sales & marketing teams.
CloudFiles as an alternative to HubSpot Documents
In this section, we list out the various issues with the HubSpot Documents tool reported on specific posts on the HubSpot Community. We also talk about certain features in CloudFiles that can solve these issues.
Folder Hierarchy
The HubSpot Documents tool provides a very shallow folder hierarchy. This is often not enough for teams to neatly store all their tracked content. A sales team managing over 1000 documents being sent to clients every day needs a deeper hierarchy. This post on the community talks about this issue and has over 300 upvotes.
CloudFiles offers a content library that can have a deep folder hierarchy as per the user's requirements. You can not only create sub-, sub-sub- and even deeper folder structures, you can quickly traverse your library through the intuitive navigation panel on top.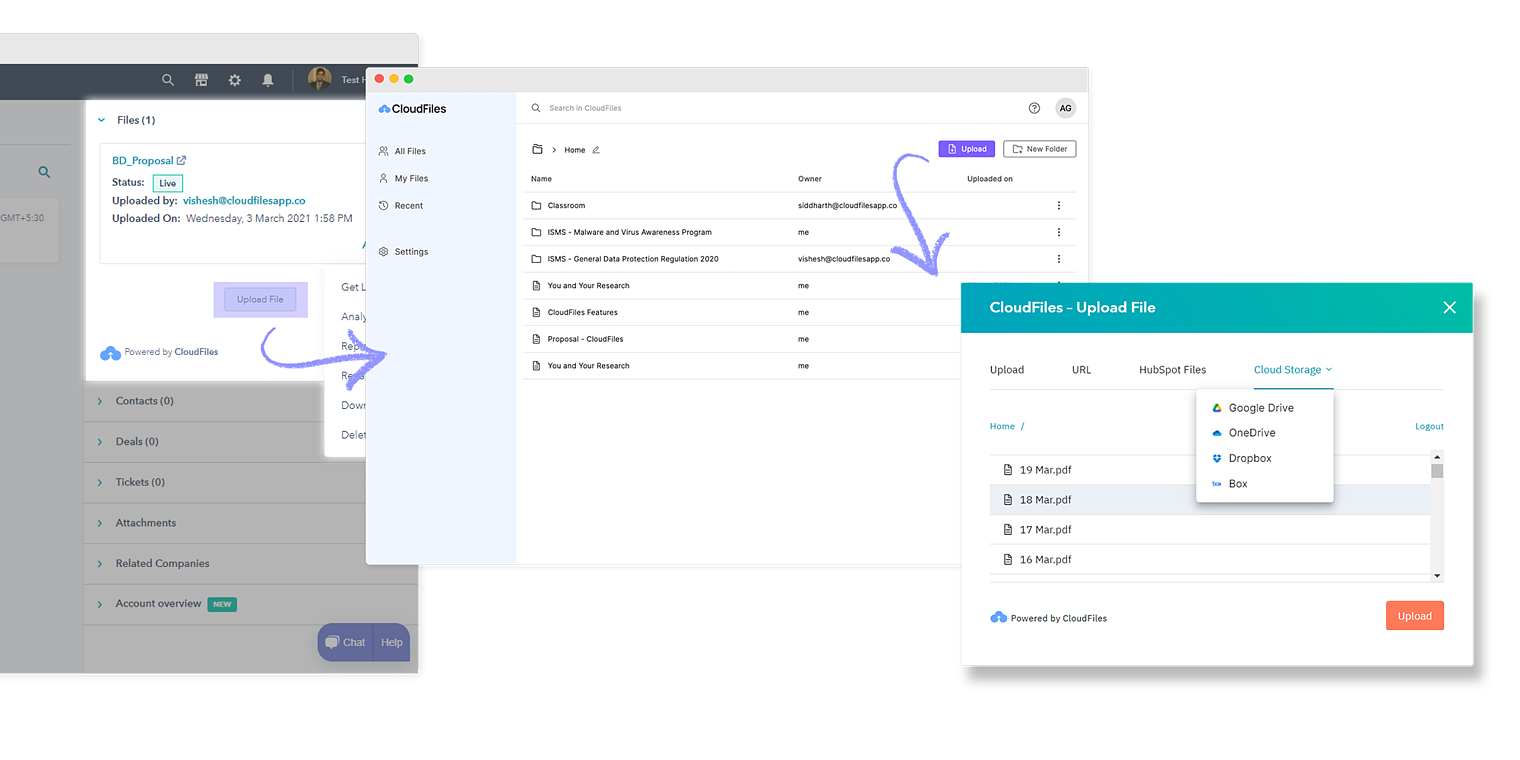 Different from File Manager
HubSpot File Manager is a great tool that helps in storing all the different types of files in a single place with a neat hierarchy. It is accessible from various places in HubSpot. This includes sales as well as email templates, website CTAs, etc… In short, the file manager offers variability as well as ease of accessibility.
HubSpot Documents is not the HubSpot File Manager. It is a separate tool for HubSpot Sales Hub users. The primary use-case for HubSpot Documents is to make sales documents (proposals, contracts, etc…) secure, trackable & shareable through links. However, in order to do so, the user needs to upload the file into this tool separately. Since it is a separate tool, it does not enjoy the ease of accessibility and variability of the File Manager. It often becomes an extra tool that must be force-fitted into the sales & marketing team's workflow to draw benefits. This post on the community has over 300 upvotes requesting File Tracking from the File Manager.
To solve this issue, CloudFiles offers a content library that can store a variety of file formats. At the same time, it offers ease of access by providing a browser extension to insert secure and trackable file links with zero clicks. You can also upload files from anywhere in HubSpot by simply launching the file manager through the shortcut. The image below shows the browser extension in action.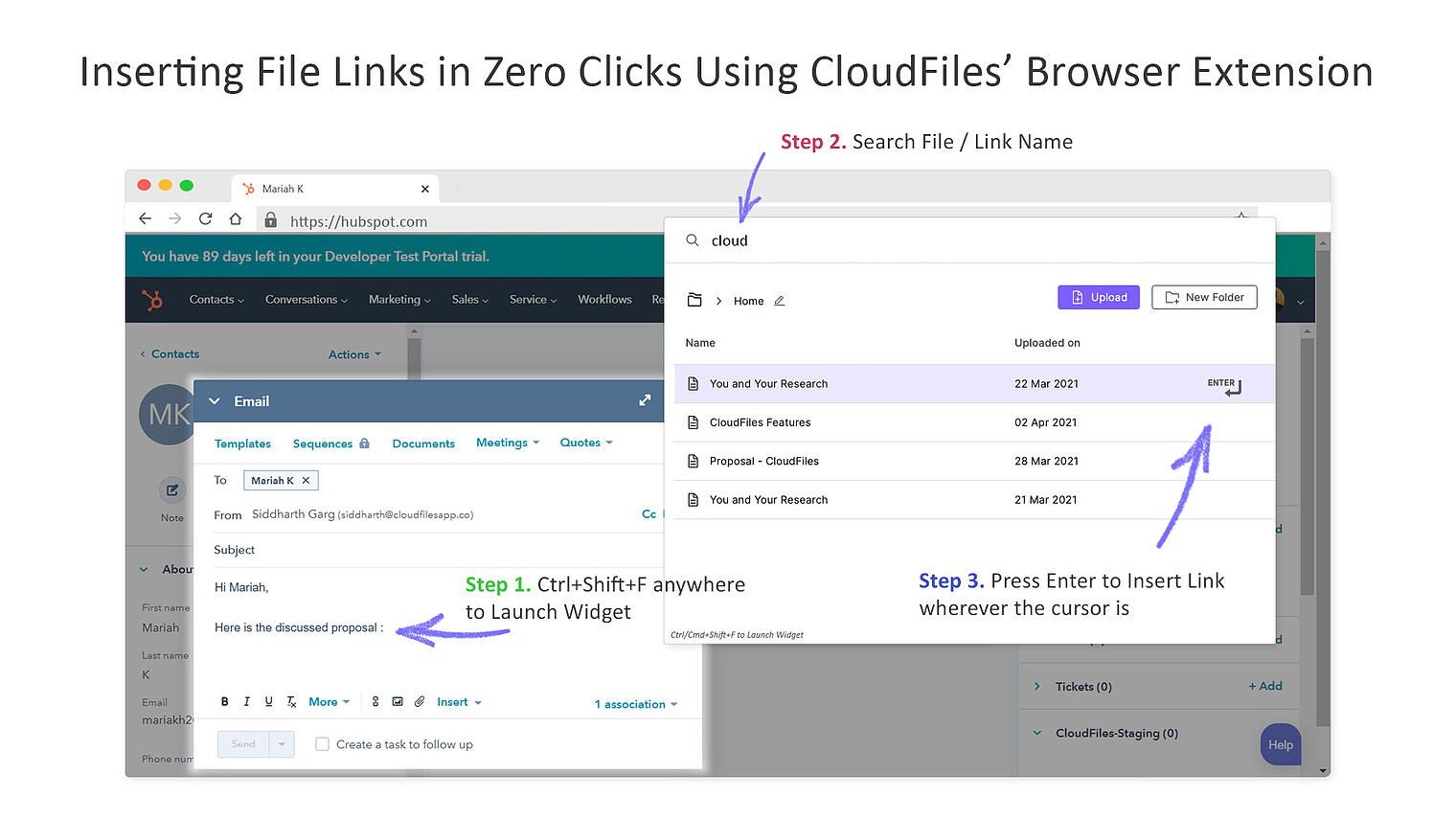 Triggering workflows & filtering contact lists
Sequences and workflows are two of the most powerful features of HubSpot. Sales and marketing teams can align themselves, score their leads, automate lead generation to the conversion process, etc… Unfortunately, HubSpot Documents does not integrate with workflows. There is no "Document Viewed" event in the Workflow triggers and so processes related to a client viewing / downloading the document cannot be automated. This post on the community has over 100 upvotes requesting this feature.
CloudFiles offers deep integration with HubSpot. With the "CloudFiles: File Viewed" event you can trigger workflows and filter contact lists based on Document Views in HubSpot. Moreover, you can configure this event to fire based on a number of views, downloads, time spent, and more, etc on your pdf link.

Disabling Download & Other Security Settings
HubSpot Documents lacks a number of security & privacy features that we talk about in detail below. The ability to disable download is one that has garnered a lot of interest among the community users. This post has over 100 upvotes and frequent comments from new users asking for this feature.
Certain security settings on the shared documents are also missing from HubSpot Documents. These include enabling password protection on the document, setting link expiry, team management & privacy settings, etc…
CloudFiles on the other hand offers a number of security features for document links including link expiration, password protection, soft and hard content gating, disabling download of the file and more… The image below shows some details on these features.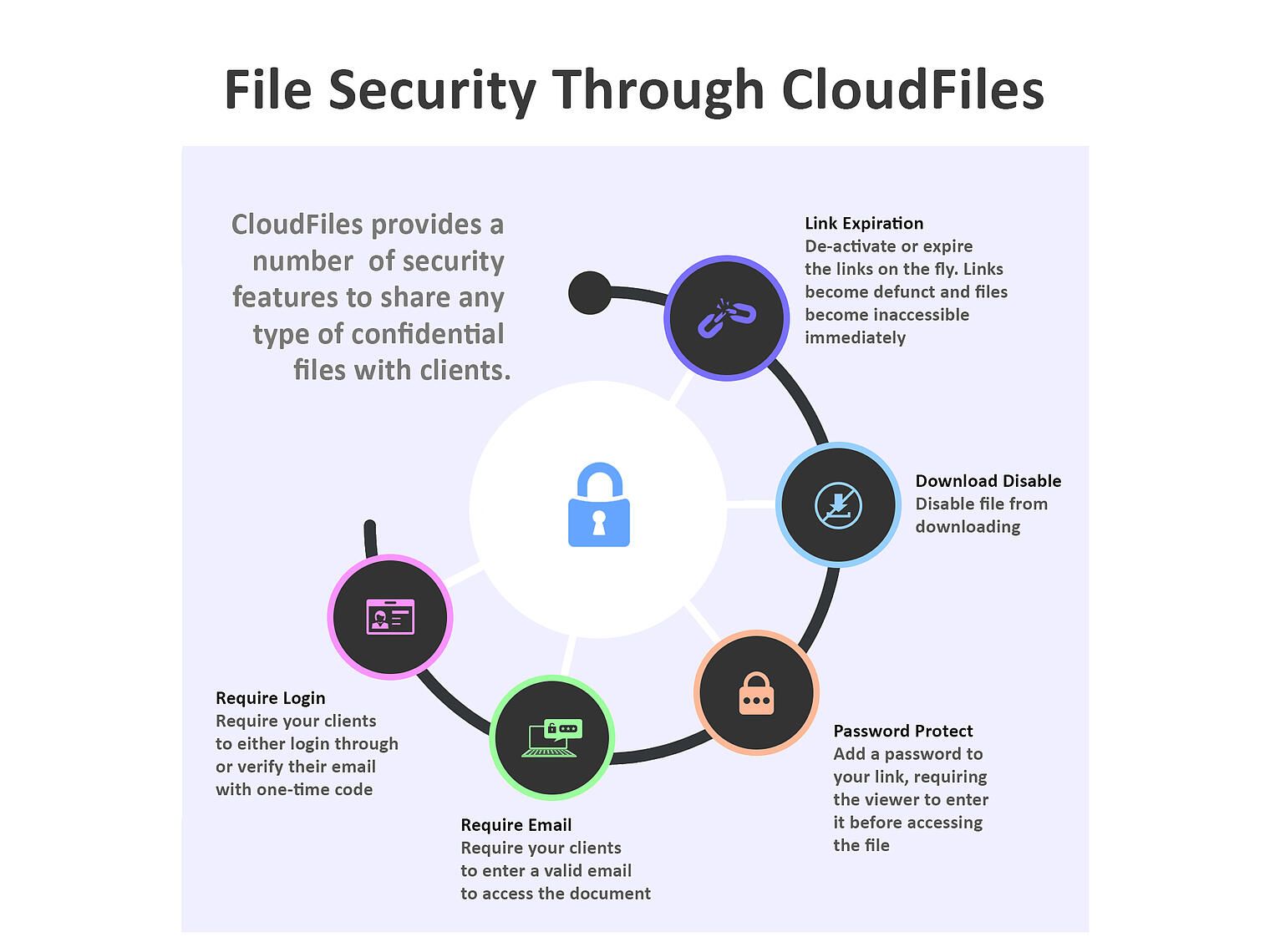 Tracking Metrics
Although the HubSpot Documents Tool tracks user engagement on the document, there are certain key tracking metrics lacking from that tracking report. These include download history, document versioning, drill-down analytics, internal link tracking, team usage tracking etc… Moreover, the tool cannot be extended to track link clicks anywhere in HubSpot.
CloudFiles enables better HubSpot Document Tracking since it offers a much wider variety of document tracking metrics as shown in the image below. Moreover, you can view the total statistics or drill down into individual users and sessions, thus giving a fuller picture of content performance. With CloudFiles you can accurately track link clicks in your emails and CTAs.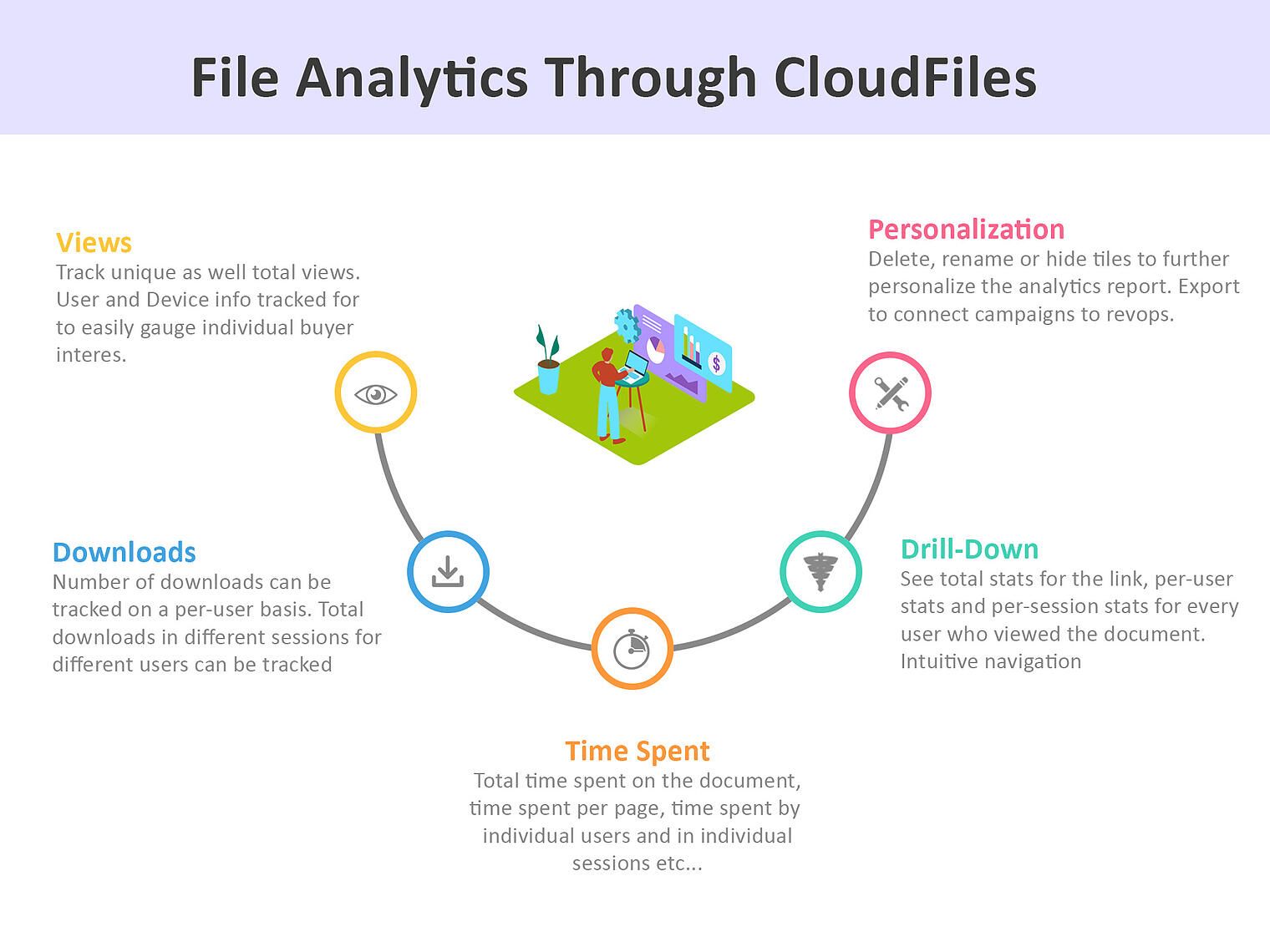 Custom Branding & Domain
A few businesses cannot or may not want to tell their clients that they are using a third-party service to share files. These businesses need complete white-labeling solutions with their own brand logo, possibly color as well & their own customized URLs. Unfortunately, the HubSpot Documents tool does not provide this white-labeling. With almost a hundred upvotes, this post has also garnered a lot of interest in the community.
CloudFiles offers an enterprise plan through which businesses can request custom domain and branding for sharing secure & trackable document links. You can place your own logo on the CloudFiles viewer and have a custom URL to send the file to your customers. Contact us if you would like to know more about this feature.
Licensing Requirements
A final complaint that we heard from HubSpot customers during our calls was that, since the Documents tool requires a sales hub license, they need to buy expensive licenses for their marketing teams who usually create and manage content for the sales team as well. The free tier of Sales Hub only offers 5 documents. For this reason, HubSpot Documents may appear expensive for certain teams.
CloudFiles is a highly affordable document sharing & tracking solution. All features are available for as low as 5$ / user / month. On top of that, generous discounts apply for yearly commitments as well as large teams. Licenses are only needed to upload and configure file links. For someone who only wants to view file analytics, licenses are not needed.
Since it is an independent app, it does not differentiate between the HubSpot license you own. It works equally well to anyone using HubSpot from a free Sales Hub user to an Enterprise marketing user.
Conclusion
We highlighted only a few of the major issues that were reported on the community. There are many smaller ones including no API, false opens, mandatory email, notification settings, etc…
CloudFiles addresses most, if not all, of these issues. Moreover, since the app focuses on easing content sharing for businesses, new features are constantly being added to make the app more robust.
If you have a custom use-case in mind and are not sure how to go about it, let us know and we just might be able to help.