Document Workflow Management Framework
Document Workflow Management Framework is an alternate way of thinking about business document management in 4 stages of content creation, curation, sharing & archival. This focus on document lifecycle rather than file types makes file management easier and intuitive for businesses.
Why DWM ?
In a previous article, we discussed the various document management systems used in organizations. These included DAM, DMS, CMS, etc… These systems primarily differed in the types of files they handled. Since businesses today have all types of documents and must manage them coherently, we concluded that this way of classifying document management is not ideal for today's businesses.
In this article, we propose an alternate way of looking at documents. We devise a framework, "Document Workflow Management", which classifies documents based on their lifecycle rather than their type. Finally, we show the utility of this framework by thinking about various use-cases for which it can be used. We even use it for one of the use-cases to prove the usefulness.
Methodology
‍In order to develop the framework, we follow the steps below
Review existing literature on Document Lifecycle Management
Abstract & simplify an existing framework
Propose a 4-step framework to classify document lifecycle
Current Literature on Document Management
In order to conduct a literature review, we searched for document/content/file lifecycle/management keywords on Google Scholar and some library databases. We found this 2012 paper which talks about overall Enterprise Content Management Literature. The article suggests a dearth of publications in fields such as document management, adoption phase of ECM systems, etc…
This article focuses on Intranet document management and suggests a 5-step waterfall model including document creation, publication, organization, access & destruction. Another paper that focuses on digital content management talks about various stages such as ingest, media asset management (MAM), playout, distribution, archive, etc…
Finally, this paper has a more comprehensive process of management by dividing the lifecycle into 11 steps. These 11 steps are presented in the image below.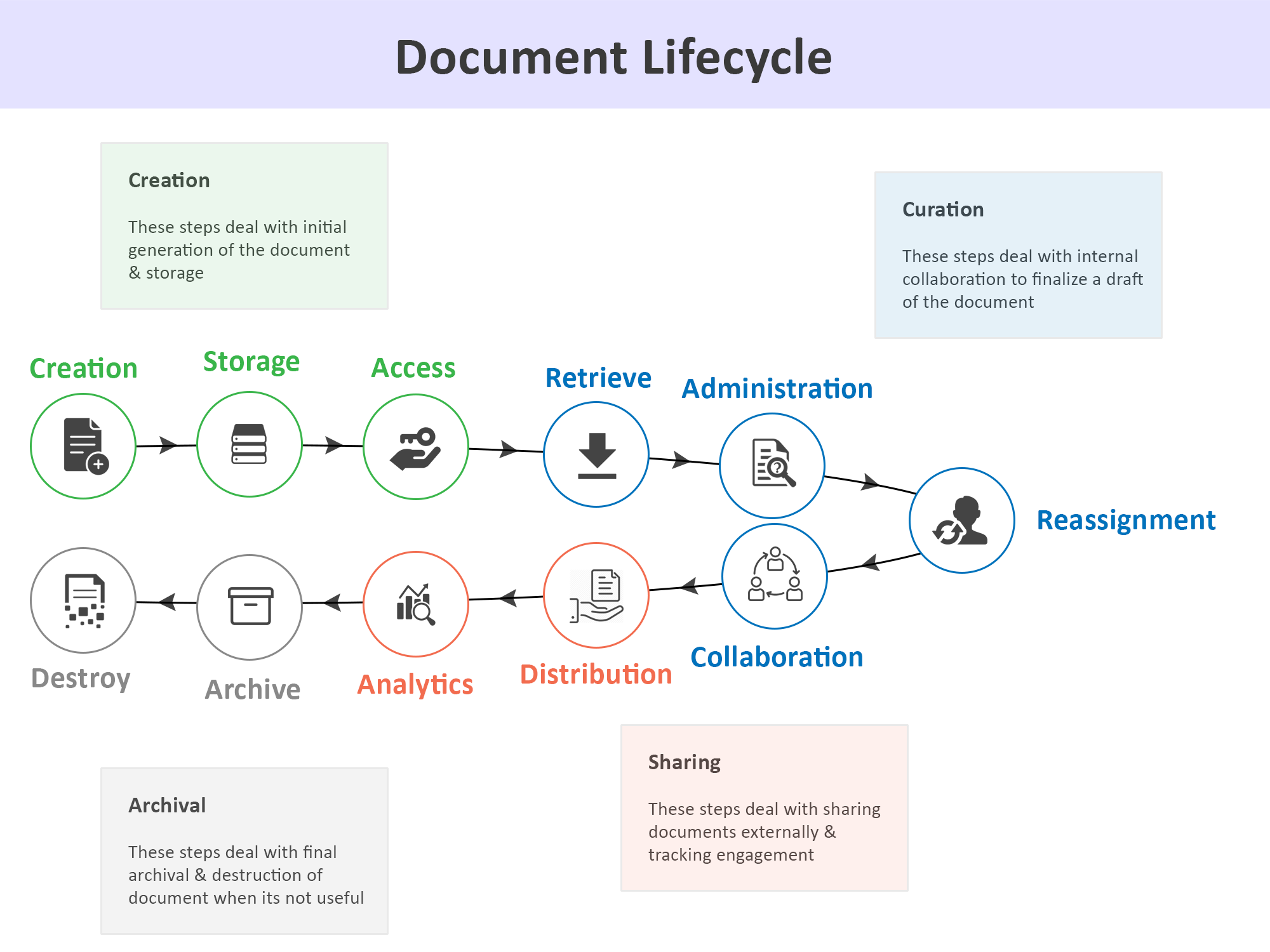 Abstracting Current Literature
Based on this and the other research papers referred above, we abstracted the document lifecycle into 4 stages. This is covered below.
Stage 1 – Creation
This stage deals with the initial generation & saving of a document with some content. Documents can be created through various editors including Microsoft Word, Excel, Powerpoint, Cloud Editors such as Google Docs, Blog editors such as CMS etc… They can be stored either in local or cloud storages (Google Drive, OneDrive, Amazon S3) etc…
Stage 2 – Curation
This stage is about internal refinement and curation of the document done in sync with other people/teams before the document is deemed publishable. Certain individuals within the organization can be given access to document. Teams can comment, collaborate, refine and finalize the draft of the document. This final draft ready to be published / sent depending on the purpose of the document.
Stage 3 – Sharing
This stage includes external distribution i.e. sharing the finalized draft outside the organization. Sometimes the external clients may request changes as well. Thus, this stage also overlaps with Stage 2 to some extent. During this stage businesses may also want content performance and next actions based on external party's reaction. Thus tracking engagement on the document can be critical for some organizations during this stage.
Stage 4 – Archival
This stage deals with safe archival or destruction of documents. Businesses may need some documents even after they have served their purpose (e.g. For record-keeping). Such documents need to be stored for the long term (decades). There may also be documents that  must be immediately destroyed after use.
Document Workflow Management Framework
Based on the 4 abstractions explained above, we now present the Document Workflow Management Framework. This framework has been visualized below. It simplifies the document workflow into 4 simple stages.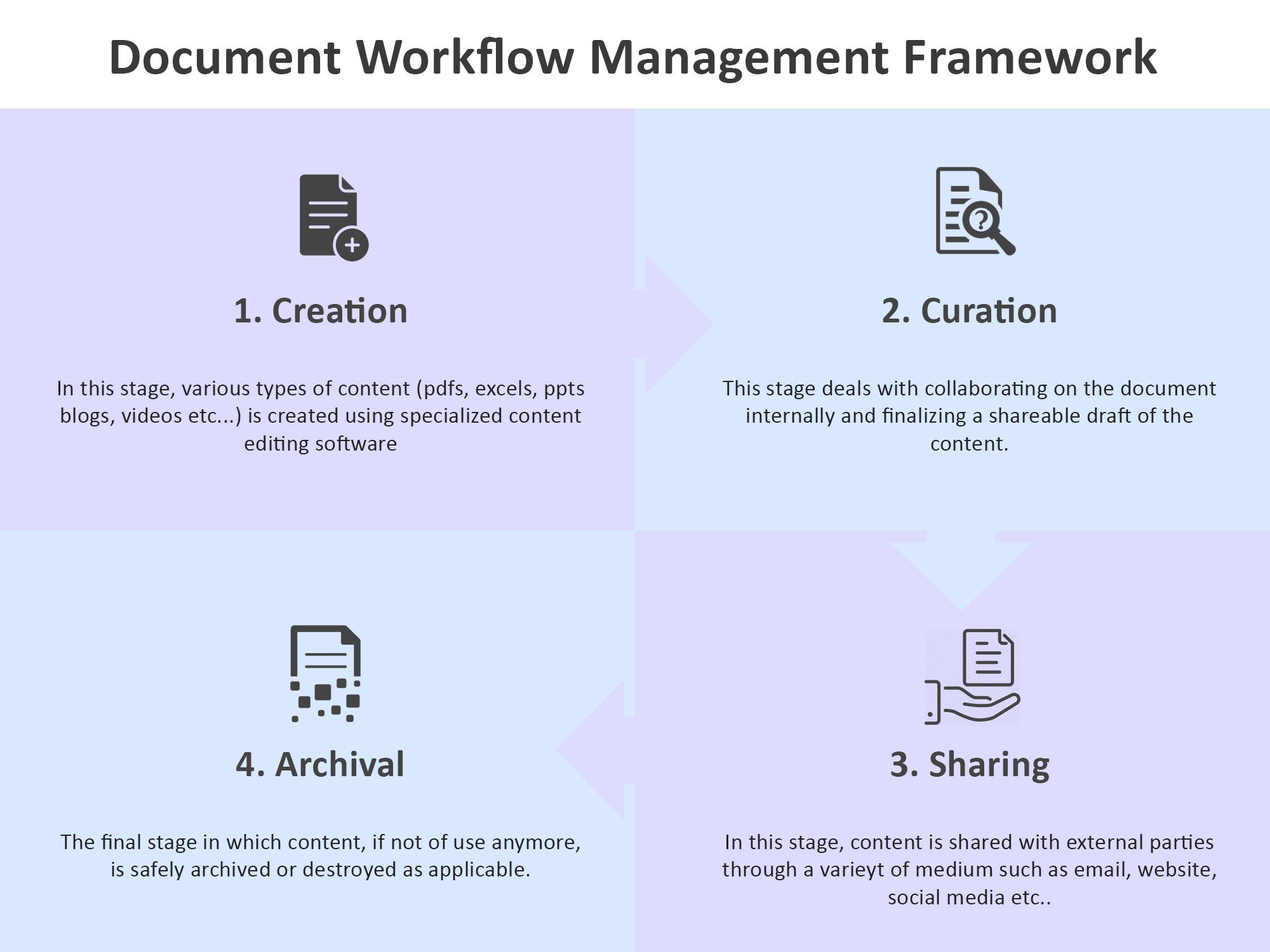 Using Document Workflow Management Framework
Select the right apps for managing business documents – Using this framework you can identify the specific gaps in your current document workflows and fill these gaps with the right apps.
Ensure Process Completion – Since the framework helps you identify process gaps, it also ensures that you adapt a complete process for all your business document needs.
Factors to choose the right apps – Analyzing the different factors that must be considered in order to choose the right document management apps for this business. This heavily draws from the above framework.