23 ways of integrating HubSpot with SharePoint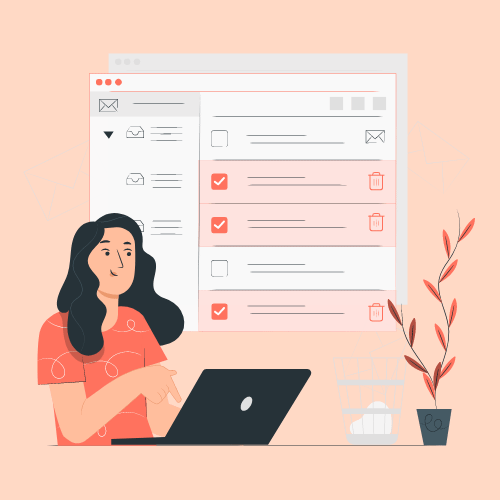 Are you looking for different ways of connecting HubSpot & SharePoint?
Well, we already did that for you. We clicked on all the links on the first 5 to 10 pages of Google Search with the term "HubSpot SharePoint Integration". We then studied these solutions, classified them into mutually exclusive & collectively exhaustive categories. And then, we wrote this blog.

In case you are looking to connect HubSpot with Google Drive or OneDrive instead, you might find our blog on HubSpot Google Drive Integrations or HubSpot OneDrive Integrations more interesting.
Use this guide to research all these options, zero in on your specific needs & requirements, and choose the right solution for your business.
You can read the guide freely or jump to specific sections below -
Now that we have the outline of what lays ahead, let's get started…
Why is a HubSpot – SharePoint Integration Required?
The simple answer to this question is that since these are 2 separate systems which don't have any good native integration options.

Main focus use of HubSpot: HubSpot is a cloud-based CRM designed to help align sales and marketing teams, foster sales enablement, Boost ROI and optimize inbound marketing strategies to generate more qualified leads.
Main focus use of SharePoint: SharePoint is an online collaboration system for document management and storage by Microsoft for business teams with enhanced security features. It is highly configurable to suit niche needs.
However, both systems lack certain features & functionalities. For example, advanced file sharing functions are provided by neither and might need another app that specializes in file sharing.
There are NO native solutions available for connecting HubSpot & SharePoint. This means neither Microsoft has developed anything nor has HubSpot, to actively integrate with the other. Seeing this, the need for an external integration becomes doubly important.
Why is this research, exhaustive?
We searched "HubSpot SharePoint Integration" in Google and studied every single search result that come up. We continued to do this until we stopped finding relevant results (which happens around page 5 to 6).
Moreover, while studying the results, we saw the similarities on some of the options available. This prompted us to categorize the results into the BIND Framework. This is an interesting take on SaaS integration decision making that can help you find the right solution quickly.
We discuss this framework below and then discuss the various apps available to perform the integration.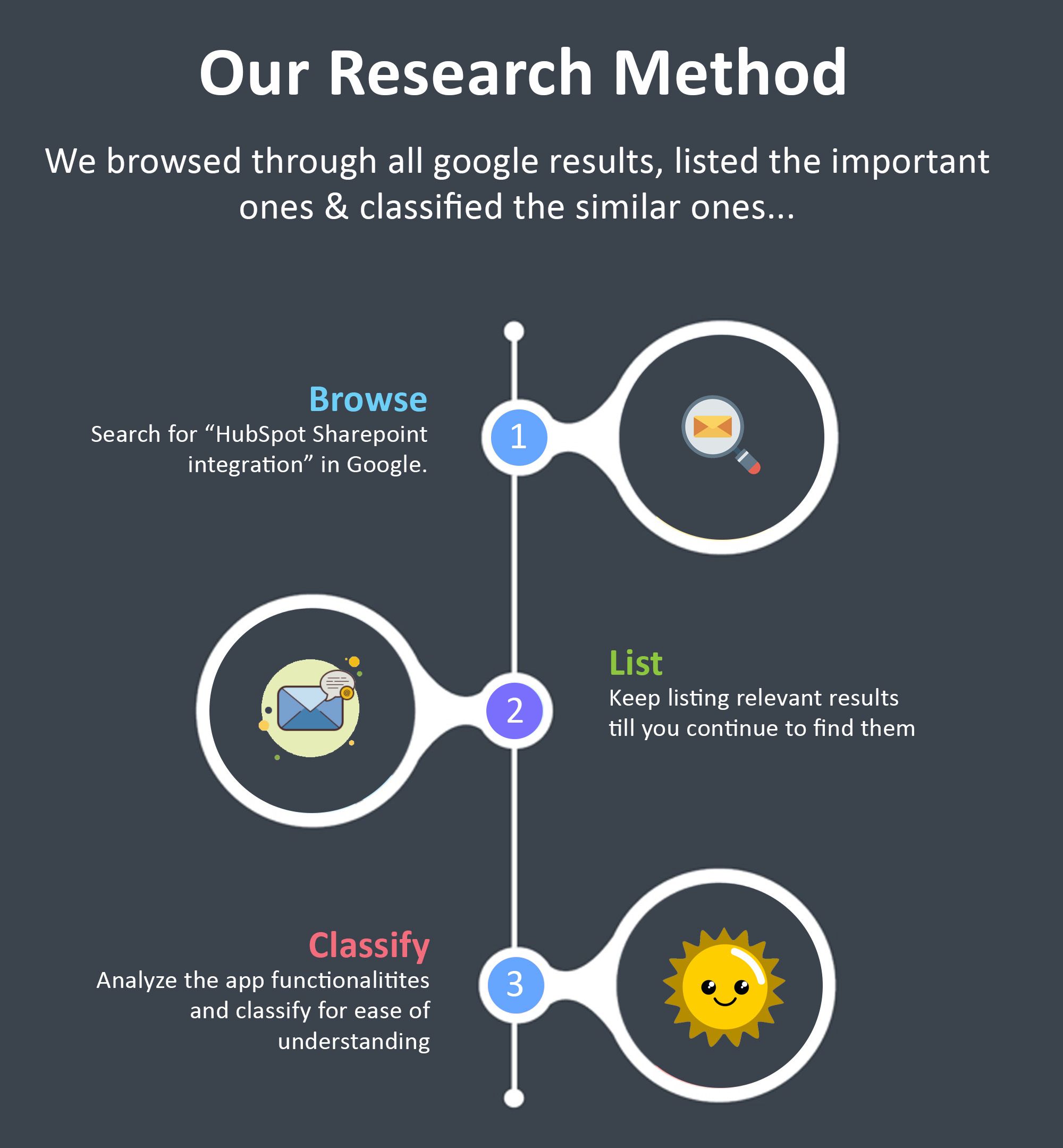 Using the BIND Framework
If you are unsure about your requirements or are feeling overwhelmed with so many options, you can narrow down your choices using the BIND Framework. To use this framework, you only need to answer two simple questions.
As an example, suppose you need SharePoint files synced & available in HubSpot which has prompted you to look for integration options.
Now answer these 2 questions -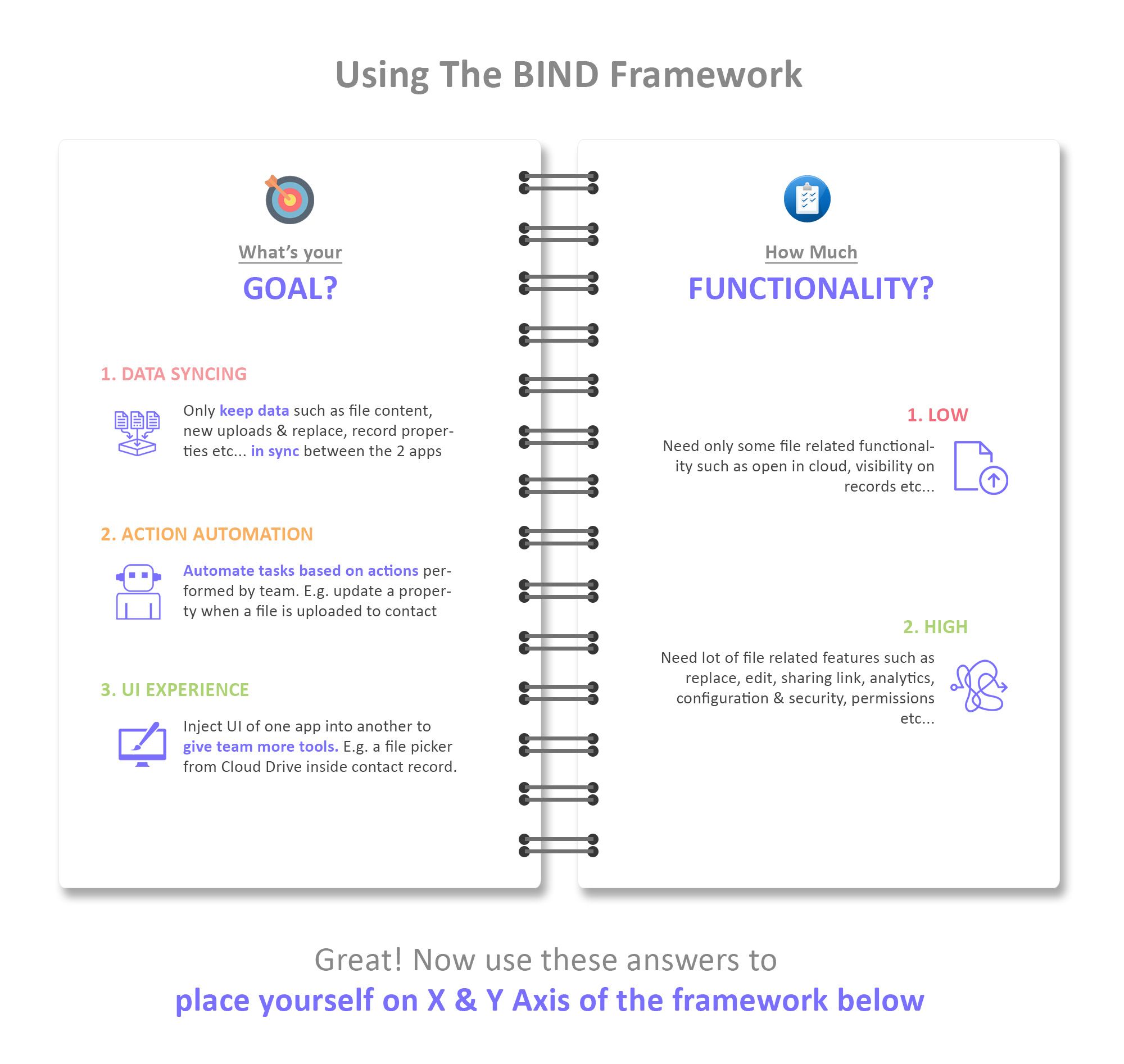 What is the goal of your integration?
You can choose between these three options. You can even choose multiple if you are confused about your requirements -
Do you just want to keep your data in sync? E.g., if files are uploaded to a certain site folder in SharePoint, they should be sent to the HubSpot file manager so that they are available in sales, marketing & sales hubs.
Or do you want automated (or manual) actionability on that data based on user actions? E.g., a HubSpot contact property should update with the link of a SharePoint file whenever a file is uploaded to a certain SharePoint site.
Or finally, do you want to improve the experience of your team by giving new UI elements inside HubSpot that connect your SharePoint library? E.g., giving them a file picker dialog on the HubSpot contact record through which they can pick and attach files from their SharePoint accounts to the record's widgets.
Once you have your goal decided, answer the next question.
How much new functionality do you really need?
How much functionality exactly do you need from the integration?
You may either want to do only basic ops such as fetching document links or just keeping a few folders in sync between the HubSpot file manager and SharePoint.
On the other hand, you may also want an automation to upload a file, create a shareable link and make it available on the HubSpot record.
The first one needs only few actions to be replicated from SharePoint, however, the second one needs a much highly integrated solution.
Be careful about what your actionability requirements are. If you want document editing & sharing capabilities, don't look for integrations that work well with syncing SharePoint sites.
Once you have a general idea of your goals & functionality requirements, and how much actionability you need, you can place them on the 2x2 matrix below, giving you a list of integrations, you should be exploring.
Scroll below the graphic to explore these integrations in detail.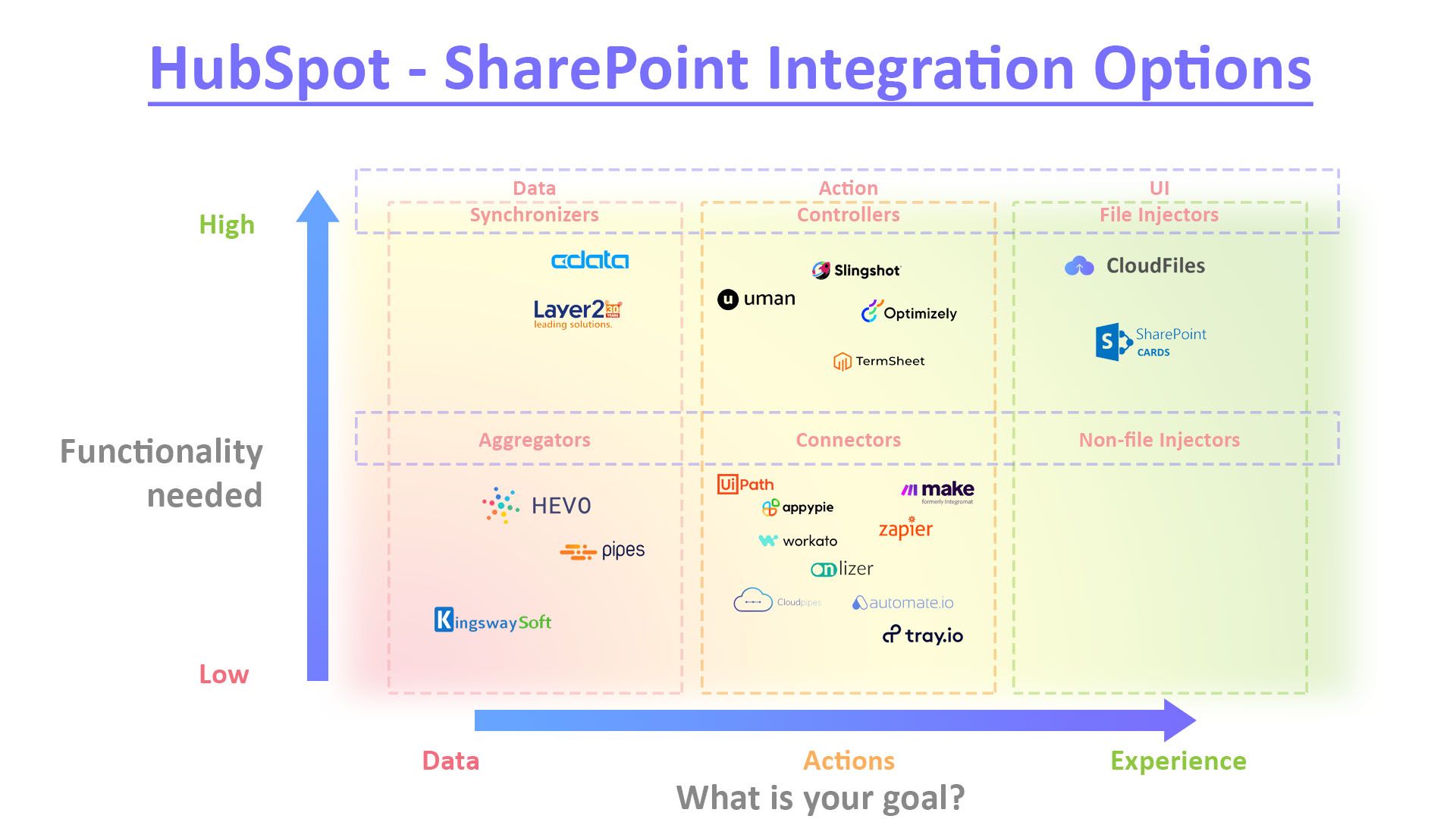 UI Integrators for HubSpot & SharePoint
UI injectors for HubSpot & SharePoint are able to inject buttons, cards, or other visible elements to your HubSpot accounts' webpages. We found two UI injectors. These can enhance the everyday experience by providing a native SharePoint experience inside HubSpot.
Moreover, both these are valid file related apps as well. You can read more about this way of classifying file related apps here.
SharePoint has adaptive cards that act as a standardized recipe for developers to build rich, native extensions to SharePoint Pages. If most of your tasks take place in SharePoint, with lesser operations in HubSpot, we recommend you to use SharePoint Cards. You can then use some of your HubSpot functionality in SharePoint.
One way to connect this can be learnt from this article.
CloudFiles is an integration-first SaaS app that connects your files from any SharePoint account right into HubSpot. Moreover, it adds a powerful layer of link-based sharing on top so you can add security settings, get analytics and automate processes all within HubSpot.
You can access your SharePoint sites from any HubSpot record by syncing them. Emails can be collected, and HubSpot contacts can receive analytics. Workflows and triggers can help you categorise and score contacts, as well as work with deals and companies.
You can install the CloudFiles HubSpot Marketplace App here.
Action Integrators for HubSpot & SharePoint
Action Integrators for HubSpot and SharePoint can trigger data flows between the two apps based on user-defined conditions. These can reduce manual work by automating certain data entry & data update tasks.
We found several action integrators and classified them based on the breadth & depth of integrations they offer.
Action Controllers
These apps aggregate data from other apps (much like the data aggregators discussed below) but provide beautiful dashboards to search for and operate on the consolidated data.
These might be useful if you are looking for a complete overhaul of your sales enablement strategy. We found a number of these for HubSpot & SharePoint integration.
Uman.ai can help you turn your disparate tools into a unified smart solution. You can get in touch with experts or search for the most relevant use cases, insights, and building blocks, which you can then reuse with a single click.
Uman's SharePoint & HubSpot integration pulls data from both apps and provides a great content discovery & analysis platform on top of it.
Slingshot brings together data analytics, project and information management, chat, and strategy benchmarking based on goals. This is a fantastic action controller tool for bringing all of your metrics together in one spot.
Check out the following resources to know how you can get data from SharePoint and HubSpot in one place using Slingshot.
Termsheet was created specifically for real estate teams to help them automate and organise mundane tasks while also gaining access to their proprietary database. It streamlines your workflow by tying together the tools that your team uses on a daily basis.
You can attach documents in SharePoint to items in Termsheet and instantly preview any file while also automatically updating Termsheet contacts with the latest information from HubSpot.
Learn More about Termsheet's HubSpot SharePoint integrations here
The Optimizely connection automates the copying of documents, blocks, and other things from SharePoint document libraries and lists. Updates are available in CMS as media or blocks and can be scheduled or controlled manually.
The Optimizely Connect for HubSpot add-on is part of Optimizely Connect for Marketing Automation, which integrates HubSpot and Optimizely Forms, allowing marketers to capture visitor data and send it to HubSpot for analysis.
Find more resources to connect HubSpot & SharePoint using Optimizely here.
Action Connectors
These applications connect different applications and enable the user to sync specific data based on triggers. However, contrary to action controllers, action connectors provide a basic dashboard where you can create a static workflow and then forget about it.
This allows for sales & marketing teams to keep in sync. In fact, some of these apps also make it to our most useful HubSpot sales apps & most useful HubSpot marketing apps for HubSpot users.
These apps are useful if you have specific automations to implement between HubSpot & SharePoint. These must have well defined triggers and actions. We found many of these which vary in the type of actions & triggers they provide.
With Onlizer's visual editor, you can connect your HubSpot account to SharePoint and most other popular products. It boasts about the abundance of free integration templates available.
More resources to know more about Onlizer's fast and reliable HubSpot SharePoint action connector.
When a task is created in SharePoint, you can use Automate.io to start a process and conduct activities like changing contact properties in HubSpot.
Automate.io brings power to small businesses at an economical price so your business can automate away your tedious & repetitive tasks once and for all. More information about Automate's SharePoint to HubSpot integration can be found here.
Workativ is a fantastic no-code SaaS tool that integrates SharePoint with HubSpot CRM to automate sales operations and contact management.
You can easily create tasks in SharePoint for new HubSpot activity or send group emails in SharePoint when a deal, company, or Contact is created or changed.
Here's some more info on the HubSpot SharePoint Integration through Workativ.
One of the most widely utilised automation apps is Zapier. It has excellent Microsoft connectivity.
You can do more than just link two apps with Zapier—you can automate entire processes from start to finish! CandidateZip is their most popular "zap" for bringing new resume data from SharePoint into HubSpot.
Learn more about zapping your HubSpot SharePoint tasks here
AppyPie has a bouquet of products and services that can help any business excel in a well-rounded manner leveraging the latest codeless technology for mobile apps, websites, chatbots, automation, design, knowledge base, help desk and much more.
The no-code platform from AppyPie democratises mobile and online app creation, making it more accessible. Users can alter files, folders, contacts, tasks, calendars, and other items based on set parameters thanks to their SharePoint - HubSpot integration.
Find the entire list of triggers for AppyPie's HubSpot & SharePoint integration here.
CloudPipes is a cloud-based tool that allows users to quickly construct processes using a specialised integration platform. Because it is code-free, the solution reduces users' infrastructure costs while simultaneously allowing for elastic performance scalability.
Their integration provides triggers for a wide variety of tasks and is best suited for large teams (>500). Quickbase acquired CloudPipes in 2019 and has made it the first enterprise application development platform of its kind.
Detailed information about CloudPipes' HubSpot SharePoint integration is found here.
Integromat has changed its name to Make. It comes with a number of triggers that can be used to complete a variety of activities. Their drag-and-drop builder will make automating tasks a breeze for you.
Get familiar with Make's HubSpot SharePoint Integration automation triggers here.
Workato offers custom triggers for contact/record/company/deal in their HubSpot – SharePoint integration. With 1000s ready-to-use templates, setting up the integration yourself becomes fast.
Their entire list of automation tasks with HubSpot SharePoint using Workato can be viewed here.
Tray.io provides a cloud-based software integration platform for automation lovers. Their modern UX features will let you make powerful integrations easily.
With Tray.io's visual workflow builder, customers can create automation to drive their business processes without writing a single line of code. More info on Tray's SharePoint HubSpot Integration can be found here.
UiPath is a software company that specialises in robotic process automation. It employs a range of techniques to turn time-consuming jobs into automated processes. Its drag-and-drop approach enables the design of a variety of visual processes.
Data Integrators for HubSpot & SharePoint
Data integrators for HubSpot and SharePoint are able to keep the HubSpot & SharePoint data in sync continuously or collect and manipulate the data. These data operations enable management level insights decision-making.
Data integrators can be differentiated by the way they retrieve & use the data. They can be classified as data aggregators & data synchronizers.
Data Synchronizers
These applications act as a hub between HubSpot & SharePoint and keep the data in these applications in sync. The user can setup which data needs to be kept synced.
Synchronizers can further be differentiated into 1-way & 2-way synchronizers as discussed below.
CData Software is a leading provider of data access and connectivity solutions. You can use the CData API Server with the ADO.NET Provider for HubSpot (or any of 200+ other ADO.NET Providers) to give your users the capabilities to access and update HubSpot data.
Find more resources on CData's easy to use bidirectional HubSpot SharePoint integration here.
Layer2 focuses on Office 365, OneDrive SharePoint, and Azure, and offers both on-premise and cloud-based data integration and document synchronisation solutions for the Microsoft Cloud.
They have over 100+ triggers between SharePoint and HubSpot. It has both one way and two way sync. Check the articles linked here to get acquainted which type of sync for Layer2's SharePoint and HubSpot is suitable for your business.
Data Aggregators
These applications provide connectors that can be set up (sometimes with some extra effort), to connect with SharePoint & HubSpot and receive data continuously from these. Users can perform aggregation and manipulation on the data.
Hevo is a data pipeline that requires no coding and is extremely easy to use. It transfers data in real time from any source to your warehouse, allowing for speedier analytics.
To get data using Hevo connect SharePoint with HubSpot using the resource here. Their HIPPA, SOC 2 and GDPR compliance will help your business in transitioning to using Hevo.
Pipes extracts data from your data warehouse's 200+ accessible sources with just a few clicks and no scripting. Pipes has a HubSpot and SharePoint integration that allows you to draw in various types of data from both sources and create reports based on it.
Enable your business to make data driven decisions based on insights from Pipes' SharePoint-HubSpot integration.
KingswaySoft is a leading provider of data integration and SSIS solutions for Microsoft Dynamics software, Salesforce, and many other enterprises. Their solutions are can be run on-premise or on the cloud.
Get detailed information regarding KingswaySoft's HubSpot - SharePoint integration here.
Partners, Community & Other…
There are many HubSpot community posts and blogs by HubSpot solution partner agencies on the topic of HubSpot SharePoint integration. We also searched the official HubSpot community & the HubSpot solution provider directory to make this research more exhaustive.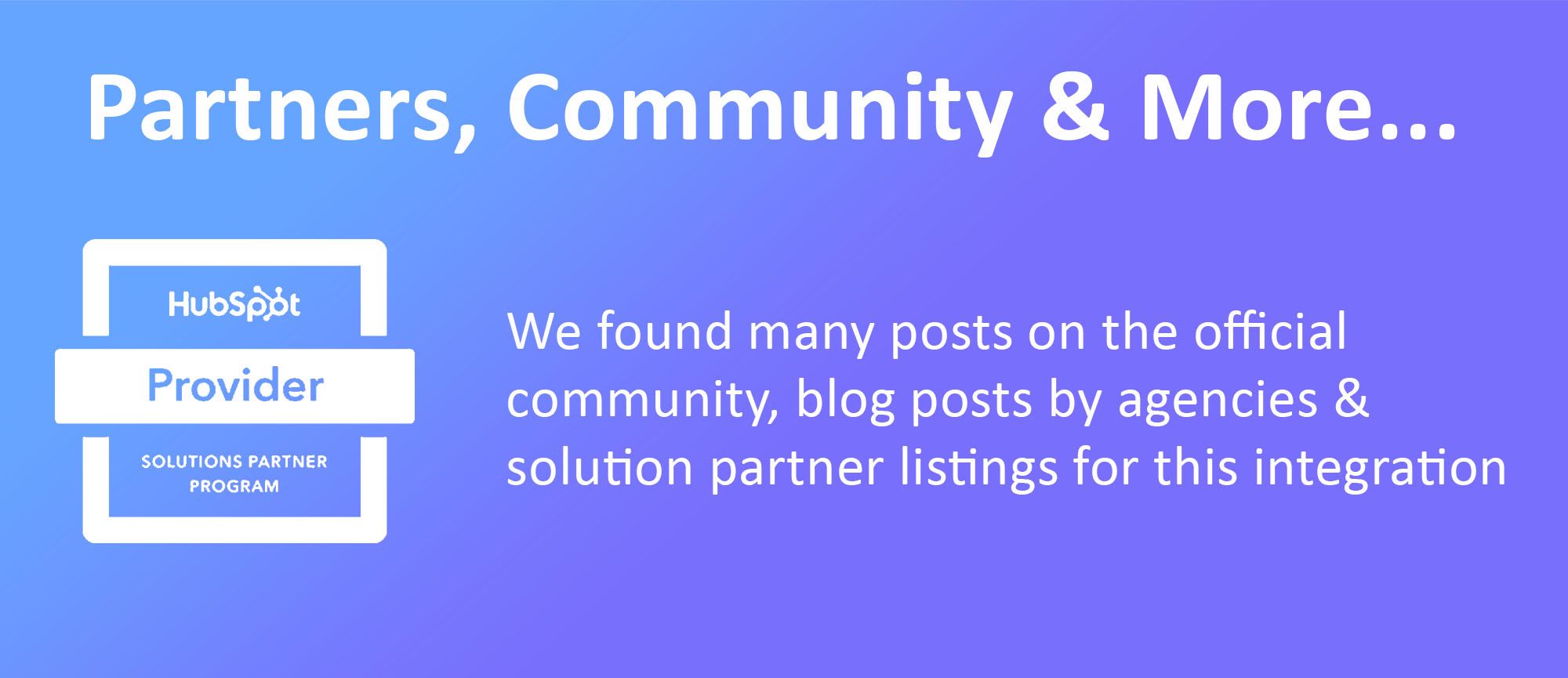 22 - Community Posts
This post mentions Sharepoint based file sharing from contact records. This one comes as the top Google result for connecting SharePoint to HubSpot.
Here's another one that talks about form uploads and HubSpot. Finally we found this one that explores pushing information to SharePoint using workflows.
23 - Solution Partners
We found some articles from HubSpot solution providers that talk specifically about connecting HubSpot and SharePoint.
For example, this article offers some info using the REST API to connect the two systems. Techloyce is a partner agency has an article on the integration. Other agencies such as Elixir Solutions, AmbitSoftware, Icrats, Techila Services were listed on Google as well.
HubSpot's solution provider directory has some results as well. This search page shows all of these results. Some of these agencies include IS4IT, Ranosys, Affirma, Spindustry etc…
Summary
Through this article, we have detailed a list of options which can be used to connect HubSpot with SharePoint in a number of ways. We have also used a framework to narrow down on the requirements and focus on the best solutions out of these.
By answering the questions on goals and requirements, we divide these apps into UI injectors, an action integrator or data integrators. We can then finetune the requirements by researching the various options listed in the article.
If you are looking for more info related to HubSpot & files, we have a number of articles coming up. In one of the blogs, we will introduce the concept of files in HubSpot and tell you what all you can read. If you want to explore more external integrations, we will also do in-depth research on the various file related apps on HubSpot marketplace.
In fact, these two are coming very shortly. Subscribe for updates to know when they are done.
In case you are still searching for answers, you can always talk to us. We can surely help out on file related queries. But more than that, we can also connect you with solution partners who work on similar problems in HubSpot.