Get Maximum Results from Email Marketing with Email Trackers
Email marketing is a form of marketing that we've all gotten used to. We all use social media and think social media marketing is the best form of marketing out there…
But that isn't true, email marketing is up to 40 times more effective than social media, according to a study done by McKinsey & Company. The same study also shows that the buying process happens 3 times faster than on social media.
Emails have gained the favor of a lot of marketers in the industry, and a major reason behind that is very simple - ownership.
Many marketers believe that they would rather have an audience that they own (an email list) over an audience that is owned by another platform (a social media community)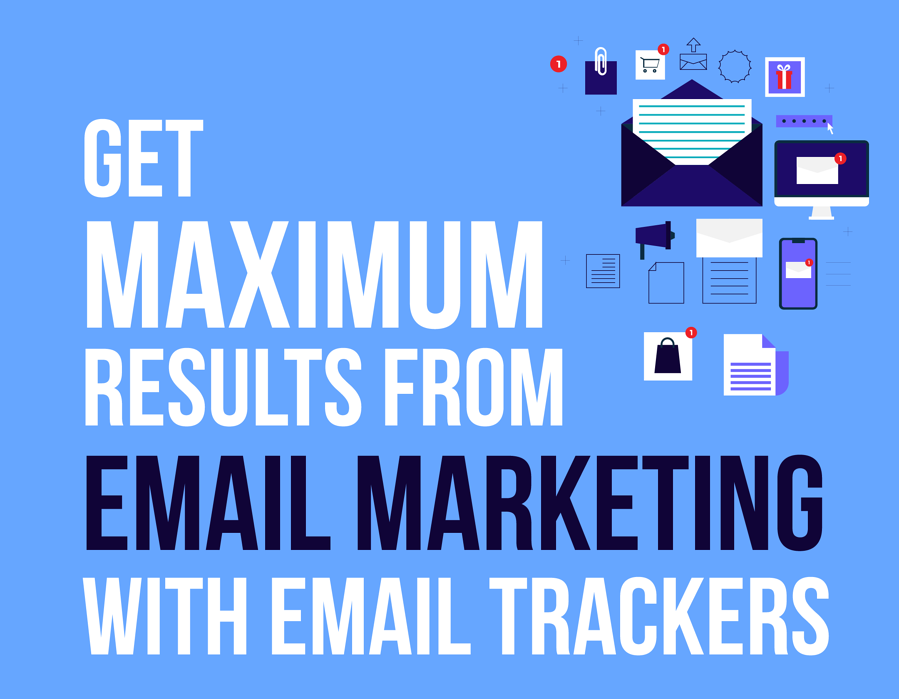 But email as a platform lacks one key thing that is very abundant in social media platforms - metrics and analytics.
And that's where Email Trackers come in:
What Are Email Trackers?
Email Trackers are simple tracking software that tells you if the reader has opened an email or not.
Email Trackers do so by embedding a simple 1x1 transparent (or invisible, we can say) pixel, so whenever the recipient opens the email, the pixel gets loaded.
Hence Email Trackers know if the recipient has opened the email or not by that 1x1 pixel.
This is a very common feature on all social media platforms, whenever you send a message you'll know if the recipient has seen it or not, but as mentioned earlier, email doesn't have that feature, so the use of Email Tracking software is increasing.
Other than providing metrics, what are the benefits of using Email Tracking Software?
Benefits of Email Tracking
Email Tracking Provides Insights
This is the most obvious benefit of all, Email Tracking tells you about the open rates of your emails, which helps you understand many key aspects
If the subject line is working
If the email has landed in the primary inbox
If the recipient has ignored the email (no response)
Email Tracking Improves Efficiency
Imagine sending one email and 4 follow-ups, just to realize that the recipient hasn't even opened the first email!
This makes you lose a lot of time and, of course, money on resources that you've used to send out the emails.
But if you've installed an Email Tracker, you'll know if the recipient has opened the email or not and send follow-ups accordingly, which drastically improves your efficiency.
Email Tracking Can Help You Strategize
If you're sending out bulk emails regularly to your list, it's important to know when your recipients will be online. You can then use that information to send out emails strategically.
Email Tracking can help you do that by telling you when most of your readers open their emails.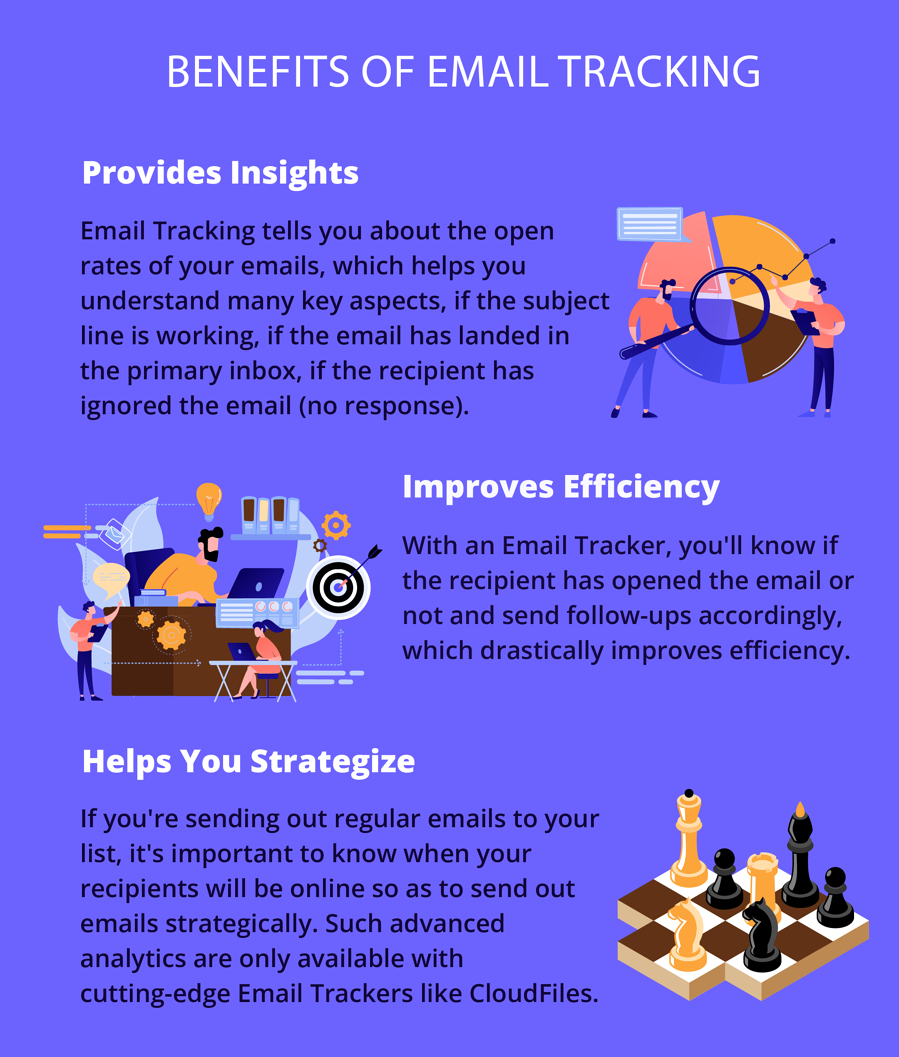 Now that we have discussed the benefits of using Email Trackers, we also have to discuss the disadvantages of these softwares. So let us talk about the problems with Email Tracking…
The Problems With Email Tracking
False Opens
Open-rate is considered the best metric to analyze the success of an Email Marketing Campaign.
The average email open rate for all industries we analyzed is 21.33%. Open rates are one of the best ways to determine if your email strategy is working.
But that doesn't necessarily mean that the open-rate is a 100% accurate metric. We have discussed the 1x1 pixel that Email Trackers use, but the method isn't perfect.
The numbers are usually inflated (or sometimes deflated) due to reasons like
Emails opened by accident
Emails blocked by spam filters due to heavy usage of pictures
Emails opened by malware prevention services


This makes inflated open rates a big problem to deal with for marketers.
False Clicks
Click-through Rate (CTR) is another standard metric used by marketers to analyze the success of an email marketing campaign.
But this method isn't perfect either, due to similar reasons mentioned above, some of them are -
Links clicked by bots
Links checked by firewalls to protect the recipients

With the increasing number of bots, firewalls, and user protection services, inflated CTR is another big problem that marketers face.
Note that open-rate refers to the number of people that have OPENED an email, while CTR refers to the number of people that have CLICKED at least one link in the email
Tracking Wrong Metrics
We have discussed earlier how the average open rate of emails is about 20%, but how does that affect your business?
Imagine you own a clothing brand, and you're sending out sales emails to your list. The main goal of that campaign is to sell as much apparel as you can.

Now, would the open rate be a good metric?
The average click rate for all industries we analyzed is 2.62%. But as we mentioned earlier, CTR is also inflated due to many reasons. All in all, there isn't a perfect metric out there to track the success rates of your Email Campaign.
Use CloudFiles to get the same benefits
In the end, we can say that email marketing is still going strong in 2022 and is proven to be the platform that provides the highest returns, but it still lacks a lot of features. Those features can be added using Email Trackers, but only if you find the right one for you.
An alternative that many marketers are swearing by is CloudFiles. It's a powerful tool that tracks the engagement on files that you send along with the emails. A receiver can open your email mistakenly, however, if they open your proposal and view it, it shows higher interest in your product.
It's especially useful when you send out proposals and pitches to prospective clients. With CloudFiles, you get detailed analytics and insights on who engaged with your documents, and to what degree, including unique views, downloads, time spent, and per-page analytics.
Plus, it's an integration-first software, which means you never have to switch from the platforms you're already using. Easily integrate CloudFiles with HubSpot, Salesforce, Google Drive, Dropbox, and many more.
CloudFiles can also be used as an authenticator: only people with access to the email id can access the content. This way your data remains safe and you get analytics that can help your marketing efforts.
Check out more features about CloudFiles here