How businesses are evolving their sales strategy post-COVID
The economy is not the same as it was before COVID-19 swirled its way through the world, leaving cascading effects on how businesses function. The way salespeople engage with their clients, customers, and B2B organizations has dramatically shifted in a whole new direction.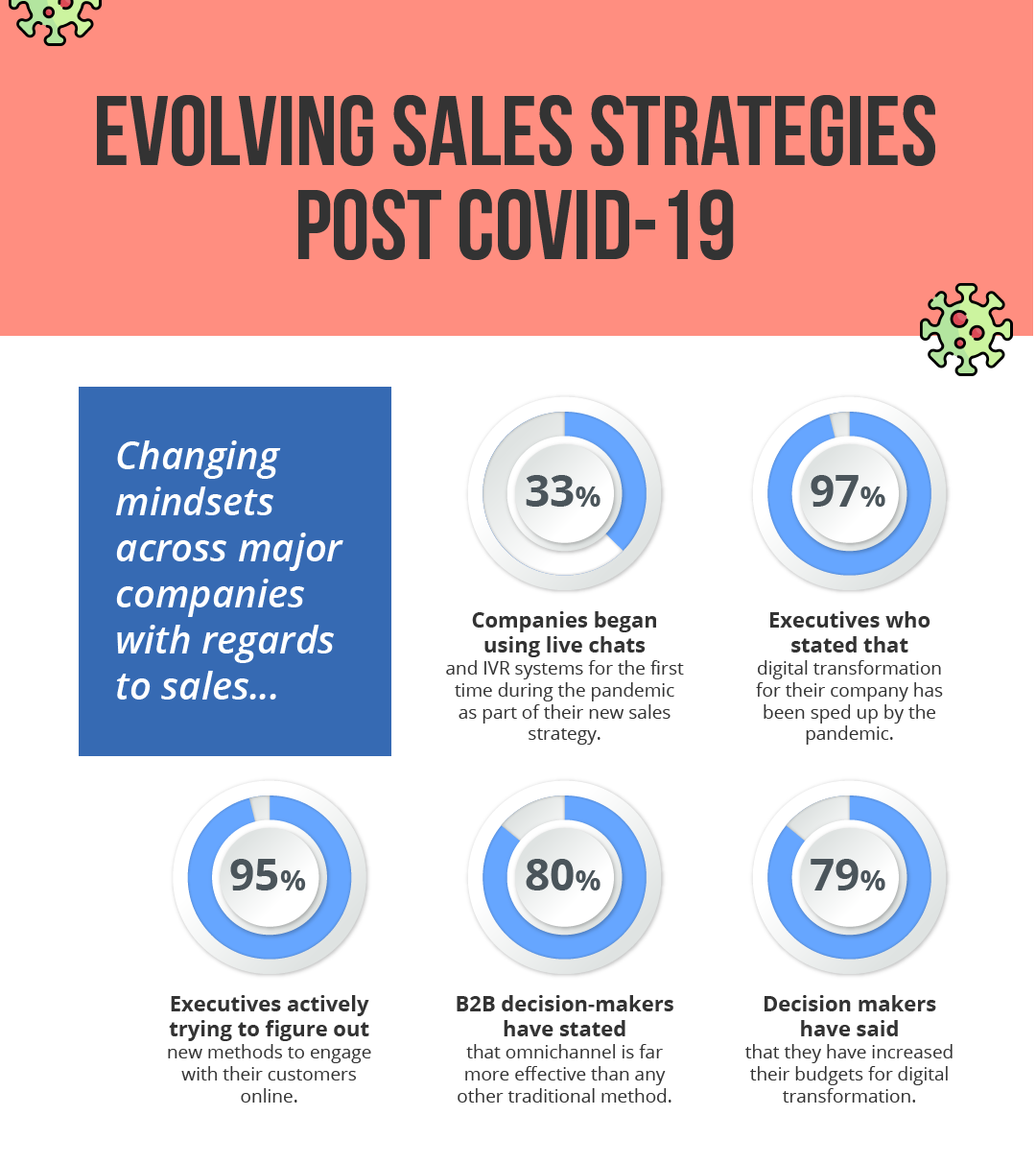 Although some major companies and entrepreneurs take precautionary measures to adopt a different sales strategy in case of an emergency or a disaster, the situation brought in by COVID-19 was unprecedented.
This has called for new measures, new plans, and new strategies that need to be put in action to tackle such challenges.
"Going Digital" - on steroids
With COVID-19 locking people up in their homes, going digital was the only way for B2B sellers to make their products and services reach their buyers. What began as an emergency response has now settled into being the norm.
This has invariably had major implications in the way sellers and buyers handle their business in the near and far future. It's true that advancement in technology and e-commerce over the last decade has been nudging businesses to operate online, but the post-pandemic trends require a whole new level of online dexterity.
The COVID-19 situation was the acceleration that B2B sellers needed to focus on digital sales strategies.
This is no longer a temporary phase that will fade away after some time. The effects of the pandemic are expected to continue at least over the next couple of years. As such, companies are trying to uncover new ways of increasing revenue, instead of just defaulting back to cutting costs.
When the global economy rebounds, only those companies and entrepreneurs that can navigate their way around this challenging time will be at the top of the leaderboard.
What do the Numbers Say?
American cloud communications platform company Twilio surveyed 2,569 enterprise decision-makers to understand the substantial changes in digital transformation in the COVID era. The survey showed the struggle many companies faced due to contactless transactions.
Whether it was SMS or online payment, live chat online or Interactive Voice Response (IVR) systems, a sharp focus was put on these areas. One in three companies began using live chats and IVR systems for the first time during the pandemic as part of their new sales strategy.
Global reports indicate that a jaw-dropping 97% of executives have stated that the digital transformation for their company has been sped up by the pandemic.
It has also been reported that 95% of executives are now actively trying to figure out new methods to engage with their customers online. Furthermore, 79% have said that they have increased their budgets for digital transformation.
The Omnichannel Approach
In a global crisis, when everything was constantly shifting, one thing that stood the test of time even in a dire situation like the pandemic is omnichannel. When buyers are given the option of in-person, e-commerce channels, and remote, they want it all.
Even when many regions around the globe ended their lockdown, buyers still opted for a cross-channel mix where they selected digital self-serve transactions, remote, as well as in-person interactions in equal measure.
In fact, a McKinsey & Company report shows that 8 out of 10 B2B decision-makers have stated that omnichannel is far more effective than any other traditional method.
It should be noted that this hasn't only stemmed out of safety purposes, although that is a primary reason. But, remote and self-serve digital interactions make it easy for customers to place orders and get information. It's speedy and convenient.
Even in sectors such as medical and pharma products, where field sales usually dominate, it has been seen that only 20% of the B2B buyers hope to return to in-person sales. This mindset of buyers has put the onus on sales professionals to change their strategies.
Emerging Sales Strategies for the Post-Pandemic World
If you are in sales, you constantly need to evolve and be comfortable breaking traditional sales strategy models and adopting new ones to suit the current situation. Keeping that in mind, here are some effective approaches in figuring how to increase sales in the pandemic.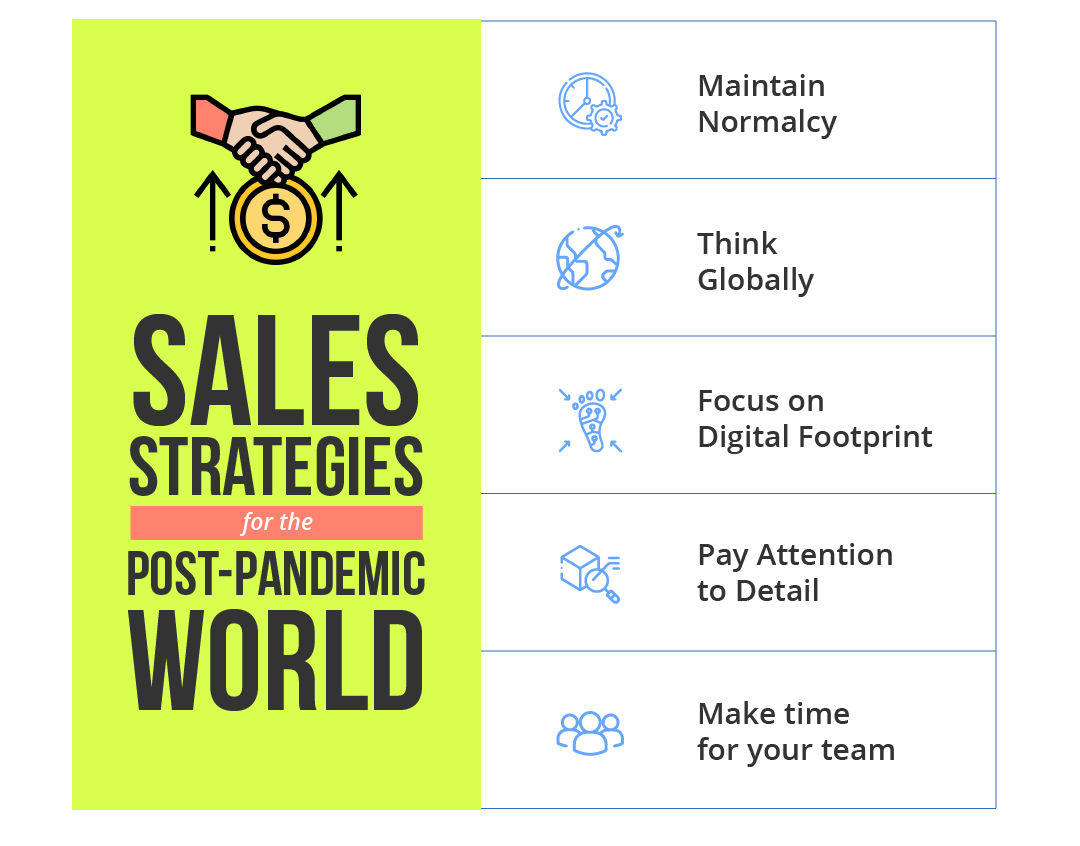 Maintaining Normalcy
The pandemic was chaotic enough for everything to be extremely reactionary. But, in the post-pandemic world, it is important to instill a sense of normalcy to boost sales.
It can be something as basic as a kick-off, since it will be a great way to motivate the sales team and collaborate on formulating the strategies that need to be followed. Be sure to grab as much input as possible by surveying your sales team members ahead of time.
Thinking Globally
Another key realization that top executives are waking up to in the post-pandemic era, is the idea of breaking geographic limits. Executives who were previously forced to think regionally, are now incorporating a global approach to their sales strategy.
Since people are relying less and less on in-person purchases than they used to, the target audience for sellers is now wider since consumers won't be limited by geographical proximity only. Widening the horizon of potential buyers is a promising start.
Focus on Digital Footprint
With no-contact policy being practiced in the pandemic, the need for going digital rose rapidly. This compelled businesses to increase their online presence more than ever. Those who just used the internet to brand themselves and maintain their social media accounts started full-time business operations online.
From assisting in buying products and services to updating blogs to let the audience know of their business, creating a digital footprint almost became mandatory for businesses to not only thrive but to survive the pandemic.
And with digital media under control, tracking customer engagement became all the more easy with platforms like CloudFiles.
Attention to Detail
Consumers have more knowledge about the products and services they are interested in than ever before. As such, any interaction that you, as a salesperson, have with the customer should be well-researched.
This global crisis has forced sellers to think about their customer's priorities from all possible angles.
In remote interactions, such as over a video call, there is usually limited time to address all the customer's queries. Salespeople should be trained such that they know every meticulous detail about the product or services they are selling, and are able to communicate in a clear, concise manner.
Make time for your team
You are as strong as your weakest member. You have to share in the responsibility of the entire sales team. Yes, the numbers indeed matter to assess the profit, loss, success, and failure of a company, but the human element can't be ignored.
So, conduct one-on-one meetings with sales team members. Individual members should feel free to hold meetings with you. They must be heard. This sense of building camaraderie as part of your sales strategy will have a lasting impact in determining the ultimate sales count.
Conclusion
The B2B scenario has changed rapidly, wherein a majority of the sellers, vendors, and customers, who earlier used to interact face-to-face, can no longer do so for the most part. Sales teams have had to come up with new sales strategies and tactics to survive both during the pandemic and in the post-pandemic era.
Undoubtedly, a new paradigm has arrived in the business world that relies on investing in new technologies and approaches for enabling sales. If you want to position your organization for success, adapting to the changing strategies is absolutely key.
What started as a "forced, only one-option" decision by the sales leaders to adopt digitization during widespread lockdowns, has now been accepted as the ideal way to go.