How To Share Sensitive PDF Documents Securely
Portable Document Format, better known as PDFs, have become the most common format of sharing documents online.
And why wouldn't they be? PDFs have great quality, are easy to share and are space efficient too.
But PDFs can be somewhat unsafe to share without any safety measure if they have sensitive information…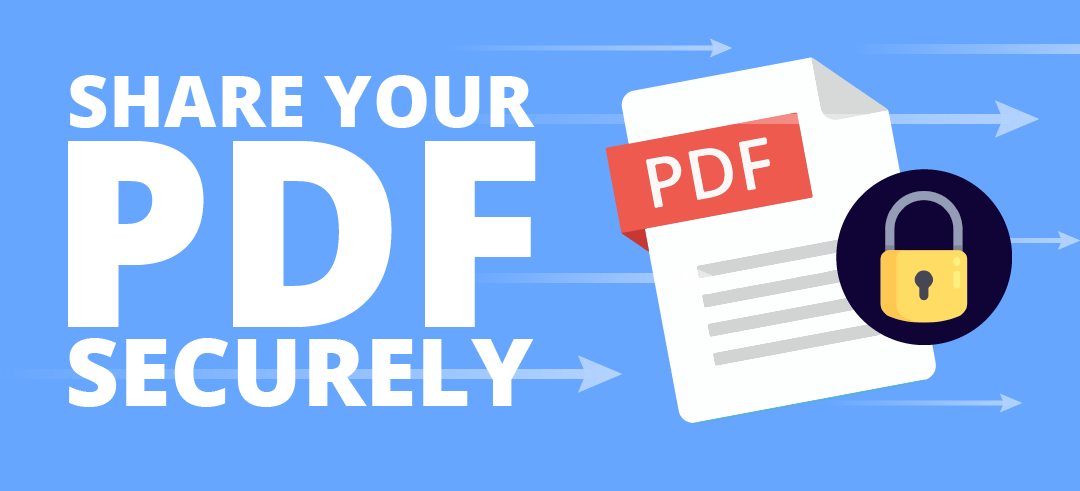 So let us talk about how you can share PDFs securely. Though first, there are some important statistics and information that you should know about PDFs, so here they are.
Some Stats About PDFs
PDFs are the most used and searched online by users by a long shot.
Studies show that over 70% of people search about PDFs online on Google (Source: com)
Also, In 2016, there were 2.2 billion PDF files available on Google for public viewing, and that number is continuously on the rise as we speak. (Source: net)
Though not all documents are created to share with people. Studies show that more than half of the documents uploaded online (64.3% to be precise) are not shared with anyone. (Source: Computerworld)
Usually, PDFs are shared with members of an organisation, and many of them contain information that ideally should not be leaked outside of that organisation.
Though cyber crimes like identity theft and privacy invasion have decreased a lot, there's always some risk of losing sensitive information online.
In fact, about 6.6 million people are being stalked annually in the US. That is a huge number (Source: Dataprot)
That means sharing PDFs securely has now become a necessity for organizations that care about their data.
Here are some benefits of securely sharing PDFs -
Copyright Protection - If PDFs are secure, then you wouldn't have to worry about content that has been copyrighted. Keeping track of copyright infringement can be hard, so this is a great way to prevent that.
Authorization - If all you want to do is share PDFs among your organisation, then it is necessary to secure them. That way no unauthorized person will have the access to get the information stored in those PDFs.
Identity Protection - Many contracts and agreements are also shared as PDFs, and they contain digital signatures. If a malicious entity gets access to those PDFs, they can duplicate those digital signatures and steal your digital identity.



Now that you know why securing PDFs is important for your business, let's talk about how to do it.
Password protection is the most basic layer of security. This way you just set a password on the file you want to protect and send it to whoever you want.
Encryption is a different level of security, where you use an algorithm to encrypt the file and when you send that file to someone the same algorithm decrypts that file for them.
But encryption isn't necessarily more secure as compared to password protection, so there is definitely a safer alternative to both of these methods as we will see soon.
Encrypting PDFs Using A Password
Encryption is the most basic method to protect a PDF, and it's fairly easy too. If you have access to software like Adobe Acrobat, you can set the password too to PDFs while exporting.
If not, then you can simply download ZIP apps like ZArchiver, compress your PDFs to Zip or .7z and set a password while you're at it.
It's pretty easy to set a password on PDFs. It also makes sure only the people who have the password can authorize the PDF. All you need to set a password on PDFs is a software like Adobe, that's it.
You can also conveniently set a password on your smartphone too, so you can use this method anytime and anywhere.
Though that's not the only method that you can use to protect your PDFs, and it's definitely not the most secure one.
While it's easy to secure a PDF by encrypting it with a password, anyone who has access to that password can open that PDF and save it to make unauthorized copies of the pdfs.
And as cyber crimes are increasing every day, we all know that pro hackers can break through encrypted PDFs without breaking a sweat.
But there's another method that's as convenient as this one, but way more secure…
And that is using a SaaS tool, like CloudFiles, to share PDFs and other documents online securely. They allow you to revoke access to the file even after the file is shared and the receiver has the password to your document.
This is essential when you find leakage of your sensitive document
Sharing PDFs With A SaaS Tool
Let's use CloudFiles as an example. If you share PDFs or any kind of files with a SaaS tool like CloudFiles, these are the steps you'll have to follow -
Step #1 - Upload your file to CloudFiles and turn on your preferred settings as per your security requirements.
Step #2 - Share the link with your organisation or anyone you want to share the document with. That's it.
It's as convenient as that to share a PDF with CloudFiles. But how is it better than encrypting PDFs with a password?
Benefits Of Sharing PDFs With A SaaS Tool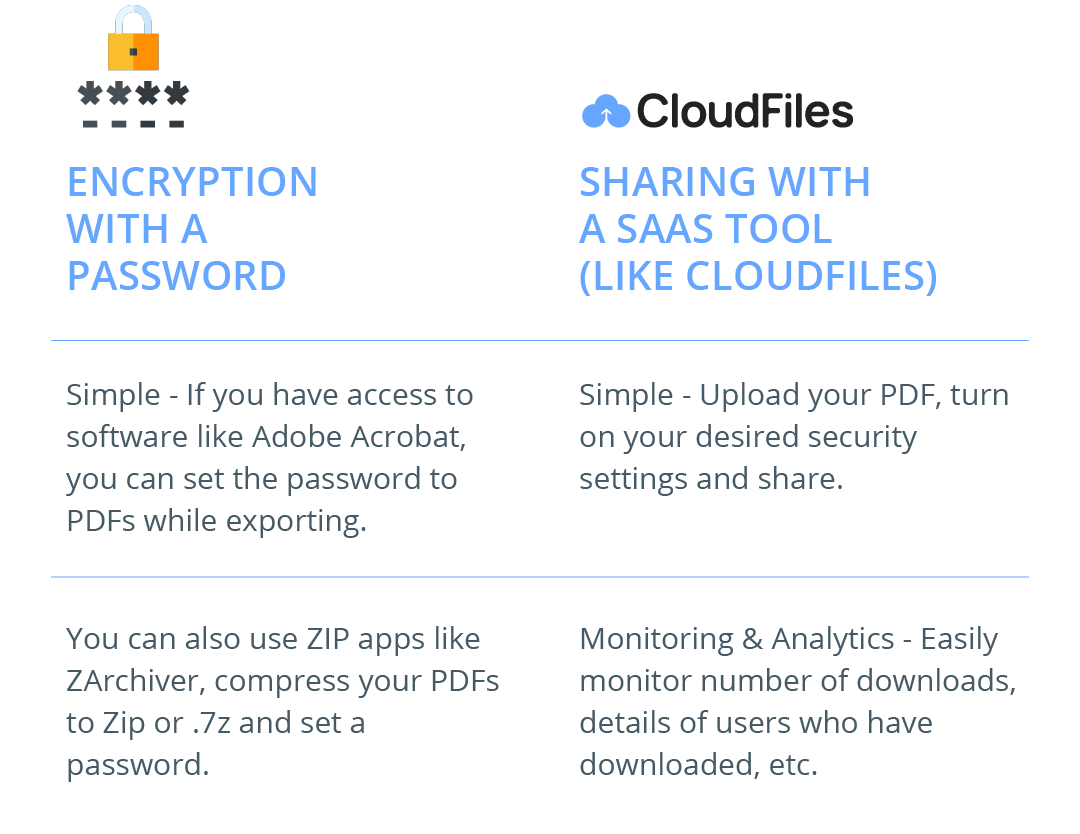 Simple and Convenient
As explained earlier, the process you need to follow while sharing PDFs With A SaaS Tool is pretty simple. Using a tool like CloudFiles makes your storage convenient too, because you can arrange all of your documents from different drives in one place.
Monitoring and Analytics  
You can easily monitor what's happening with the file that you've shared, analytics that you can see include the number of downloads, the emails of people who have downloaded, etc.
Security Features  
In a sophisticated SaaS tool, along with the basic features like password protection, you get many more options to add multiple layers of security to sensitive documents.
For example, you can disable downloads after the purpose of the document has been served, or you can set an expiration date on the link so nobody can download that file again.
You can also set soft or hard verification on your documents if you're using CloudFiles, which makes your file even more secure.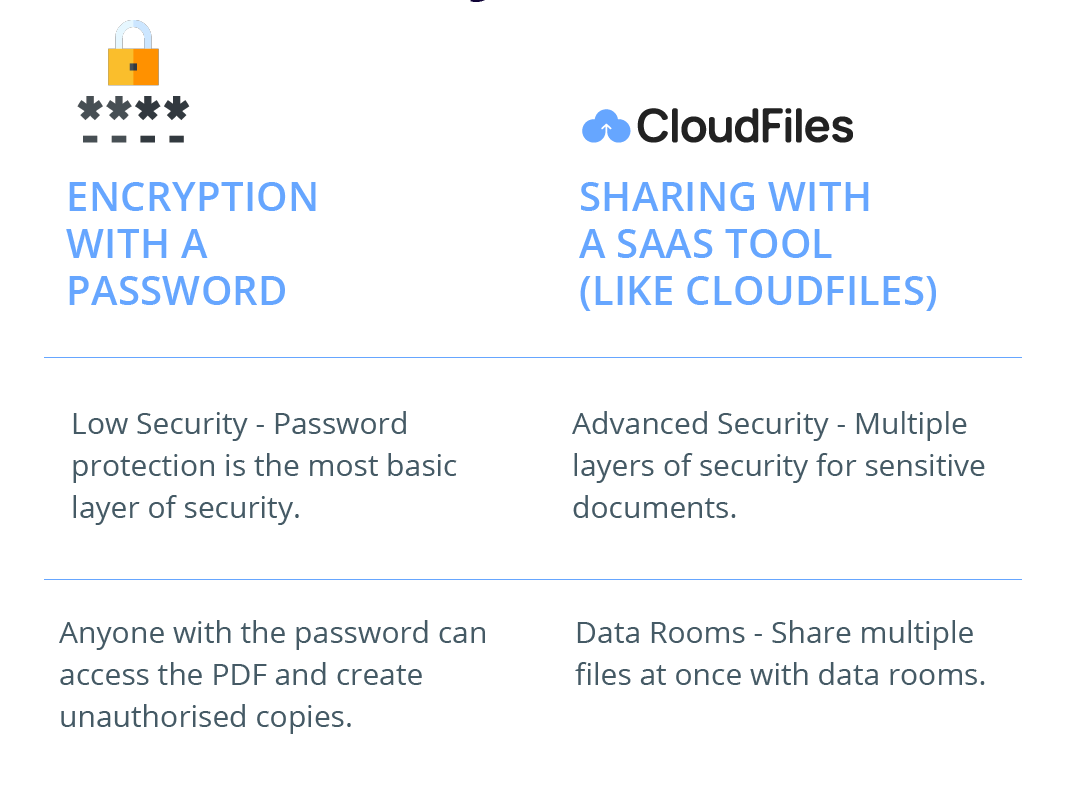 Data Rooms
You can also share multiple files at once with anyone you want with Data Rooms. This way you won't have to send multiple Emails containing multiple different files, and everyone will have clean inboxes.
Interested in securing your documents with CloudFiles? You can find out more about all the features, benefits and pricing here. If you have a personal use case, they offer a free license for personal usage.