Know How To Write An Effective Customer Case Study
Introduction
MNCs and topmost brands like Nike, Puma, Reebok, etc., need effective content marketing strategies to sustain in the market. The growing number of brands across the world have raised the bars of competition in every industry. A company without a sound marketing strategy is like a boat sailing without direction in a vast ocean. It will just keep on sailing somewhere and rely only on luck to find its destination.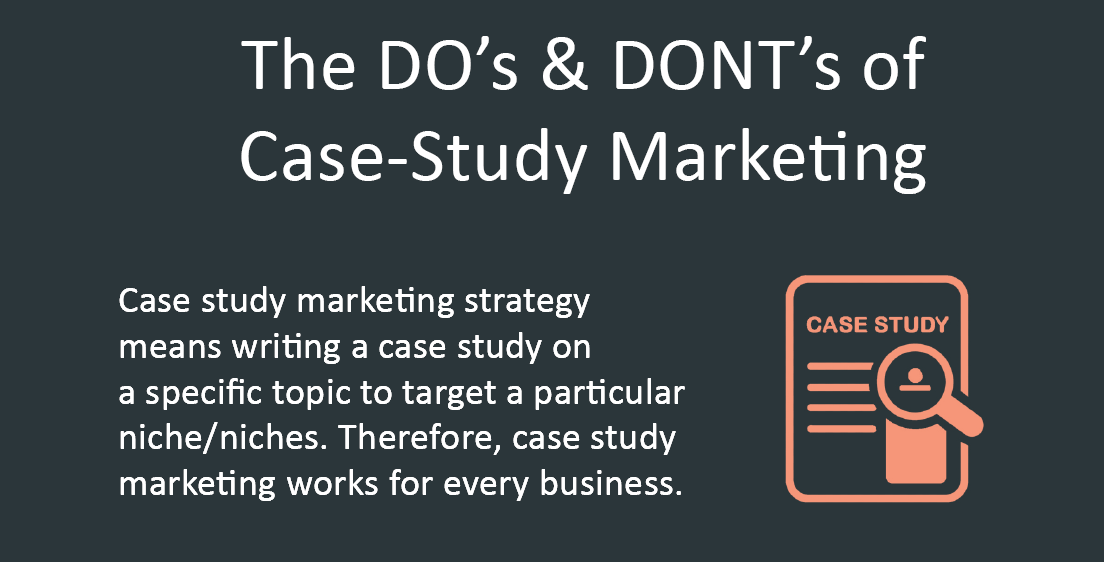 Content marketing is not simple. It includes creating strategies, designing graphics, producing content, managing reviews, and many other things. However, content marketers are slowly learning the importance of using case studies. Case study marketing strategy means writing a case study on a specific topic to target a particular niche/niches. Therefore, case study marketing works for every business. According to content marketing strategists, case studies can boost the revenue by 108.3%! Let's see how giant companies like IBM use a case study for business.
Case Studies help IBM
IBM may be a massive name in the IT space, but it cannot execute its promotions without the help of case studies. It tracks down renowned digital speakers from across the world and asks them to post on their behalf. While speaking or resolving a specific technical issue, these influencers also focus on how solutions developed from IBM helped them.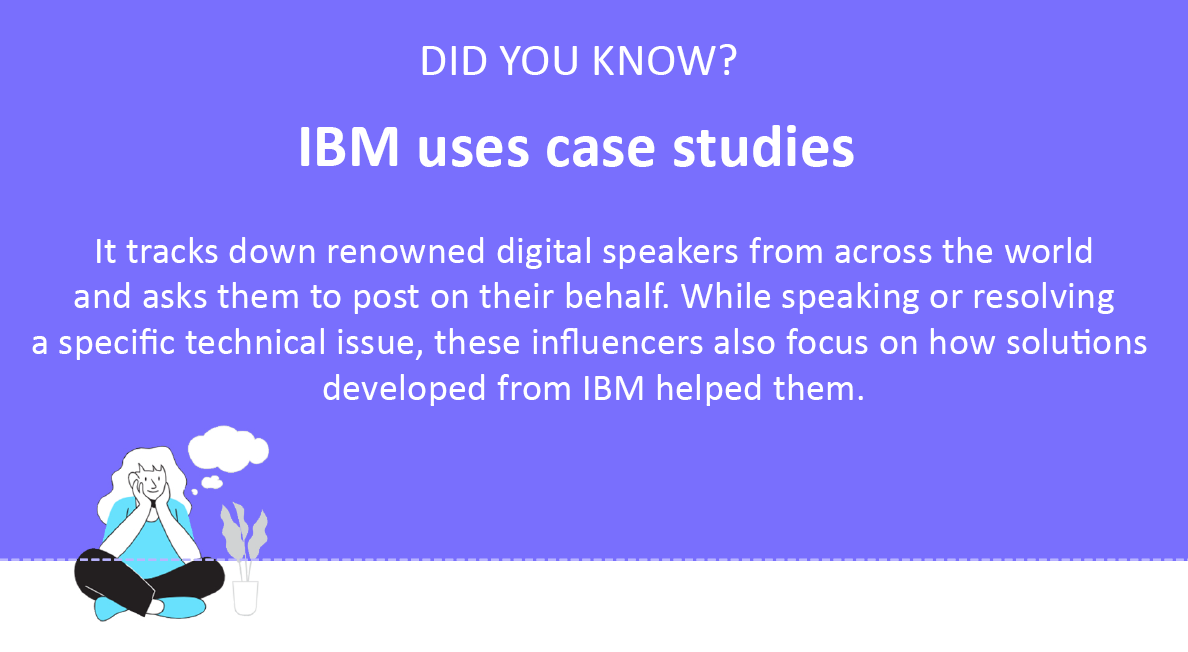 The vast pool of case study writers includes technical writers, IT professionals, technical experts, and many more. Users can get easily influenced by reading their content. This subtle yet robust way of reaching the audience has helped IBM immensely over the years.
IBM doesn't rely only on the biggest names in the industry but also targets smaller ones to target multiple niches. IBM also encourages guest blogging and demands numerous guest blogs and case studies every month. These case studies are usually written by someone who is not associated or working with IBM in any way. Therefore, they look less like a promotion and more like honest feedback or opinion. With its extensive content market strategies, IBM manages to:
Drive more traffic to their site
Find relevance in various demographics
Build greater authority in the industry
Use referral links for increasing sales
Things to Avoid while writing a case-study
Startups and small-scale IT businesses cannot afford the luxury of engaging professional writers to write case studies. Therefore, the task of writing compelling case studies is eventually handled by content marketers. They might sit down with their writers to create stories that inspire the target audience for their clients. While writing a customer case study, you should avoid these things: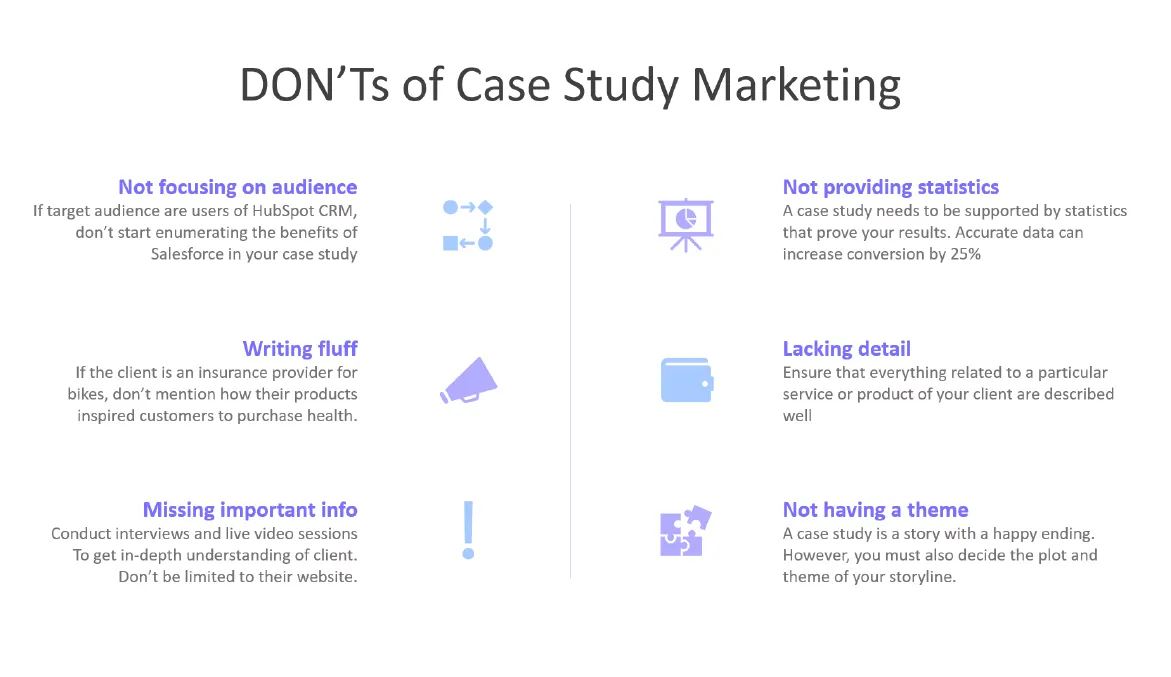 Not focusing on the target audience
Also, missing the preferences of the target audience is a big no. For instance, a client's target audience is those who prefer using the HubSpot CRM. Don't mention the benefits of Salesforce in your case study. Write stories that appear authentic and relevant.
Writing fluff
Avoid mentioning things that your clients don't approve of. For example, your client is an insurance provider who offers only bike insurance. Don't explain how their services so inspired a customer that he also got health insurance from their website and managed to save money. Therefore, knowing your clients and the services they provide is a must while writing a customer experience case study.
Missing out important information
Covering the essential aspects of a business like its foundation year, values, services, background, etc., is a must. By missing these pieces of information in the case study, you might miss the opportunity to satisfy a potential customer's curiosity.
Also, a case study is not just limited to the descriptions that are published on websites. Many times, you will need to conduct interviews or live video sessions to prove your point. Not making your customers fully aware of the company and its services might land you in big trouble in the future.
Not providing statistics
Write or record a customer case study with the intent to validate positive results. However, it needs to be supported by statistics that prove your statements. A case study without statistics would not help your client in the long run. According to some marketers, accurate data can increase conversion by 25%.
One cannot measure some things like an increase in employee performance or improvement in the workplace environment cannot be measured. However, you can always connect them with other parameters. For example, you can show how the performance and enhanced workplace environment increased the productivity of an organization. Supporting your case study with statistics will build trust among the potential customers of your clients.
Lack of detail
Lack of detail in a case study might raise suspicion among the readers. Therefore, ensure that everything related to a particular service or product of your client are described well.
Not working on a theme
A case study is a story with a happy ending. However, you must also decide the plot and theme of your storyline. You cannot go on writing about the services or products of clients endlessly. It will make your case study look like a webpage. Case study content marketing works only if you work on the theme. For that, you must know the following things in advance:
Type of audience and customer size
Challenge or requirement of the client
How your services/products helped them
Verdict
TO-DOs while writing a case-study
Now, let's focus on the things that you should be doing to manage case studies perfectly: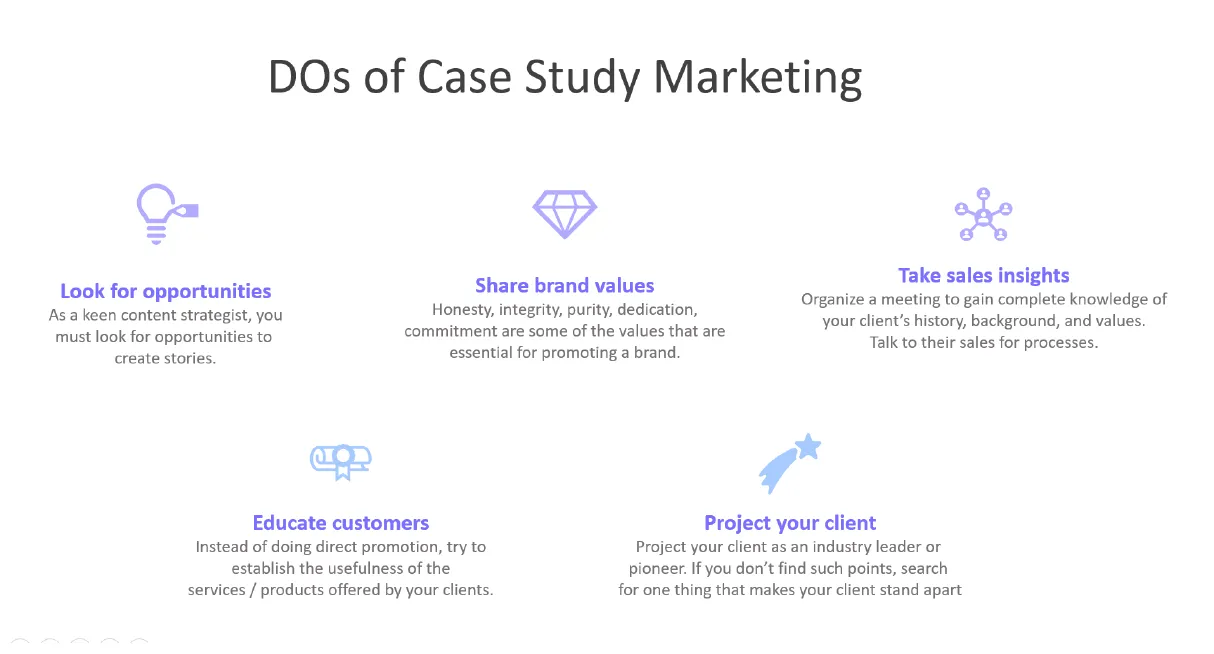 Look for opportunities
As a keen content strategist, you must look for opportunities to create stories. If your product helped certain people in the lockdown, come up with an inspiring case study immediately. You will also find ways to make your client's services/products profitable from your everyday experience.
Share brand values
Always share the values of a brand as it helps the audience to connect with people seamlessly. Honesty, integrity, purity, dedication, commitment are some of the values that are essential for promoting a brand. Cooking a tasteful story with these values will touch the emotions of the target audience. It will also improve the credibility of your client.
Educate customers
To understand how to write a case study for marketing, you must educate your customers as much as you can. Instead of doing direct promotion, try to establish the usefulness of the services/products offered by your clients. For that, you will need a truthful story that highlights all the essential services/products offered by the client.
Take insights from the sales team
Organize a meeting to gain complete knowledge of your client's history, background, and values. Also, you can take insights from their sales team as they would always have exciting stories to tell. The marketing team may also provide ideas for creating effective case studies.
Project your client
A case study for business growth will work if you project your client as an industry leader or pioneer. If you don't find such points, search for one thing that makes your client stand apart from others. For example, eggless cakes are common. However, if you come up with terms like cake for vegans, it would provide more authority to your brand. Also, you would be able to target a niche that is trending nowadays.
Verdict
You have seen the necessity of a case study in marketing strategy. Uploading insightful case studies on the website is a good idea. However, you must also go one step ahead and record case studies by interviewing happy customers. Also, know the audience, work on the theme, select a product/service, and choose real stories to tell. All these things will make your marketing strategies work!